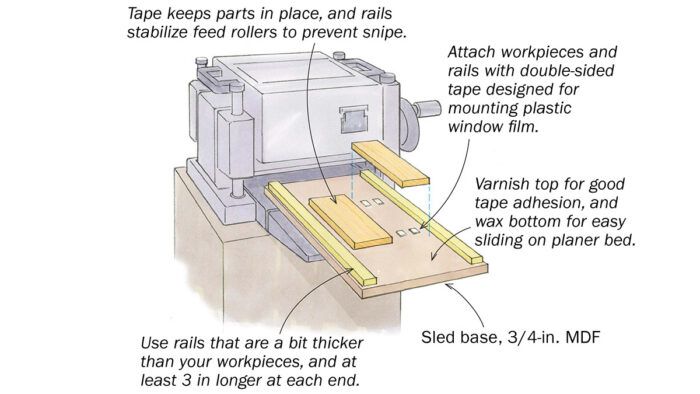 This simple sled will let you run thin or short pieces through a benchtop planer without the cutterhead chewing them up or sniping their ends. It's made of a piece of MDF—used because it is very flat—and two strips of wood.
Start by taping down the pieces you are planing, using double-sided window-sealing tape. I use 3M 2145C Scotch Indoor Window Film Mounting Tape, which is very thin, holds tenaciously, and is easy to release. It only takes a few squares of tape to hold down the parts for planing. I recommend applying varnish to the top of the sled for better tape adhesion, and waxing the bottom for lower friction. Cut two side rails from any scrapwood, making them a little thicker than your workpieces, and tape them to the MDF. The rails should extend past both ends of your workpieces by a few inches at least, so they will stabilize the feed rollers and prevent snipe. To release the parts I insert a thin metal spatula under them.
With this sled I've successfully planed very short pieces and very thin ones–some as thin as 1/16 in.
—RUSS BAINBRIDGE, Saskatoon, Sask., Canada
Illustrations by Dan Thornton
From Fine Woodworking issue #295