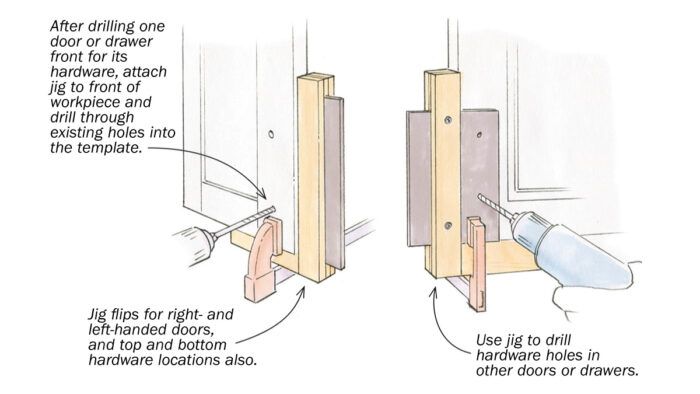 I'm a full-time cabinet installer, and I came up with this jig for locating handles and pulls in doors and drawer fronts. It's essentially a square with a slot in the long leg that lets you slide a drilling template in and out. I use toe-kick offcuts for the templates, but any 1/4-in. plywood or MDF will work. I assembled the layers of the square with air-driven pins and glue, making sure to keep the inside faces flush and square. After the glue dried, I inserted dowels into the joints for added strength.
To create the template and set up the jig, start by drilling one door or drawer perfectly for your hardware. Then slide a piece of template stock into the jig, lock it in place with the set screws, clamp it onto the front of the door, and drill through the existing holes to continue them into the template. After that you can simply clamp the jig onto any other drawers or doors and drill, flipping the jig as needed for right- or left-handed doors. In practice, I only use the template to score the door or drawer front with my drill bit. Then I remove the jig, clamp a blowout block onto the back of the door, and finish drilling.
—ROBERT ELLIOT, Marshfield, Mass.
Illustrations by Dan Thornton
From Fine Woodworking issue #297