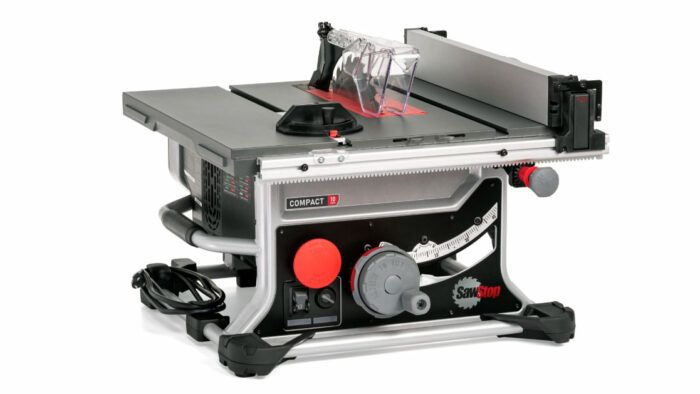 SawStop Announces Upcoming Release of New Compact Table Saw
Tualatin, Oregon – July 14, 2022: SawStop today announced the upcoming launch of their new Compact Table Saw. The new 10" Compact Table Saw (CTS) is a robust benchtop saw built for the rigors of the jobsite while offering the precision and safety that SawStop is known for.
The foundation of the Compact Table Saw is SawStop's contact detection technology. Just like other SawStop saws, the Compact Table Saw detects when skin comes in contact with the blade and stops and drops the blade in less than five milliseconds. Injuries are dramatically minimized, and the saw reset is quick and easy – so operators can get back to work in minutes after a brake activation.
Beyond offering SawStop's legendary safety system, the Compact Table Saw is packed with features that stand out against the competition including:
10" Blade for maximum cut capacity
Rack & Pinion Fence that is easy to adjust and reliably square with a built-in high and low face to support all kinds of cuts
Quick-Tilt Bevel allows for easy blade angle adjustments with one hand while the Micro Adjust feature provides the ability to quickly dial in a precise cutting angle. A SawStop Exclusive.
Highly portable with an Easy-Carry Handle and an Optional Stand available for purchase.
On-Saw Storage Compartment secures your accessories and tools for easy access and quick retrieval. A SawStop Exclusive.
"Since we began, here at SawStop we have been focused on protecting Woodworkers and helping them work better through practical innovation" said SawStop CEO Matt Howard. "The portability and affordability of the Compact Table Saw makes SawStop technology more accessible than ever before. We're excited to welcome an entirely new group of customers to the SawStop Family so they can experience the quality and safety at the heart of each of our saws."
The new Compact Table Saw will be available this fall at authorized SawStop dealer locations across the USA and Canada. The retail price will be $899 USD and $1,149 CAD.
---
Lee Valley/Veritas announce Domino joinery table
While the Festool Domino DF 500 is excellent for a wide range of joinery, it can be difficult to register correctly on narrow pieces. With a DF 500 mounted in this innovative table, the table becomes the reference face for the tool, making it straightforward to do accurate and repeatable joinery for work that can be difficult to handle freehand. The table is an invaluable aid for rapid and accurate rail and stile construction, miter work and narrow frames. It ensures that the mortise is placed precisely in mating locations on either side of the joint.
The slotted Baltic birch laminated top with integral 4″ high base provides a stable and ample clamping surface for workpieces of most sizes, which are easily secured with the included hold-downs. An aluminum fixed fence and a movable guide fence ensure perfect orientation in either a 45° or 90° position. The offset registration gauge allows the fence to be flipped for precise alignment of the mortises, ensuring a seamless joint. User-made guide fences can also be added to secure the workpiece at any angle desired.
The two included 6mm shims will center the mortise in the edge of standard 3/4″ or 18mm material. An optional set of shims (two each of 2mm, 4mm and 8mm) is available separately and can be used alone or in combination to create vertical offsets to meet most project requirements.
The table has a substantial working surface of 31 1/2″ × 23 1/4″ and is 31 1/2″ × 31 1/2″ overall with the Domino tool attached.
It extends the utility of the Festool Domino DF 500, making it an ideal complement for perfect joinery when working with narrow material. The Veritas Domino Joinery Table builds on the work of a talented Swedish designer and is made in Canada.
---
Next Wave CNC Introduces the SHARK RS1000 PRO CNC Accuracy on Your Router Table – Available August 15, 2022
Perrysburg, OH (August 1st, 2022) Next Wave CNC has just announced a revolutionary new product that will transform your traditional router table with repeatable accuracy in production.
The RS1000 PRO integrates an onboard processor with LCD Color Touch Screen Pendant control for easy operation and comes preloaded with applications for more than a dozen common router and specialty joinery functions, including Box Joints, Dovetail, Dado, Lock Miter, and many more.
Next Wave CNC's patented SHARK technology allows the fence and lift to move accurately in direct relationship to the bit while providing a full twelve inches of fence travel for larger projects and three and a half inches of available lift. The SHARK RS1000 PRO software accepts metric, decimal, or fractions measurements, so you never have to convert your project dimensions.
The SHARK RS1000 PRO works with any standard three-and-a- half-inch router motor, features removable table inserts for larger bits, and has an integrated 2-1/4-in. dust port. Not only is the SHARK RS1000 PRO innovative, sleek, and accurate, it is simple to use, and you can immediately benefit by having it in your workshop.
"Type in any desired measurements, press OK, and the SHARK RS1000 PRO is ready to cut" says Randy Johnson, Woodworking Expert and a consulting designer on the RS1000 PRO. "The SHARK RS1000 PRO has cutting-edge technology that increases creativity and productivity while being extremely easy to use."
The SHARK RS1000 PRO comes with Next Wave CNC's industry-leading two-year warranty and is proudly made in the USA at the company's factory located in Perrysburg, Ohio.
---
Rockler's Hold-down Pneumatic Clamps
Running on a woodshop's air compressor, these clamps are handy for holding work in place for sanding, routing, biscuiting and a host of other light-duty tasks. They provide up to 34 pounds at the flick of a switch, so they're ideal for repetitive clamping tasks such as face frame assembly or as hold-downs or push clamps for drill presses and CNC tables.
They're not strong enough for glue-ups (softwoods require 100-150 PSI and hardwoods need 175-200 PSI), but they can do most tasks that quick-clamps can do, in a fraction of the time.
Woodworkers can choose one of two all-in-one Starter Kits that include all the components required for either a vertical or horizontal clamp. The shop can add additional clamps (up to 4 per regulator) by purchasing vertical or horizontal Expansion Kits (both types can use the same regulator and switch, at the same time). The clamps slide into standard T-track for easy adjusting, and they can also be screwed down for more permanent clamping fixtures. Cylinder brackets mount to T-Track with included T-bolts and knobs, or directly to the top of #8 screws (not included). The regulator and switch brackets mount to T-Track or solid surface, as well as to Rockler Rock-Steady shop stand legs with 32mm-spaced holes.
The regulator includes a 1/4" NPT valve for connecting to an air hose, and the starter kits include 10 feet of 4mm tubing (Expansion Kits include 5′)— that can be cut to length to fit an application. Quick-release fittings allow fast, easy connection of tubes. Just press them in to install them and press the ring on the fitting to release them. The clamp feet thread onto the cylinder stems to provide non-marring pressure, and each clamp has 50mm of throw for nearly 2" of clamping range.
---
If you have a tool release or news item you'd like considered for new, weekly roundup of woodworking news send it to [email protected].