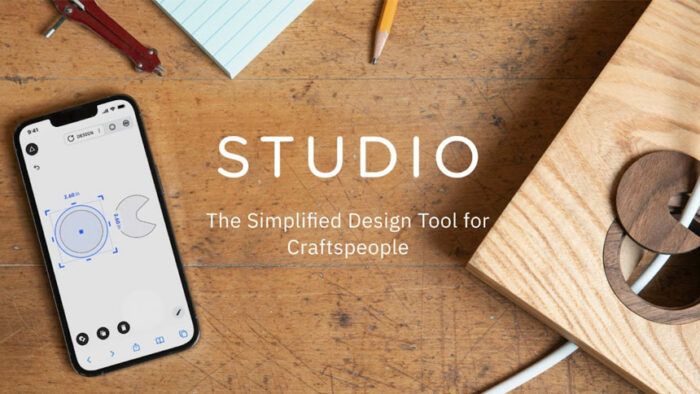 Shaper launches two new products for woodworkers everywhere
August 23, 2022 — Today, the San Francisco-based woodworking and robotics company Shaper Tools announced the launch of two new products for the woodworking and fabrication industries: Studio, a simplified design tool for craftspeople, and Plate—a universal template and fixture for Shaper Origin.
Announced today at the International Woodworking Fair, Shaper Studio is a simplified 2D design tool that aims to focus on the features that matter most to craftspeople, short circuiting the path from idea to production, and omitting the unnecessary and confusing features that have crept into one-size-fits-all design software. Simply put, Studio helps users spend more time making and less time fussing with a computer. For $99 a year, users get unlimited access to fonts and artwork, plus some really powerful editing features like Studio's ShapeShifter—an intuitive shape combination tool that further speeds up the design process—along with the ability to save and export an SVG file, sync it directly to Shaper Origin, or use it with other digital fabrication tools like vinyl cutters or laser cutters. A Lite version of Studio with limited access to fonts and artwork is also available for free, and a 14-day free trial allows one to test out the fully featured product. Studio is web-based, making it easy to produce and edit designs on your phone, tablet, or computer.
Shaper Plate is Shaper's latest accessory to effortlessly connect digital designs with physical workpieces. When paired with Origin, Shaper Plate makes installing hardware and other localized precision cutting operations fast and seamless. Plate takes advantage of Shaper's Hardware Catalog, a collection of Shaper-vetted digital hardware templates available on ShaperHub. With Shaper Origin and Plate, installing a hinge, door pull, or other hardware is as easy as finding the file on the Hardware Catalog, aligning one of Plate's four fence systems to a pencil mark, and using Origin to accurately mill the pocket in just the right spot. Integrated with ShaperTape, Shaper Plate speeds up a huge variety of Origin operations like installing bow ties, corner rounding, machining cable pass throughs, engravings, and more.
Shaper Plate will officially go on sale September 14th. In the meantime, attendees at the International Woodworking Fair this week can get a first look and hands-on demo. For those Origin customers eager to own one of the first units, they can sign up to get notified when Shaper Plate goes on sale and be first in line.
---
New clamping pads from Woodpeckers
August 16, 2022 — Woodpeckers new Joint Bridge Clamping Pads address an issue that has challenged woodworkers as long as there has been glue. No matter how carefully you joint and plane material, when you put a group of boards in your clamps there's always just a little bit of twist, cup, or bow left and the faces don't line up perfectly. Blame Mother Nature.  Stress in the boards is released as you machine them. With each new surface you create, the boards are being pulled in new and different directions. Woodworkers have dealt with this problem in hundreds of different ways for thousands of years…with mixed results.
Woodpeckers new Joint Bridges provide a novel, problem-solving solution to this age-old problem. In a nut shell, they localize the pressure to even out each joint individually. And they do it without getting inadvertently glued to your carefully prepared workpiece. These simple, economical clamping aids deliver smoother, flatter panel glue-ups which require less planing and sanding.
---
More innovations in store from Oneida Air Systems at this year's IWF
August 18, 2022 – Always at the forefront of dust collection innovation and design, Oneida Air Systems will be showcasing several new product concepts at IWF booth B4735.
Expanding on their line of unique Smart Boost® dust collectors with variable speed fan motors, Oneida Air introduces a right-sized system geared toward small-to-medium-sized CNCs with up to 6-in. inlets. To maximize suction at the dust producing tool, Oneida Air's Smart Boost technology automatically optimizes CFM and static pressure by adjusting the dust collector's fan speed (RPM). This allows the collector to deliver up to twice the airflow and pressure of a standard fixed RPM collector.
Oneida Air has also developed two new configurations under their BenchTop brand. The first is a compact version for general woodworking activities; the second is a stainless-steel, HEPA-grade unit for industrial use. Two years ago the BenchTop DC was introduced as a dust collection solution for handheld tools lacking dust ports. When placed behind the dust source, the collector creates a safe breathing zone by drawing the dust away from the woodworker.
---
Changes at RIKON Power Tools Inc.
Jack Bransfield, president of RIKON, announced that he will be retiring in September. Jack has led the company since 2012 and has now decided it is time to spend more time with family and friends. Jack's commitment, dedication, and contributions to RIKON will always be valued and remembered. Please join us in wishing Jack well in his future adventures.
Joe Taylor, vice president, will take over as president. Joe has been with RIKON for over 10 years. Joe is experienced, successful, and well regarded in the woodworking industry. His experience and drive will continue to make RIKON Power Tools a leader in the woodworking industry.
Please join us in wishing Joe every success as he assumes his new position as President of RIKON.
---
This week, Fine Woodworking is live and in person at this year's IWF! Come stop by if you're around, we'd love to meet you! And if you have a tool release or news item you'd like considered for new, weekly roundup of woodworking news, send it to [email protected].