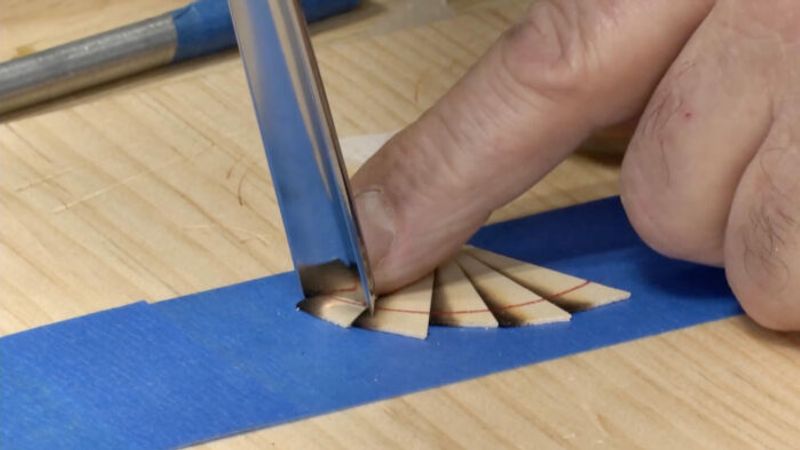 Video by Jeff Roos
Commonly used as a motif in Federal furniture, the inlaid shaded fan is not difficult to make. In fact, Bob Van Dyke claims you could make it on the couch while watching TV–but that's a challenge for another day. Even so, the majority of its distinct look comes together within the first few steps despite the seemingly meticulous nature of its assembly. Once you grasp the process of cutting the veneer, shading it, and piecing it together, you can expand to the half fan and full oval. In this video demonstration, Van Dyke takes you through his step-by-step process for making a five-segmented quarter fan inlay, as featured in Issue #262.
There are plenty of variations possible once you get the basics down, and none of them lack historical intrigue. Whether it's quarter fans, half fans, or full oval fans, this technique can be easily practiced in the shop. It's certainly a unique one that incorporates burning veneer with hot sand to achieve a high level of contrast, giving it that trademark three dimensional appearance. From sand choice, to burn direction, and even a simple yet brilliant method of working with double-sided tape for fan assembly, Van Dyke has a store of tips and tricks for working with this timeless detail that adds a ton of character to any piece.
This video deviates from our usual format, but we thought presenting it in full would be the best way to get the whole experience. Let us know if you prefer the full length, as featured here, or longer video classes split up into segments.