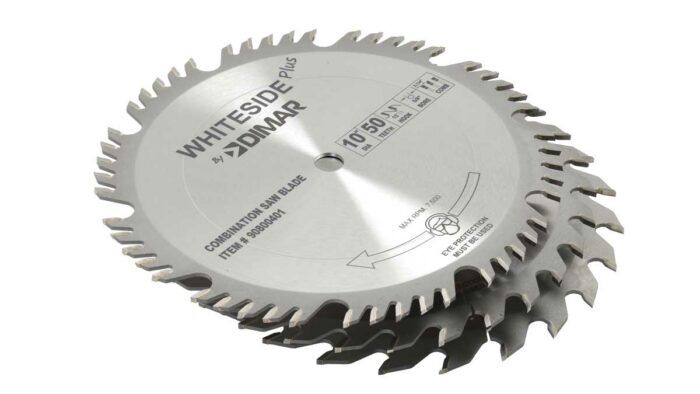 Whiteside has paired with blade manufacturer Dimar to bring three new 10-in. tablesaw blades to the United States: a combination, a rip, and a glueline rip, which was my favorite. All three were superb, making them a perfect trio. Their cut quality was excellent and made each of my tasks easy, saving me a lot of time at the bench. The clear writing on each outlining the blade type, arbor size, tooth hook and grind, and number of teeth made for a great convenience.
The 50-tooth combo blade worked fantastically for ripping and crosscutting both hard- and softwoods. While I usually find combo blades give just OK rips, this blade left minimal sawmarks on cherry, maple, and pine while requiring little force to push the stock through the saw. For both 45° and 90° crosscuts, there was no tearout and the end grain was smooth. All in all, this blade worked as well as dedicated rip and crosscut blades.
The rip blade's 24 teeth have a flat top, which I prefer over an ATB grind for its better stock removal during rips and its flat-bottomed cut. I tested the blade on oak, cherry, maple, pine, and poplar from 3⁄4 in. to 2 in. thick. It cut even the thicker stock very well, leaving smooth edges, and had no vibration. With the cherry and oak, it was hard to tell which edge I had run over the jointer and which I had ripped on the tablesaw.
The glueline rip blade, with its triple-chip grind and 30 teeth, might be my new favorite. I'd never used one before, so I was skeptical about gluing up off the tablesaw. I tested this blade with 3⁄4-in. oak, poplar, and cherry. All were easy to push through the saw and, despite visible sawmarks, each joint glued up perfectly right off the saw. It was the fastest way I have ever glued up boards. I am definitely purchasing this blade.
—Ellen Kaspern teaches at North Bennet Street School and around the United States.
Photos: Barry NM Dima