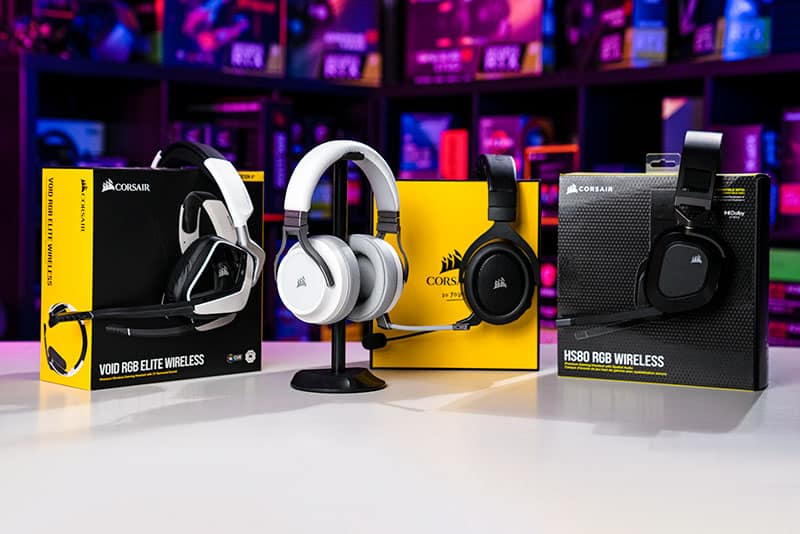 Last Updated:

SPONSORED POST
Pretty much every company that makes PC peripherals has released a gaming headset or two and if you want to buy the best it's not easy to navigate through all the different options. We're here to help. Corsair is one of the biggest and best peripheral manufacturers and offers a headset for every corner of the market, no matter what your budget. You can find wired and wireless, 7.1 surround and stereo, RGB and non-RGB offerings from Corsair, and we've checked them all out to make your decision easy. We're confident you'll find a Corsair gaming headset that suits your needs and your budget. Let's take a closer look.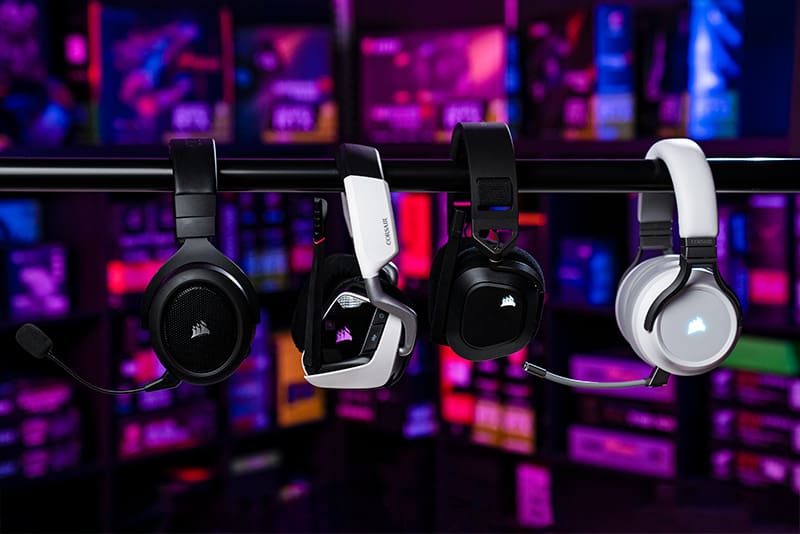 Corsair Virtuoso RGB Wireless gaming headset
If you want the most premium Corsair gaming headset, this is unequivocally the one to choose but it has a price to match. It's a feature-rich headset with three modes of connectivity – 2.4GHz wireless, USB wired, and the old-school 3.5mm jack. It might not be cheap but there are a few features of this headset that make it worth the money. If you've got the cash to spring on a new Corsair gaming headset, this is your best bet.
One of our favorite features of the Virtuoso RGB wireless gaming headset is the construction and material quality. Almost the entirety of the headset is made from premium machined aluminum. This is an excellent material choice as it provides strength and longevity, yet retains a comfortable weight of 360g/0.8lbs. How they managed to pack so many features into a headset with such a low weight is a testament to their clever engineers and designers.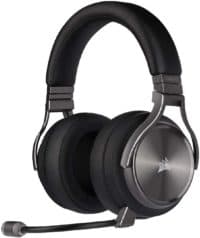 Corsair Virtuoso RGB Wireless SE Gaming Headset
Headphone Frequency Response
20 – 40,000 Hz
Microphone Frequency Response
100 – 10,000 Hz
Pick-up Pattern
Omni-directional
Another feature that is surprisingly rare in the realm of gaming headsets is the smart sleep and wake function. In short, there's an accelerometer in the headset that detects when the headphones are placed on your desk or headphone stand. It then shuts off to preserve battery life, waking back up when you grab the headset. This is a very convenient and effortless way to help prolong your battery life and we love it.
Of course, to remain truly competitive in your game of choice, be it the parochial CS:GO or the lively Apex Legends, 7.1 surround sound is what you need and the Virtuoso RGB Wireless delivers here, too. The dynamic 50mm drivers virtually replicate a seven-speaker, one-subwoofer surround sound setup, which allows you to accurately pinpoint the location of enemy footsteps and gunfire. Trust us when we say this is a must-have feature for competitive gaming.
For more information about this excellent gaming headset, read our full review here.
Corsair HS80 RGB Wireless gaming headset.
If you can't afford the Virtuoso, then this is the next best option. The HS80 RGB comes in with an impressive feature set at a far more accessible price. It still provides RGB lighting, wireless connectivity, and virtual surround sound courtesy of Dolby Atmos. It also comes with fabric earcups instead of the faux, which isn't a bad thing as they don't get quite as sweaty during prolonged periods of use.
Another feature we love about the HS80s is the flip-to-mute mic. You don't have to worry about hitting the right button or messing around in software, just push the mic into the upright position and it's muted, then flip it down to resume communication. It's ergonomic and simplistic, just how we like it.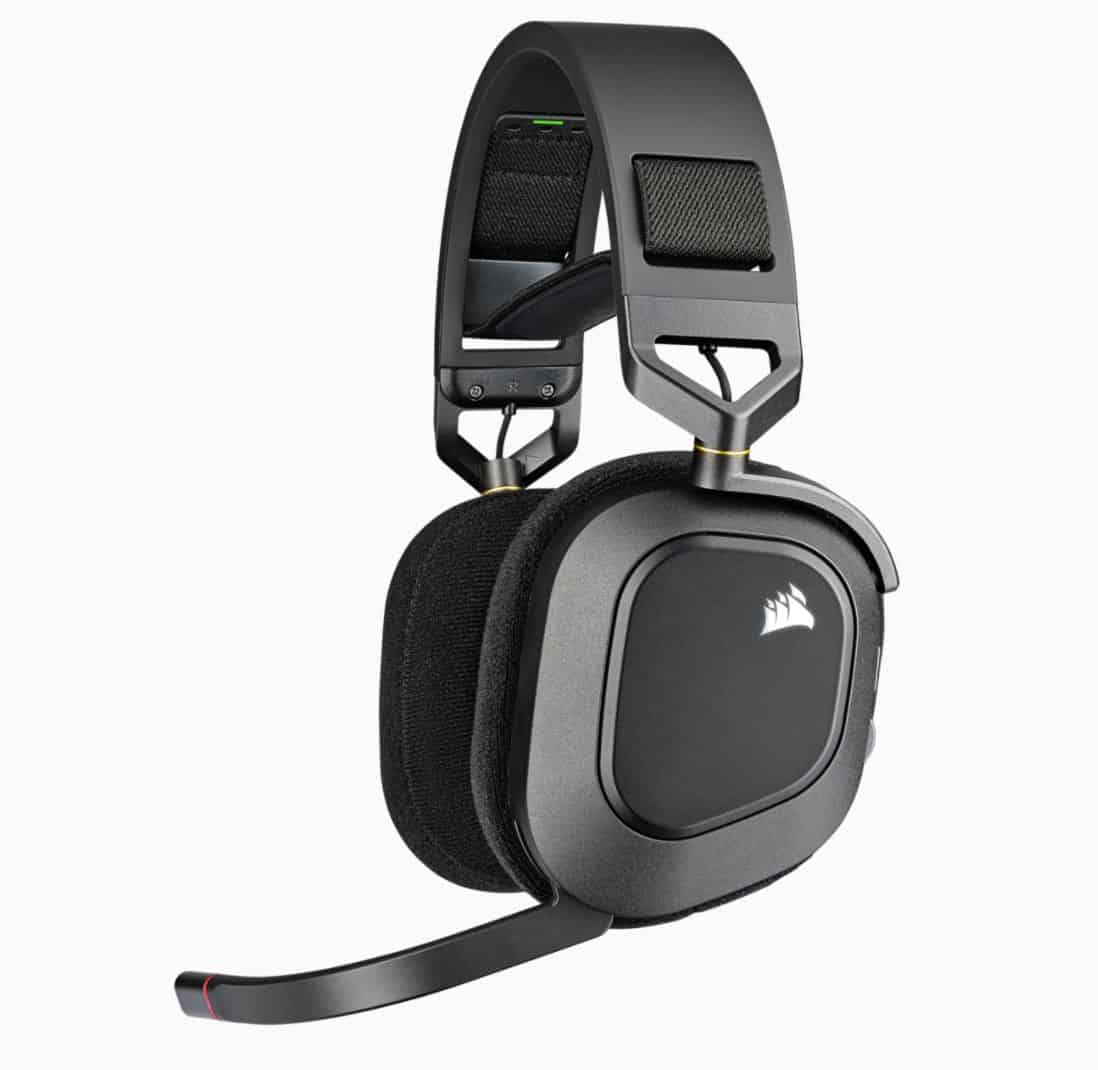 Corsair HS80 RGB wireless gaming headset
Headphone Frequency Response
20Hz-40kHz
Mic Frequency Response
100Hz to 10kHz
Battery life
Up to 20 hours
Pick-up pattern
Omni-directional
Plug-and-play compatibility with PS4 and PS5 is also a big deal as it's annoying and expensive to have to purchase a headset for each gaming system you use. The HS80 works via simply plugging the cable or receiver into a port on your PS4 or PS5, that's it. Cross compatibility is an oft-overlooked aspect of peripheral design so we are pleased to see it implemented so well here.
A slightly more novel part of this headset is the floating headband design. Traditional gaming headsets have relied on a physically adjustable headband for sizing, with the earcups clicking up and down. The HS80 does away with this design in favor of an elasticated strap. You position this via velcro, then the elastic dynamically adjusts itself. This is a killer feature if you find the headset pressing on the top of your head particularly annoying, which is a more common issue than you might think.
For more information on the Corsair HS80 gaming headset, read our full review here.
Corsair HS70 Pro Wireless gaming headset
This is the most budget-friendly offering of this lineup, but it does well to retain the features that you really need while skipping on the more superfluous aspects of gaming headsets. This helps bring the price to a more affordable level and keeps it affordable if you're unwilling or unable to spend upwards of $150 on a gaming headset.
Yes, it lacks the RGB lighting of the previous two, but when the RGB is only visible to everyone apart from you, does it really matter? The design budget has simply been redistributed to make sure that this headset has it where it really matters: comfort and quality.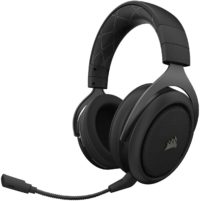 Corsair HS70 Pro Wireless gaming headset
Headphone frequency response
20 – 20,000 Hz
Mic frequency response
100Hz – 10kHz
Battery life
Up to 16 hours
Pick-up pattern
Uni-directional
The HS70 is probably the closest headsets come to being 'one size fits all'. The earcups are some of the biggest we've seen and the large adjustment distance only enhances the fit. We also really like the stealthy black coloring, though alternative colors are available if you want to match your setup.
The mic is detachable and replaceable, which is always a plus, and it's a standard 3.5mm input, which means it's easy to replace if it bites the dust. We've had the HS70s in the office for a few years now and have experienced no issues at all.
Head over to our full Corsair HS70 Pro Wireless review for more details.
Corsair Void RGB Elite USB headset
The Void RGB Elite is Corsair's most 'gamer-y' headset yet. If you're familiar with the recent Star Trek movies you may notice some similarities here. Aside from the bold angles and aggressive shape, this headset boasts some top-performance specs and some of the most vivid RGB lighting we've seen from Corsair thus far. The shape bears mention again here. It looks downright out of balance, but once you've tried it on, it comfortably sits on top of your head and is impressively breathable. Gaming headsets seem to find breathability difficult due to the mostly closed-back style.
Corsair Void RGB Wireless gaming headset
Headphone frequency response
20Hz – 30 kHz
Mic frequency response
100Hz – 10kHz
Battery life
Up to 16 hours
Pick-up pattern
Omni-directional
The Corsair Void features a similar flip-to-mute mic to the HS80, which eliminates the risk associated with hard-to-find buttons and it picks up your voice with impressive clarity and mostly removes unwanted noise. Additionally, the mic is super easy to get into position and holds well. This is a particular bug-bear when it comes to headsets so we are pleased that it's been addressed here. The Voids also feature some very enjoyable trebles and bass, two areas that are traditionally tricky for gaming headsets. Those of you who enjoy sharp styling and liberal application of RGB should look no further.
For more info, read our full Corsair Void RGB Elite review.
Corsair headsets: The final word
The gaming headset space is a very competitive area of the market, with high-quality offerings coming from every direction at every price point. It's a testament to the smart folks over in California at Corsair that they've managed to rise from humble beginnings as producers of RAM, to one of the most well-regarded headset manufacturers out there.
We've been consistently impressed by Corsair headsets, many of them seeing daily use over the last couple of years at the WePC offices. If you fancy an audio upgrade with comfort to match, head on over to Corsair's website and take your pick, you won't be disappointed.
Share this article…