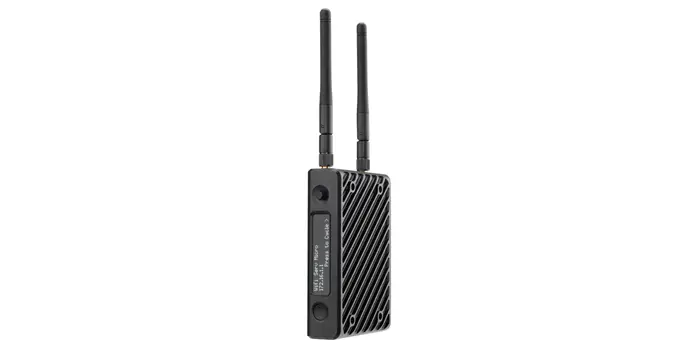 The wireless streaming revolution continues, with Teradek announcing another new mobile streaming wireless video solution with the Teradek Serv Micro. The Serv Micro is an HDMI-only wireless video transmitter, which can operate with or without an internet connection.
"Serv Micro is our most accessible Serv product, integrating wifi-based wireless video with off-set streaming setups for real-time collaboration, no matter the size of a production budget," said Greg Smokler, GM of Cine at Creative Solutions. "With an easy-to-use cloud workflow and simple tools for sharing and viewing, collaboration has never been simpler."
According to Cine Product Manager Colin McDonald, the Teradek Serv Micro delivers hi-resolution camera feeds and playback with an all-in-one solution that gives content creators visibility at every stage of production.
The device supports up to 10 different devices and creates its own cloud system to share live camera feeds with the rest of the world. It is protected by 256-bit end-to-end military-grade security encryption.
The Serv Micro streams 1080p in 4:2:0 8-bit  color at up to 30p with a maximum bitrate of up to 15Mbps. The stream also enables users in the cloud to communicate in real time with built-in voice chat and messaging tools. It connects using the Veradek Vuer app and connects directly to the Teradek Core cloud streaming platform.
The device uses cellular bonding to create an online connection to the cloud. If the internet connection is lost due to poor signal strength or congestion, the steam is saved to an SD card which will then automatically upload the stream when the connection is secured and restored.
The Teradek Serv Micro comes with an HDMI port that supports in/out and loop-through, ethernet, and WiFi. There's also a secondary audio input and USB A connection.
There's no word on pricing or availability just yet, the website lists it as "coming soon." But judging from the 1080p limitations, as well as Serv 4K and Serv Pro models selling for $2790 and $1990 respectively, it's probably safe to assume that the price will be below those price points.
Meanwhile, The Teradek Serv Micro will be on demonstration from June 9–11, 2022, in booth 565 in the West Hall of the Los Angeles Convention Center. Interested users wishing to get in on the ground floor with a preorder, can also sign up for updates at the Teradek website.
[source: Teradek]
Order Links: