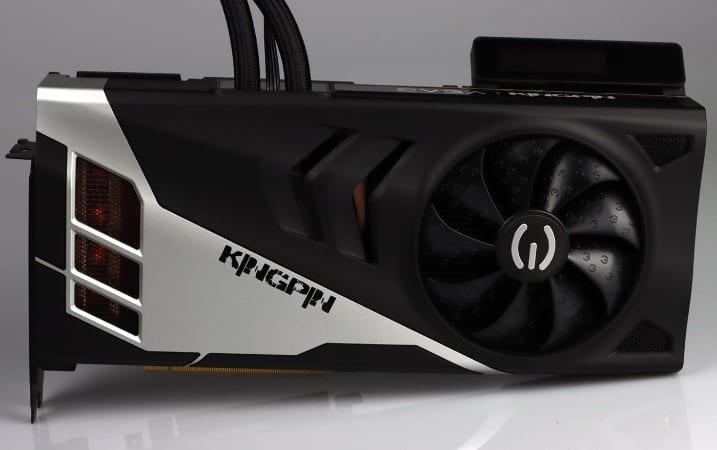 Last Updated:
The RTX 3090 Ti is a curious beast, first announced at CES, the card is reported to come out on March 29 after having been delayed. Now, retail pricing is beginning to come out, and it's not looking like good news on the pricing front, with Twitter leaker @momomo_us showing off a listing from a Canadian retailer that pips the RTX 3090 Ti TUF model from ASUS at $3680 USD. This is a pretty extreme price, but one that is reflective of most likely being the fastest single consumer GPU on the planet. You can have a look at the tweet below.
RTX 3090 Ti price leak
Leaks suggest that the RTX 3090 Ti will retail for above $3500, which is an eye-watering amount for a single graphics card that is likely to be superseded by Nvidia's own Lovelace GPUs in around six months' time. We question why Nvidia would even want to put out a card like this, which is basically the highest-binned GA-102 chip that money can buy, with the TDP cranked all the way up to 450W to ensure that the gains in performance are there. But, ultimately it's still going to be a GA102 chip, and the premium that you will end up paying for the card amounts to being 75% more expensive than the cheapest RTX 3090 that's also listed in the tweet as shown above.
This is because Nvidia wants to keep the performance crown, while AMD tinkers away at potentially building out a performance king of their own. The use case for a graphics card like the 3090 Ti is mostly going to be used for people who want bragging rights, and there's even a Kingpin model in the works, fully equipped with a 360mm AIO if you really want to go whole-hog and get yourself the fastest graphics card on the planet. It's totally extra, but Nvidia has always had a bigger flagship model that is hideously unaffordable for the majority of users.
Anyway, for anyone eyeing this up, probably just wait for Lovelace to release with a 4090 or something, it's probably going to be just as powerful, and a bit more affordable to boot.
Share this article…