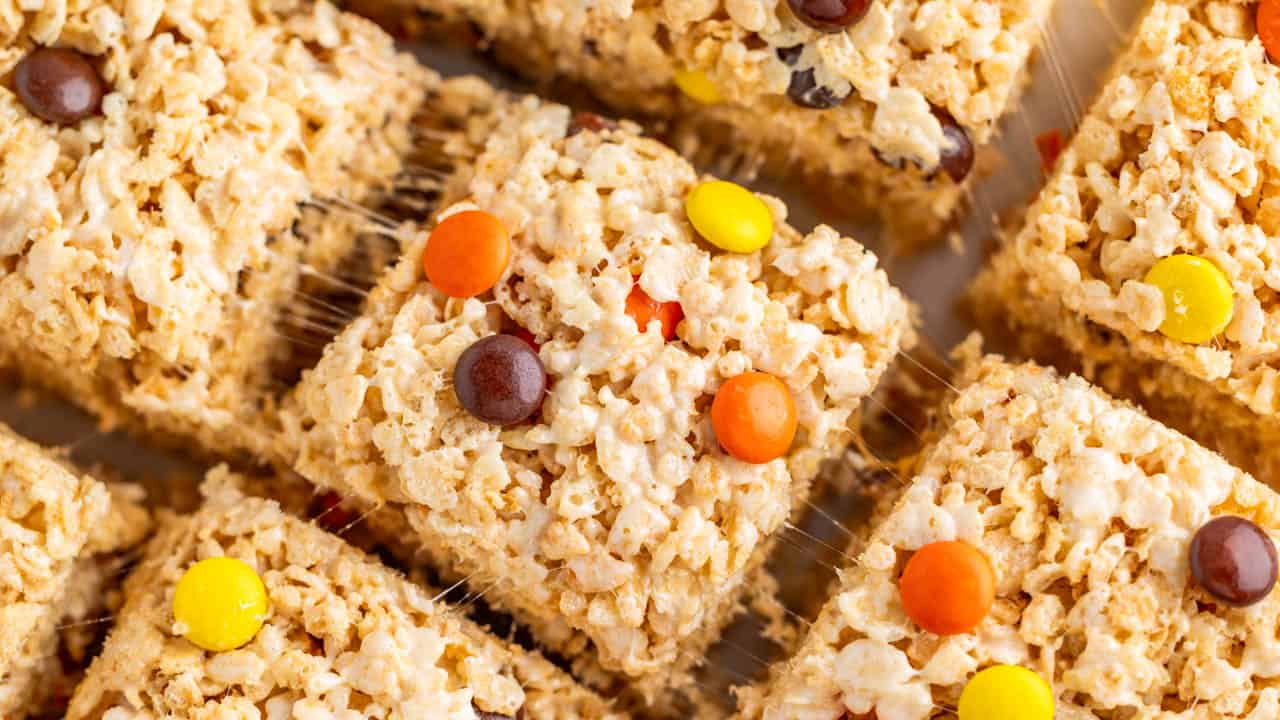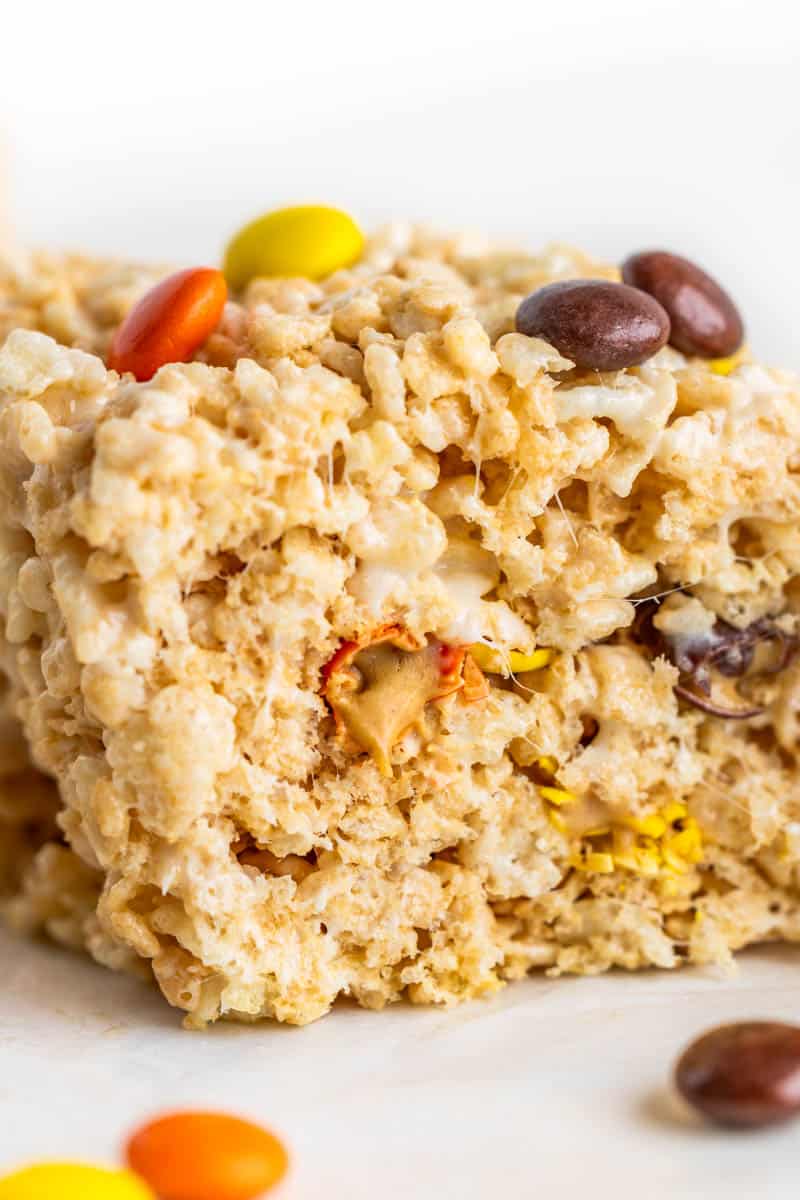 Experience the perfect blend of nostalgia and flavor with these easy-to-make Reese's Pieces Rice Krispie Treats. They're the ultimate comfort food with a twist!
Reminiscing about the sweet crunch of Rice Krispie treats from your childhood? We're taking that classic treat to a whole new level by introducing Reese's Pieces Candy into the mix. This wonderful concoction gives you the iconic crisp texture of Rice Krispies, balanced with the smooth richness of melted marshmallows, and an added burst of peanut buttery sweetness from the Reese's Pieces. This playful spin on the traditional snack is bound to be a hit with both children and adults alike.
Frequently Asked Questions
Can I use other types of cereal for this recipe?
Yes, you can substitute Rice Krispies with other puffed rice cereals. However, the taste and texture may vary.
Can I use regular-sized marshmallows instead of mini marshmallows?
Yes, but mini marshmallows melt faster and more evenly, making them preferable for this recipe.
Can I use other types of candy instead of Reese's Pieces?
Of course! You can experiment with different candies according to your personal preference.
Ingredient Substitutions
If you're not a fan of Reese's Pieces or have dietary restrictions, feel free to substitute them with other candy-coated chocolates, or even dried fruit for a healthier twist. For those who are dairy intolerant, you can replace the butter with a dairy-free alternative like margarine or refined coconut oil.
Tips for a Successful Recipe
Remember to stir the marshmallows continuously while melting to prevent them from burning.
Press the mixture into the pan evenly to ensure uniform thickness of the treats.
Allow the treats to cool completely before cutting to get neat, square pieces.
Troubleshooting
If your marshmallow mixture hardens too quickly, try placing the mixture over low heat and stir until it softens. In the case where your treats don't set properly, it might be because the mixture wasn't pressed firmly enough into the pan, or they might need more time to cool and set.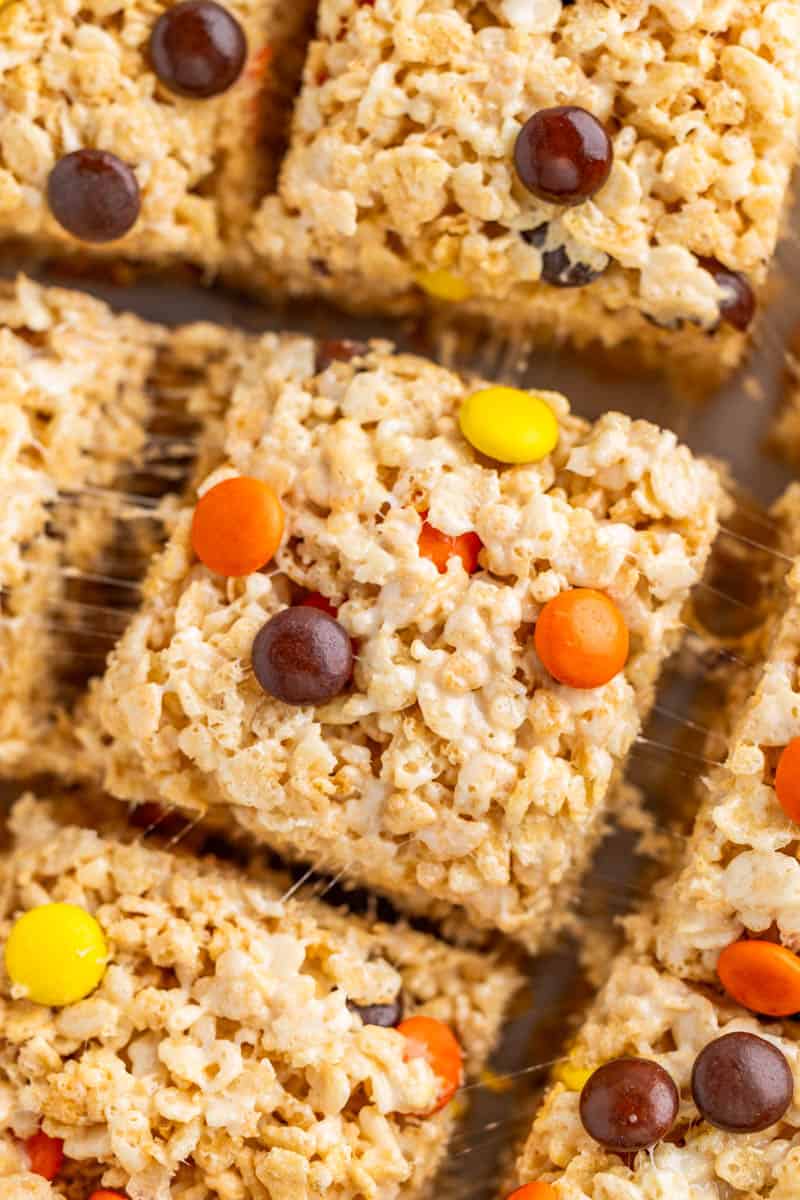 Storage Instructions
Store these treats in an airtight container at room temperature for up to 7 days. If you want to enjoy them later, you can freeze them for up to 6 weeks. When you're ready to serve, thaw at room temperature.