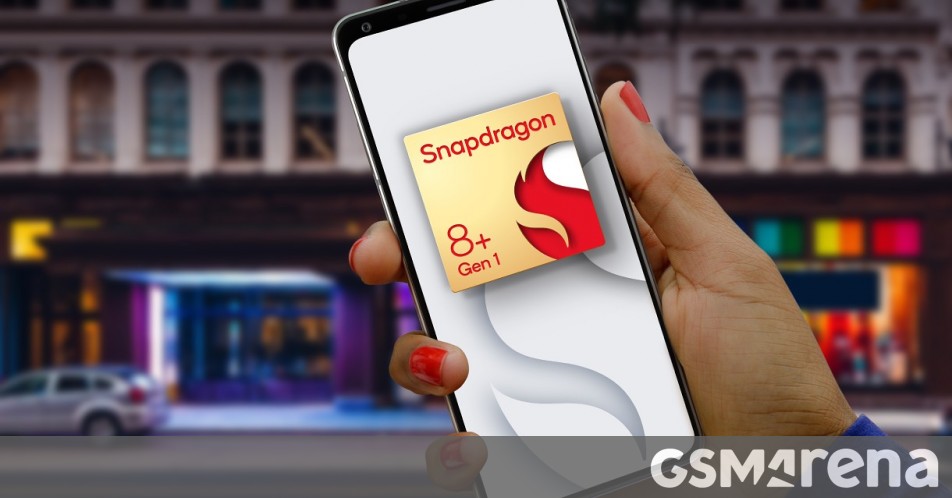 Qualcomm has unveiled a revamped version of its flagship chipset. The new Snapdragon 8+ Gen 1 (SM8475) promises modest speed improvements and notable power savings – the original 8 Gen 1 was never slow, heat and power usage were its main issues.
Qualcomm advertises a 10% higher CPU performance and a 30% improvement in power efficiency for the CPU. The peak Cortex-X2 core can now reach 3.2GHz, finally matching the clock speed of the Snapdragon 870 from early 2021 (the X2 in the original 8 Gen 1 topped out at 3.0Ghz).
The other two CPU clusters got a boost as well, here are the new frequencies: Prime core at 3.2GHz, Gold cores at 2.75Ghz, Silver cores at 2.0GHz. This is up from 3.0GHz, 2.5GHz and 1.8GHz, respectively.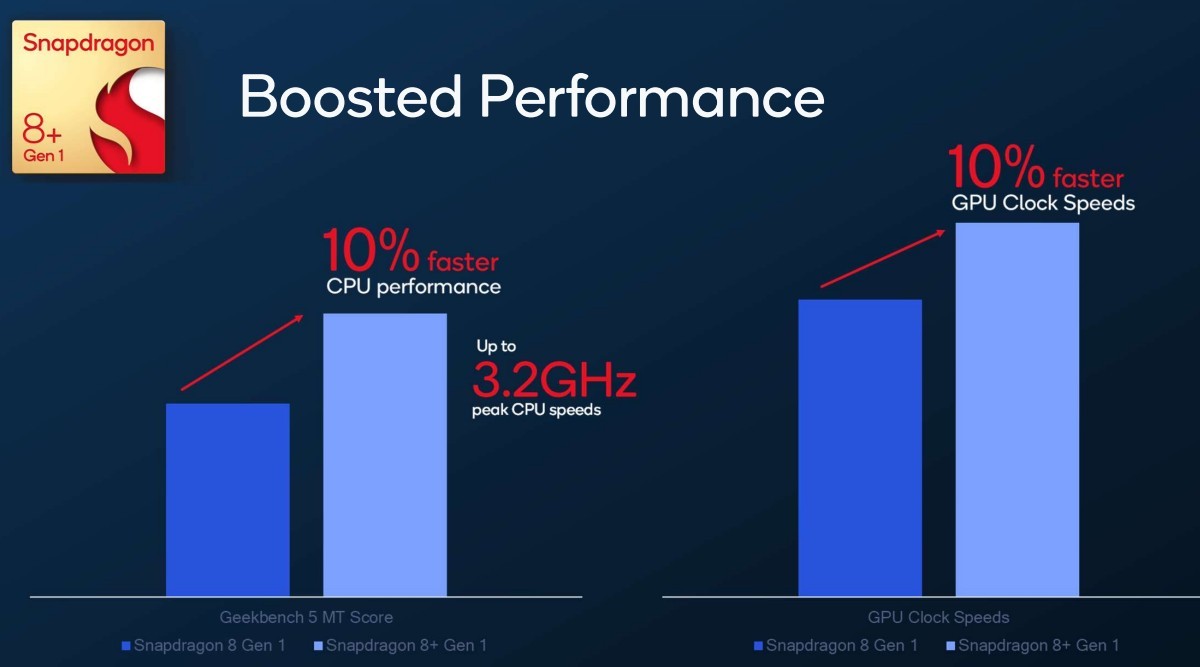 Similarly, the GPU runs at 10% higher frequency while reducing power usage by 30%. Additionally, the AI engine now has 20% better performance per Watt ratio. The wireless modems have gotten more efficient as well.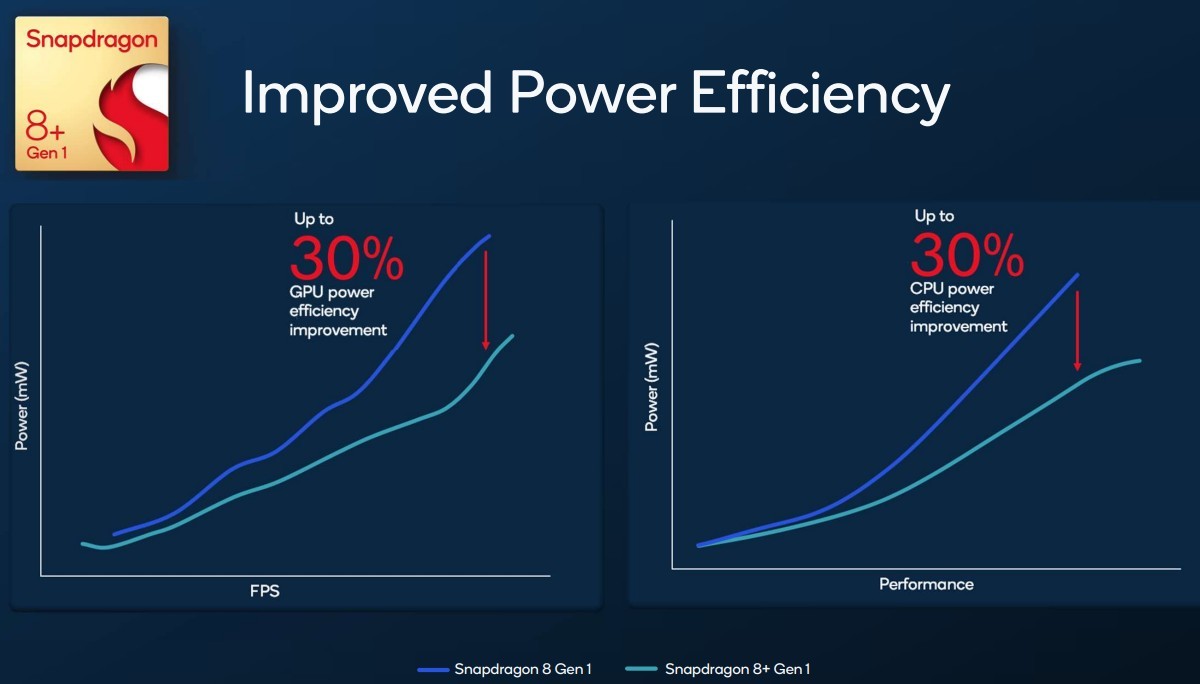 The overall power efficiency on the SoC level has improved by 15%. To put that in more practical terms, a phone using the same chipset can stream video for 1 hour 30 minutes longer than one using the old chip. Voice calls, a light load, can now be 5 hours and 30 minutes longer (the rest of the hardware being equal).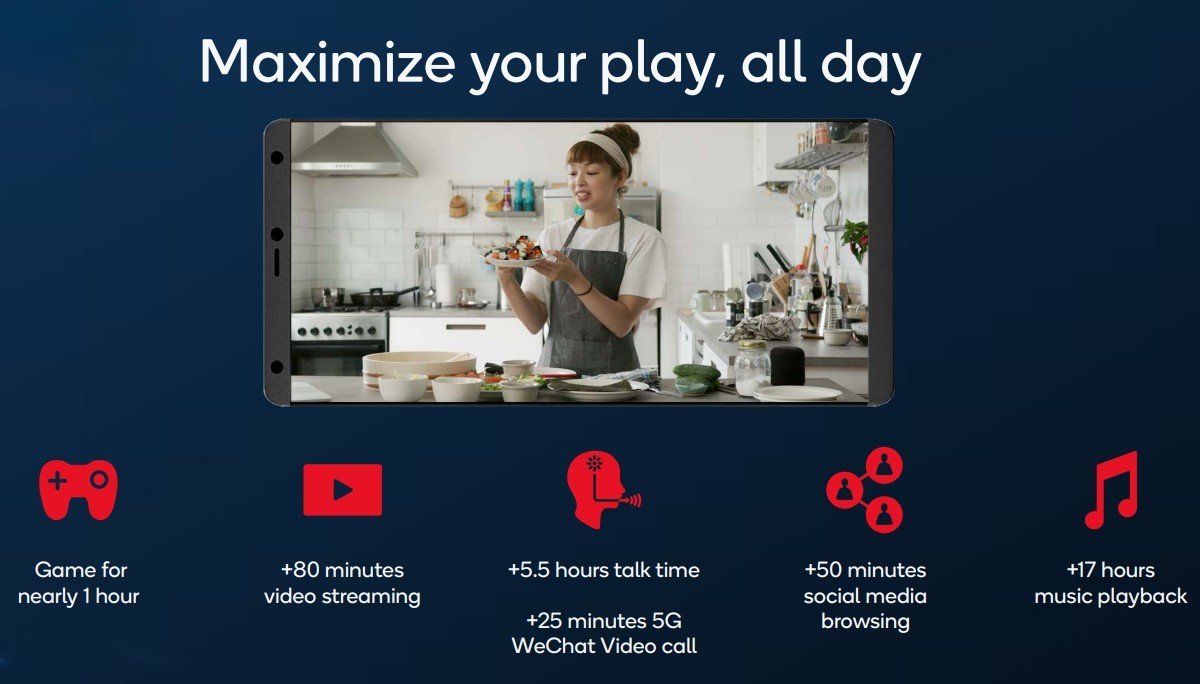 To get these improvements Qualcomm had to move foundries – the process is still labeled as "4nm", though it comes from TSMC rather than Samsung.
Those performance and efficiency improvements are the official numbers. How does the chip perform in real life? Well, Asus sent us a ROG Engineering device to test out – check out our benchmarks of the real thing and a comparison of how it performs against previous Snapdragon 8-series chips. Note that this ROG phone isn't meant to be a commercial device, instead it is a showcase of the capabilities of the new chip.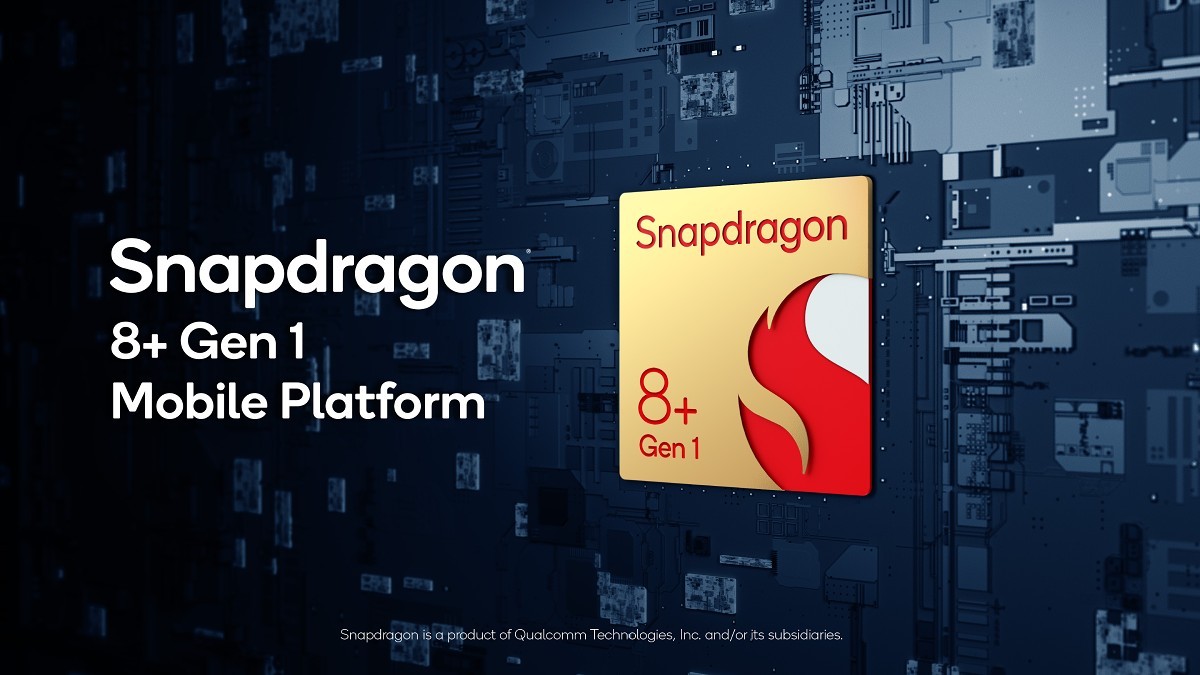 The rest of the hardware inside the Snapdragon 8+ Gen 1 is the same. Up to 16GB of LPDDR5 RAM (3,200MHz) is supported, along with UFS 3.1 storage. The display driver can do QHD+ at up to 144Hz or 4K at 60Hz, complete with 10-bit rendering (Rec. 2020) and HDR10+ support.
The Snapdragon X65 modem has theoretical peak speeds of 10Gbps, while the FastConnect 6900 does Wi-Fi 6/6E at up to 3.6GHz. Bluetooth 5.3 connectivity includes aptX Lossless and Bluetooth LE Audio (with longer play times thanks to the improved efficiency).
The chipset houses the same triple 18-bit Spectra ISP that can handle up to 200MP sensors and 8K video capture at 30fps (4K at 120fps), plus image processing tricks like multi-frame noise reduction and staggered/DoL HDR, there is a dedicated bokeh engine and support for HLG, HDR10+ and Dolby Vision formats.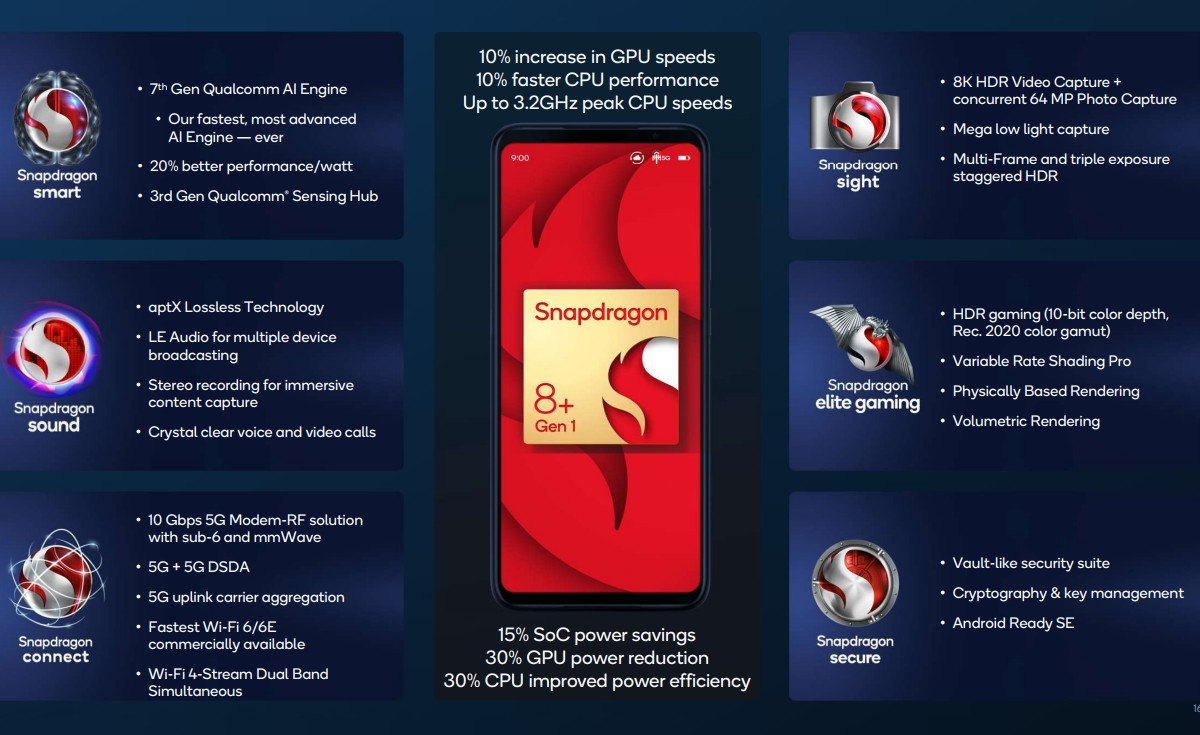 Again, connectivity and image processing prowess were never an issue for the 8 Gen 1. The problem was that heavy workloads would send the temperature rising and the battery percentage falling.
Qualcomm says that the first Snapdragon 8+ Gen 1 devices will be available in Q3 (July-September). And there is a long, long list of makers that are hard at work building those devices. Here they are in alphabetic order: including Asus ROG, Black Shark, HONOR, iQOO, Lenovo, Motorola, Nubia, OnePlus, Oppo, OSOM, realme, Red Magic, Redmi, vivo, Xiaomi, and ZTE.