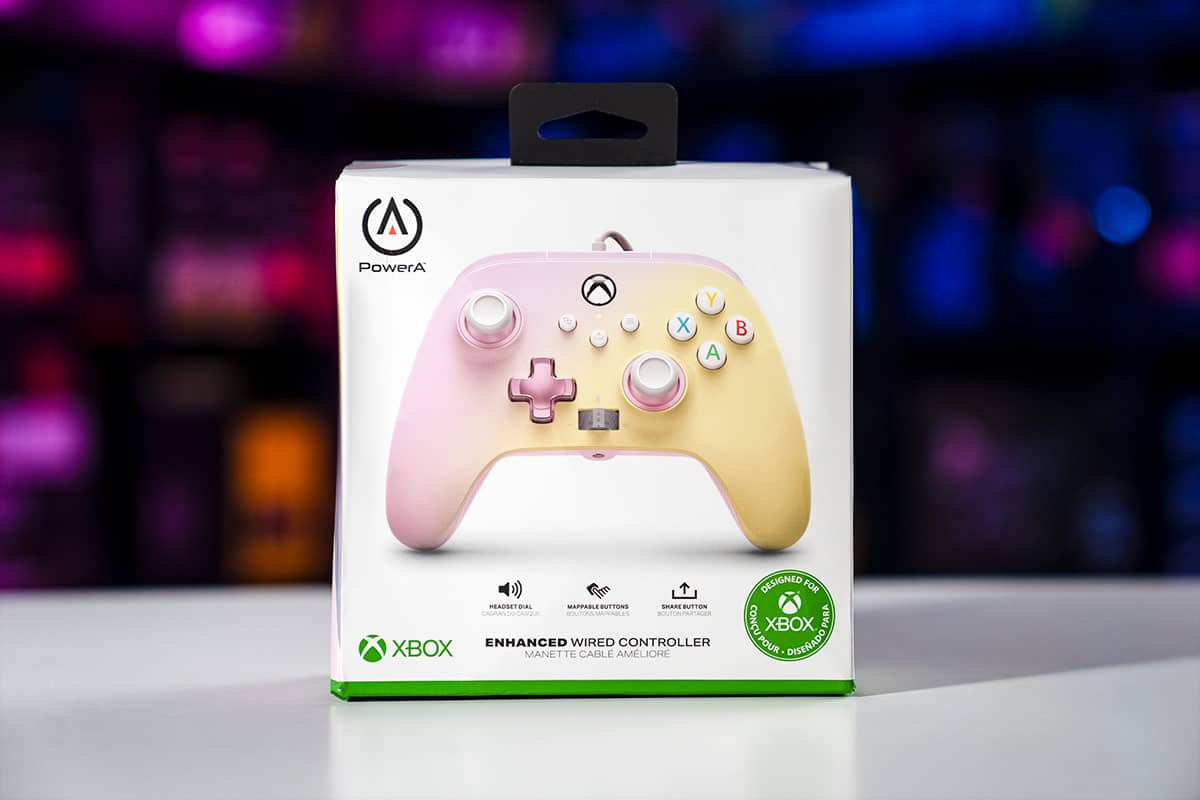 Last Updated:

If you're anything like us, you've coveted a controller with additional features and a more interesting color scheme than the typical primary colors available from the likes of Microsoft and Sony. If you're willing to pay the big bucks you can get just such a controller from companies like SCUF or the Xbox Design Lab, but what if you don't want to sell organs on the black market or miss rent for another month? Well, there are a few companies producing cute, cromulent, and cost-effective controllers out there, like the subject of this review, PowerA.
Founded in 2009 under parent company BDA LLC, PowerA immediately got to work, attaining licenses from Nintendo, PlayStation, and Xbox to produce officially branded controllers, charging stands, and other such peripheral accessories, including the premium sub-brand, FUSION. So it's safe to say that PowerA has some impressive heritage, so let's take a look at one of their more recent products, the 'Pink Lemonade' enhanced Xbox Controller.
PowerA Pink Lemonade enhanced Xbox controller
Compatibility
Xbox Series X/S, Xbox One, PC
Buttons
Standard Xbox layout +3 programmable paddles
Ports
Micro USB, 3.5mm stereo headset jack
Pros



Clicky, tactile buttons




Beautiful colorway




Mic volume rocker is a nice touch




Detachable cable
Cons



Shiny texture on top plate will be displeasing to some




slightly creaky build quality
What's in the box & setup
PowerA Pink Lemonade Enhanced Xbox controller
Detachable USB Type-C Controller
User manual
Given the budget-oriented purpose of the controller, we weren't expecting much here, and our expectations were exactly matched. We get that might sound bad but the packaging and unboxing experience of most controllers is rarely anything special so it's totally acceptable.
One thing worth noting here is that the controller is only secured at the bottom of the handles and on top of the triggers, this means that the analog sticks are almost directly pressed up against the box. This worries us as a frontal impact during shipping could spell disaster, however, our sample arrived in mint condition, despite a few visible impacts to the box.
Given that this controller is not wireless, setup is barely worth talking about as it amounts to plugging the included cable into the controller, then into the console/PC, or vice versa, if you really want to spice things up.
Design
This is the real selling point, isn't it? The pink lemonade colorway of this controller is just fantastic to look at. The face of the controller has a beautiful pastel gradient going diagonally across, fading smoothly from marshmallow-esque yellow to a Hello Kitty-reminiscent pink. Both of these colors have a pastel vibe to them that helps to prevent the custom color from clashing with the standard face buttons, sticks, and Xbox logo.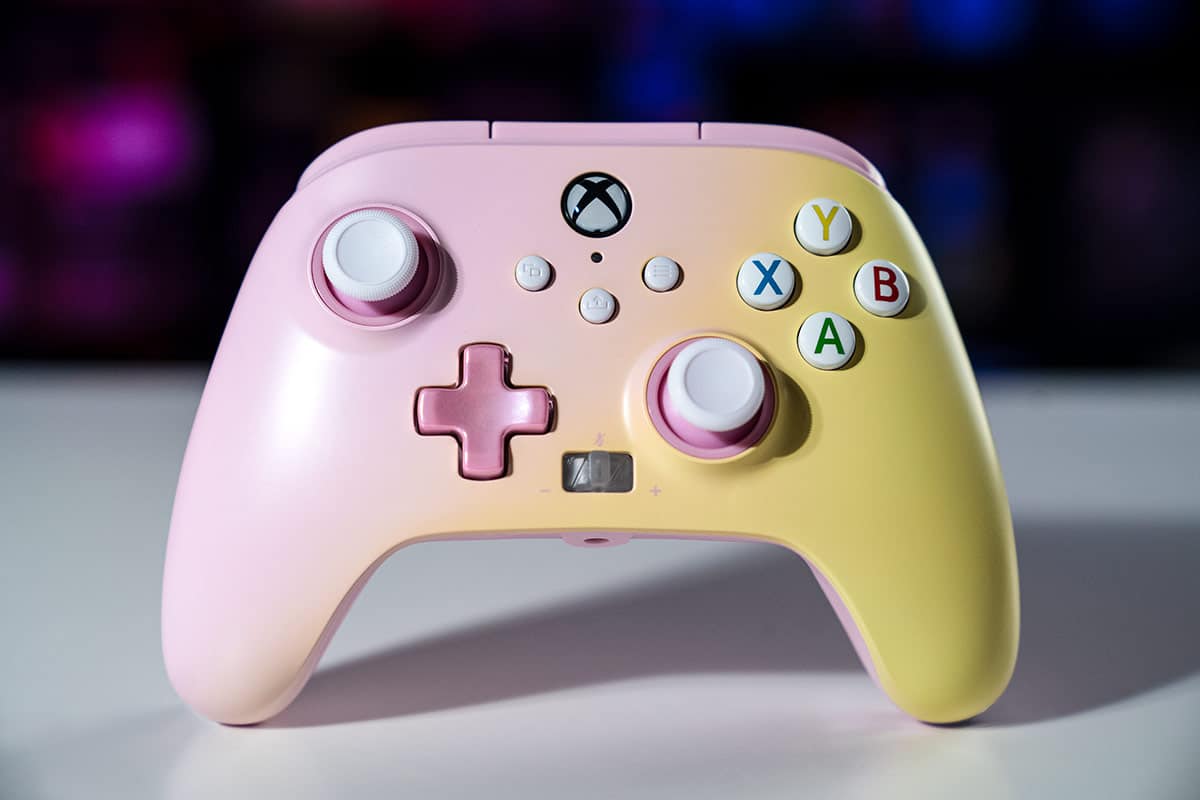 Additionally, the D-pad has a glossy, almost pearlescent finish to it that helps add a premium touch to this budget-friendly controller and we think it looks awesome. Turning the controller over, we see a continuation of the pastel pink, though this time there is no gradient, just a uniform coverage across the back.
Build quality
This is where the PowerA shows its price, as there are a few very noticeable foibles with its construction and some less-than-ideal issues with how it feels in the hand. Given the lack of a battery, we aren't surprised that it's light, but you could very easily say it's too light. Lightness is normally good as it prevents fatigue and strain in the wrists, but in this case, it belies the substandard materials used in this controller.
The triggers also lack the usual slightly softened impact that we are used to from most Xbox controllers, after disassembling the controller, we found the culprit. This took the form of two small squares of foam that are designed to soften the impact as the triggers bottom out, however, these squares aren't dense enough, so the mechanism that the triggers actuate manages to slam down onto its plastic mounting plate. This produces a loud plastic-on-plastic clack akin to the spacebar on cheap gaming keyboards that becomes particularly noticeable when playing games without headphones. Conversely, the bumpers feel and sound pretty good as they produce a subtle click when pressed that isn't too dissimilar to official Xbox controllers
The rest of the controller does pretty well in regards to build quality, with a nice texture on the back of the handles, tactile extra paddles, and a d-pad that needs a bit of extra force to actuate, which we find helps add a sense of definitiveness to the experience. The volume rocker/mic mute control switch is also lovely, with a tactile click to each side and a nice thud when you press directly downwards to mute the mic. It also glows with a vivid red when a connected headset is muted, which is handy as it's always good no know at a glance whether your teammates can hear you cursing them out for missing the clutch.
In-game performance
As with any controller outfitted with additional paddles, there is some tangible performance benefit as you can bind them to controls that would otherwise necessitate moving one or both thumbs from the sticks. During our testing, we found that binding one of them to the camera lock toggle in Rocket League allowed for less scrambling around with the right thumb.
We did find the force feedback vibration to be a little weaker than the official Xbox controller, there wasn't any noticeable loss in definition, but it didn't make our hands shake quite as much as we'd like. Admittedly, however, many people find force feedback annoying or even painful and usually, there is no way of turning it down, it can either be on or off. The PowerA Pink Lemonade produces vibrations that we feel are around 70% as powerful as the stock Xbox controller, this might make it ideal for the aforementioned vibration agnostics.
Other than these factors, there isn't a whole lot to say as the controller performs perfectly well in terms of gaming which is unsurprising as controllers are a known science at this point. Since the inception of controllers with additional paddles on the back, there really been a proper paradigm shift in this area of peripherals. Perhaps PowerA will provide the next big thing? We'll have to wait and see.
PowerA Pink Lemonade Enhanced Xbox Controller: Final verdict
PowerA has created a good controller with a great design here. The coloring is pleasingly vivid and the small accents create a coherent overall product that is by far the prettiest-looking controller we've seen without having to literally commission a custom design. It also performs well in gaming, with tactile actuation and the additional buttons allowing for more customization and creativity when it comes to controls, which is a tangible performance benefit.
Unfortunately, our overall opinion of this controller is soured somewhat by the question materials and build quality, the loud cheap clack of the triggers, in particular, stands out as it really can feel and sound annoying pretty quickly. Additionally, the featherweight nature of the controller doesn't inspire confidence in the longevity, so if you're prone to raging perhaps look elsewhere, as we don't think this controller could survive a high-speed impact with a wall, TV, or window.
All of the above must be considered within the context of the price, and given that it comes in $15-$20 less than an official Xbox controller, we still recommend it for those of you who are more budget-oriented as it games perfectly fine, and looks world's more interesting than the typical controller fair.