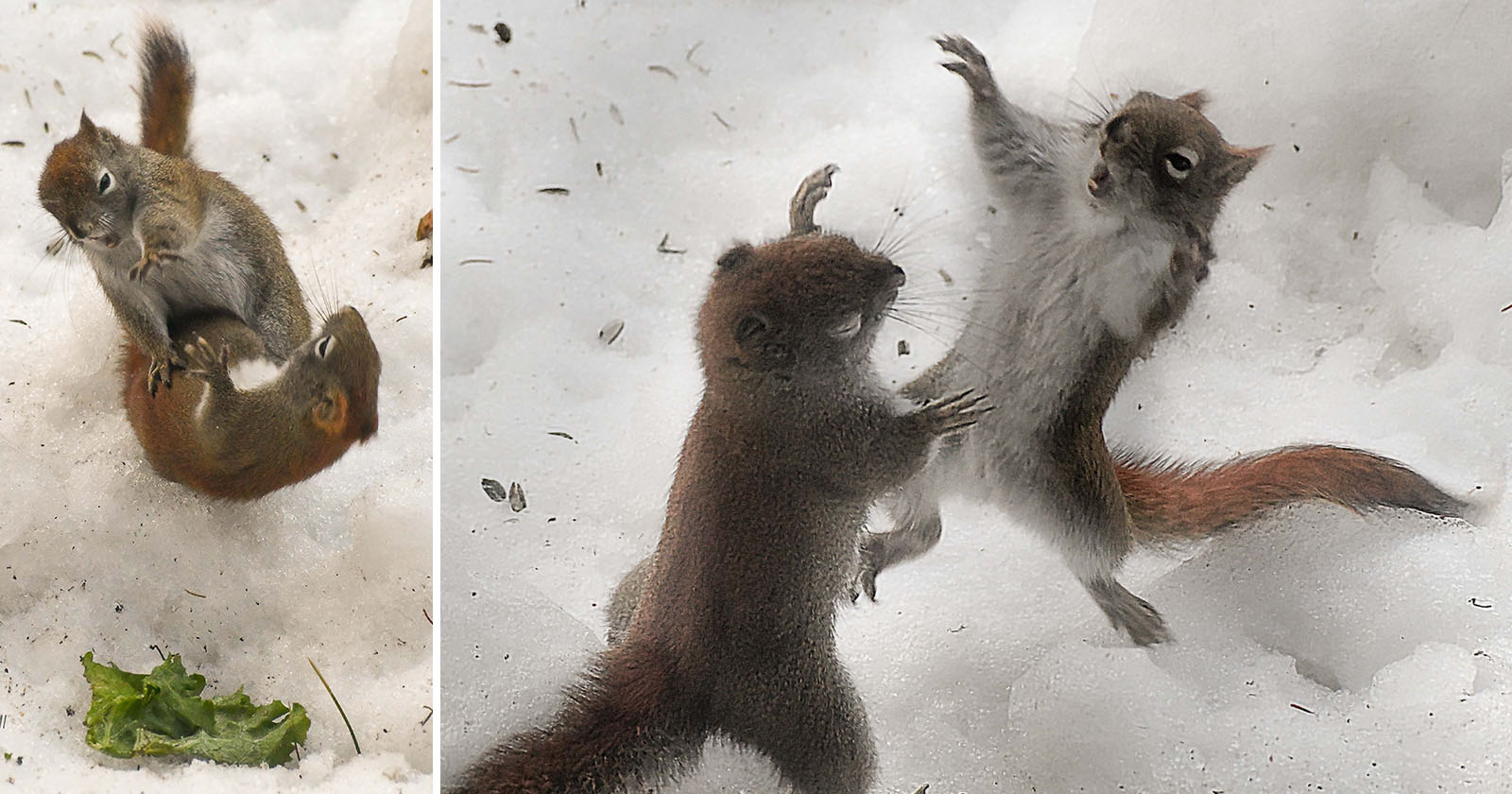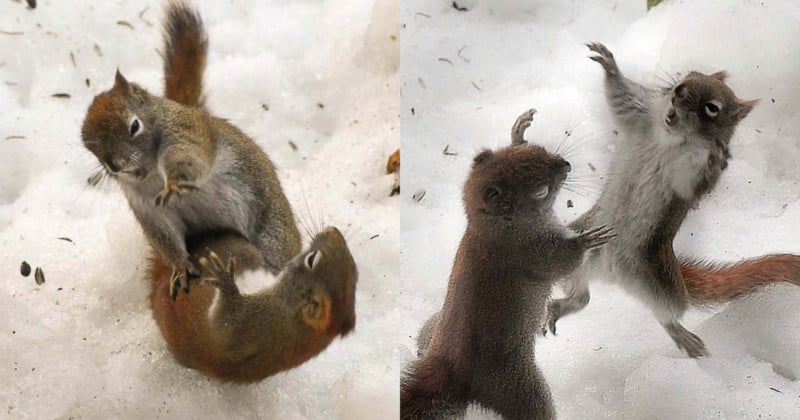 A photographer in Michigan has captured humorous photos of two squirrels fighting each other over who gets to eat a piece of lettuce.
On March 17th, before heading to work, hobbyist photographer Paula Badour was enjoying the view of springtime rolling into Michigan and the wildlife that appears at this time of year.
"That day, within about 30 minutes, I had 'visits' from three deer, an ermine, [and] a flying squirrel," she says.
A Squirrel Squabble
What Badour also spotted that morning were two red squirrels having a squabble over some lettuce that was nearby on the snowy ground. The squirrels were leaping at each other and wrestling on the ground, and Badour managed to capture photos of the short skirmish.
"Please know [that] both squirrels walked away with no injuries, just hurt feelings, and [they] probably told their friends 'you should have seen the other guy' stories," the photographer says. "Because it was on St. Patrick's Day and I am very Irish, I have named the 'fighters' O'Brien and Lep (short for Leprechaun — my late father's nickname)," she says. "I am sure they will visit again!"
Photography as Therapy
Paula Badour lives in the small town of Cedarville in the Eastern Upper Peninsula of Michigan. After the love of her life passed away suddenly in January of 2020, Badour picked up a camera as a form of therapy in the midst of grief. She has spent the past two years improving her skills by capturing photos of nature.
"My goal is to show the world the wildlife that we have in our little corner of the world," Badour tells PetaPixel. "Most of my photos are shot in my backyard through my bedroom window."
"As we are always our own worst critic, I keep striving to get the 'better shot'. My quote and philosophy of 'When I step behind the camera, the whole world goes away for just a minute' has gotten me through some very rough times.
"When I get the right shot, it brings tears to my eyes… I kind of surprise myself."
Badour uses two Nikon DSLR cameras for her work, the Nikon D7500 and the Nikon D3400. Her passion for photography has driven her to do whatever it takes to get the perfect shot of wildlife she sees.
"I have been known to lay in the driveway of a local business to get the close-up shot of a turtle crossing the driveway, hang out the car window to get the best shot of eagles on roadkill, run into the field with a momma moose just to get the shot, sit on the porch for hours to get the hummingbird in motion shot," she says. "Last year, I stood on my porch as a coyote approached closer and closer while I got the shots.
"My 'camera therapy' seems to be evolving into a very enjoyable hobby and somehow I am able to get the cool and unique shots of our wildlife world. I guess I do have an 'eye for unique stuff'.
"My backyard is lit up like an airstrip so I am always waking up in the middle of the night to see 'who' might be visiting. [I am] still waiting for a bear or a wolf to come visit."
Badour says she hopes her photography will eventually go from being her "therapy" to her career, but for now, she is content with sharing her work with the world through social media.
More of Badour's work can be found on her Facebook page, PaoB Photos, and prints of her photos can be purchased through her online shop.
---
Image credits: Photographs by Paula Badour.