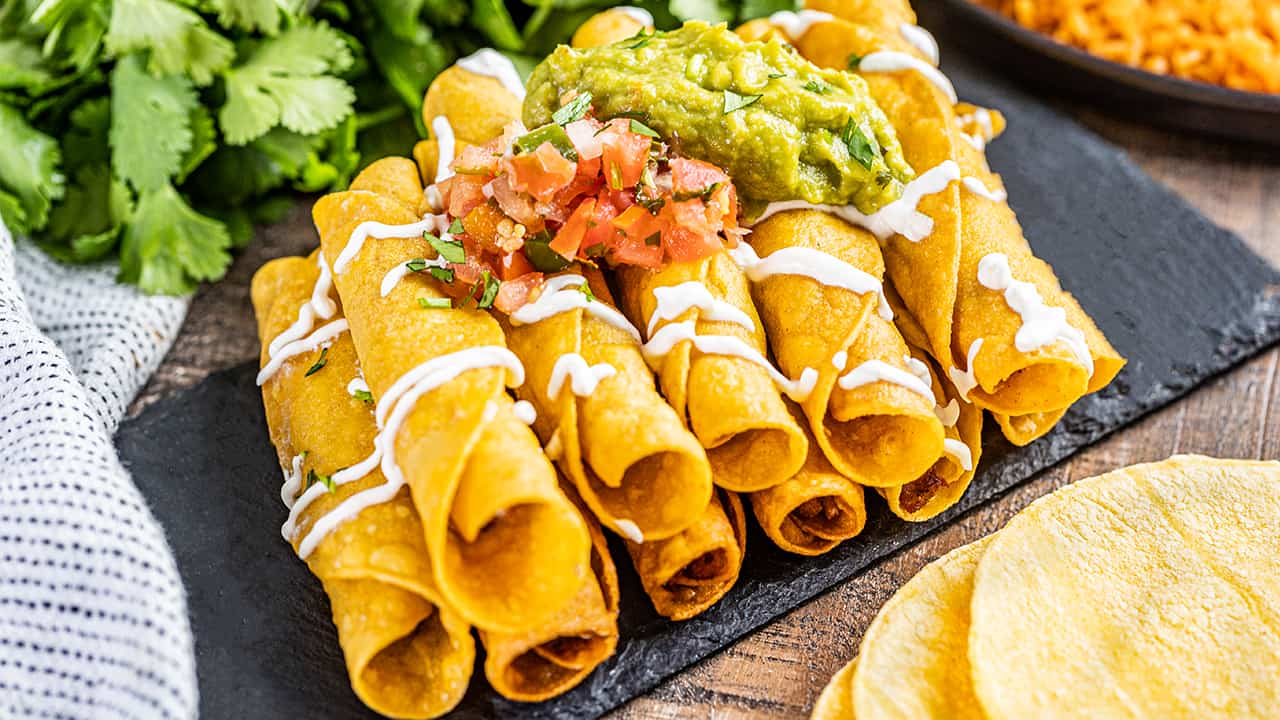 Did anyone else grow up with a large chest freezer in the garage, filled to the brim with frozen goods? Aside from Hot Pockets, Eggo Waffles, and tubs of cheap vanilla ice cream, we have vivid memories of giant boxes full of beef and chicken taquitos. As kids, we thought they were the best things ever! They were perfect for after school snacks and late night munching. Today, we feel all of the nostalgia making our own taquitos from scratch, without needing to take over an entire freezer with sub-par taquitos. Fresh ingredients make such a difference, and we absolutely love how quick and easy they are to make, not to mention they are both adult and kid approved!
Meat Options for Perfectly Crispy Baked or Fried Taquitos: 
You can use your favorite shredded meat, or even ground meat in taquitos. We love to use leftover shredded rotisserie chicken for quick prep. For a plant-based option, you can use meatless crumbles. 
If you are using pre-seasoned meat, there is no need to add additional seasonings called for in the recipe.
Cheese Options :
We keep it classic with cheddar cheese, but you can use your favorite shredded cheese. Pepper jack adds a nice warmth to the taquitos, or even a Mexican cheese blend. 
Corn Tortilla Tip:
Make sure not to skip microwaving your corn tortillas in a clean towel or paper towel. Corn tortillas tend to crack, but they are much easier to roll without cracking if you heat them up first. 
Tortilla Options:
You technically can use a flour tortilla, but that would not be a taquito, it would be a flouta. As always, you do you!
Do I have to use toothpicks?
Trust us, toothpicks just make this whole experience a lot easier. After losing that important filling once, you won't want to do it again. We had to learn the hard way!
Warning: make sure to remove those toothpicks before eating. 
Oil:
Use any neutral favorite oil to spritz or baste. You can keep it simple with a standard spray canola oil, or baste with your favorite avocado or grapeseed oil. It's up to you.
Serving suggestions:
Taquitos are delicious all by themselves, but please make sure to try them dunked in cilantro lime ranch, guacamole and/or sour cream. 
Air Fryer Instructions:
To make your taquitos in the air fryer, the instructions are largely the same. You just need to preheat air fryer at 375-380 degrees Fahrenheit before you prep your taquitos, and when ready to air fry, lightly spritz or baste with oil and air fry at 380 degrees Fahrenheit for 6-8 minutes. 
Freezer Instructions: 
Taquitos are always best eaten fresh, but let's be honest, the kids never complain about leftovers. Make sure your cooked taquitos (whichever method you choose) have cooled completely and are not touching. Freeze on a baking sheet. Once frozen, transfer to an airtight freezer-safe bag and freeze for up to 2 months. 
Reheat either in the microwave or in an oven preheated to 350 degrees Fahrenheit until warmed through.