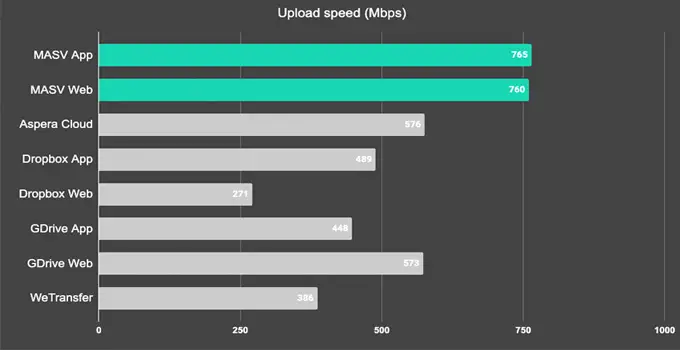 File sharing network MASV has upgraded its infrastructure to support upload speeds of up to 10GBps. With a moniker meant to convey the transfer of very large files, the company hopes to be the best option for backing up massive amounts of data, rather than saving them to a hard drive.
"With 10Gbps performance, MASV is opening new horizons for video production in the cloud," said Majed Alhajry, Chief Technology Officer at MASV. "Many cloud services have been developed on low-cost, low-performance infrastructure to render freemium business models profitable. MASV's focus on media professionals led us to build the world's highest-performance cloud transfer platform, optimizing for speed and reliability in every way, from Apps to APIs."
The company charges about $.25 per gigabyte of data transfer with extended storage costing about .10/GB per month. There are also custom plans that can be crafted for unique needs of a production. The company also states that with its new 100GBps fiber optic network, download speeds can handle petabytes of data in a matter of minutes.
There's also a file tracking utility, which enables the sender to keep track of how fast the data transfer is taking and when it has been delivered.
According to Stephen Kampff of FStoppers, should a production attempt to upload that amount of data to Google, throttling would become active and odds are, the file would merely time out due to bandwidth limits. "If you try uploading 200 GBs to Google Drive, the speeds will be throttled so hard you might not even bother," Kampff writes.
"It's an issue many creatives will run into. The issue is that no matter how fast your internet connection is, the file sharing service needs to be quick as well."
By contrast, MASV actually wants users to upload a lot of data, and the more the merrier. "As video production moves increasingly to the cloud, a browser-friendly content exchange is critical," said MASV press release. "MASV is making it faster, better and cheaper for anyone to securely move Petabytes of video by cloud – a capability that used to be the domain of enterprise IT."
While MASV has no file transfer limits, save for the user budget, the company has also created the ability to schedule uploads for times when internet traffic is lighter, and therefore faster. This gives users the freedom to self-regulate and schedule bandwidth with respect to other traffic on their networks.
The MASV file upload architecture also supports working with preferred cloud storage options including Amazon S3, Backblaze, Wasabi, Dropbox, and others. The file transfers are promised to be fully encrypted with MASV stating that the network has not only passed a TPN security review but has plans to upgrade to ISO27001/SOC2 protocols in the near future.
Users can sign up for a 14-day free trial at massive.io, which comes with 100GB of free data. In a world where camera to the cloud is going to become ubiquitous in the industry, it makes sense to have a backup system that embraces high demand, not punishes it.
[source: Masv]