Discover the perfect balance of sweet and savory with our mouthwatering Hawaiian Pizza recipe! Experience the tropics in every bite with this easy-to-follow guide.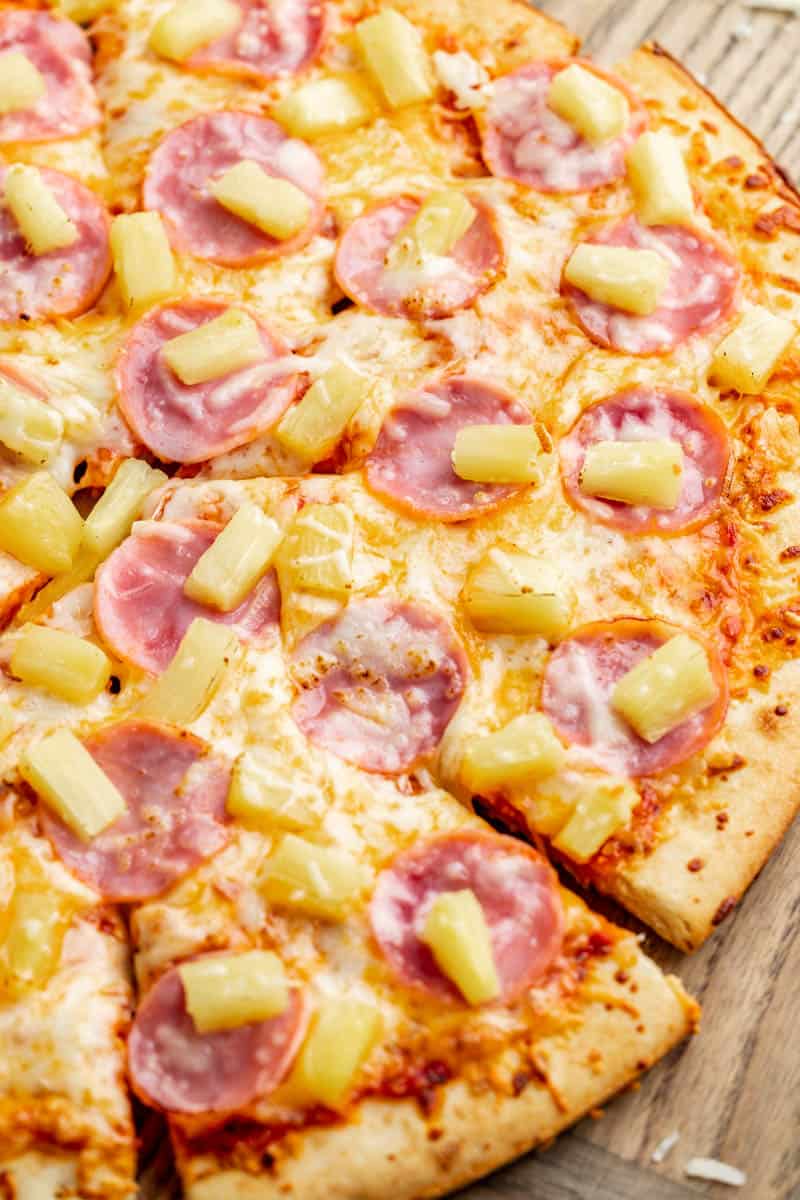 Indulge in a slice of paradise with our delicious Hawaiian Pizza recipe. This classic dish combines the rich, savory flavors of ham and bacon with the refreshing sweetness of pineapple, all atop a bed of gooey, melted mozzarella cheese. Our easy-to-follow guide ensures that this 12-inch pizza is perfect for sharing with friends and family. Making it an ideal choice for your next pizza night, backyard barbecue, or casual get-together. In addition, the harmonious blend of sweet and savory ingredients creates a delightful flavor experience that will have everyone coming back for seconds. With this Hawaiian Pizza recipe, you'll bring a touch of tropical charm to your dining table, and it's sure to become a favorite in your home.
A Brief History of Hawaiian Pizza

Contrary to popular belief, the origins of Hawaiian Pizza can be traced back to Canada, not Hawaii. In 1962, Greek immigrant Sam Panopoulos created this iconic pizza at the Satellite Restaurant in Chatham, Ontario. Panopoulos was inspired to experiment with unconventional pizza toppings, and he decided to combine sweet pineapple chunks with savory ham to create a unique and harmonious flavor profile. The dish was named "Hawaiian Pizza" after the brand of canned pineapple that Panopoulos used. Over time, this fusion of sweet and savory ingredients gained popularity and became a staple in pizzerias worldwide. While the debate over whether pineapple belongs on pizza continues to divide people, there's no denying the lasting impact that Sam Panopoulos' culinary creation has had on the world of pizza.
Frequently Asked Questions

Can I use a different type of cheese?
Absolutely! While mozzarella is the traditional choice, you can also try using provolone or Monterey Jack for a slightly different taste.
Can I make this pizza dairy free?
Yes, you can easily make this pizza dairy-free by using a dairy-free cheese substitute, such as Daiya or Violife, in place of the mozzarella.
Do I really have to put pineapple on my Hawaiian pizza?
Well, technically speaking, it wouldn't be a Hawaiian Pizza without the star of the show – pineapple! But, in the spirit of culinary creativity, we encourage you to make the pizza that suits your taste buds. After all, rules are made to be broken, right? So, if pineapple isn't your thing, feel free to substitute it with something else or create your own tropical twist. Just don't forget to give your masterpiece a new name!
Pizza Baking Tips

Make sure to preheat your oven with the pizza stone inside. This will ensure that your pizza cooks evenly and has a crispy crust.
When rolling out the dough, use a floured surface and a rolling pin to prevent sticking.
Keep an eye on the pizza while it bakes to prevent overcooking or burning.
Serving Suggestions

Serve your Hawaiian Pizza with a simple green salad or a side of garlic bread to complete the meal. For a fun twist, pair it with a tropical-themed cocktail or mocktail.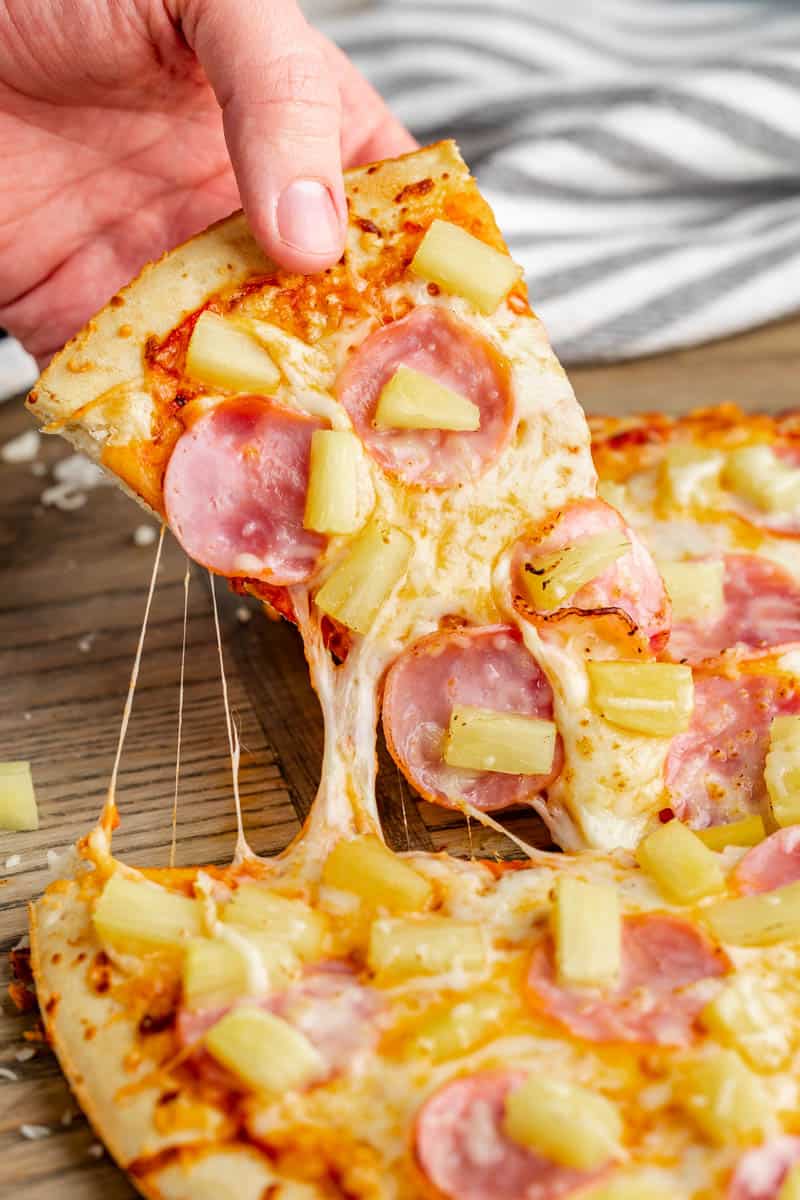 Storage & Reheating Instructions

Store any leftover pizza in an airtight container in the refrigerator for up to 3 days. To reheat, preheat your oven to 350°F and bake the pizza on a baking sheet for 5-7 minutes, or until the cheese is melted and the crust is crispy. Alternatively, you can reheat individual slices in the microwave for 30-60 seconds on a microwave-safe plate.
Related Recipes

If you like this recipe, you may be interested in these other delicious pizza recipes: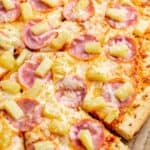 Discover the perfect balance of sweet and savory with our mouthwatering Hawaiian Pizza recipe! Experience the tropics in every bite with this easy-to-follow guide.
Ingredients
1

lb

homemade or store-bought pizza dough

1/2

cup

Pizza sauce

2

cups

mozzarella cheese

shredded

1/2

cup

ham

sliced or chopped

1/2

cup

pineapple

canned or fresh pineapple chunks

1/4

cup

bacon crumbles
Instructions
Preheat the oven to 500 degrees Fahrenheit with a pizza stone inside if you have one.

Roll out the pizza dough on a floured surface to form a 12-inch circle.

Place the dough on a pizza tray.

Spread the pizza sauce evenly over the dough.

Sprinkle the cheese, ham, pineapple chunks, and bacon crumbles over the sauce.

Bake the pizza on the preheated pizza stone until the cheese is melted and slightly browned, approximately 10-15 minutes.
Notes
Recipe Yield:
(one) 12 inch pizza
 
Serving: 1slice | Calories: 266kcal | Carbohydrates: 30g | Protein: 14g | Fat: 10g | Saturated Fat: 5g | Polyunsaturated Fat: 1g | Monounsaturated Fat: 3g | Cholesterol: 33mg | Sodium: 868mg | Potassium: 103mg | Fiber: 1g | Sugar: 5g | Vitamin A: 262IU | Vitamin C: 6mg | Calcium: 145mg | Iron: 2mg