Transport your taste buds to a tropical paradise with Hawaiian Haystacks! This scrumptious dish combines juicy chicken, vibrant fruits, and crunchy toppings for a meal that's as delicious as it is colorful.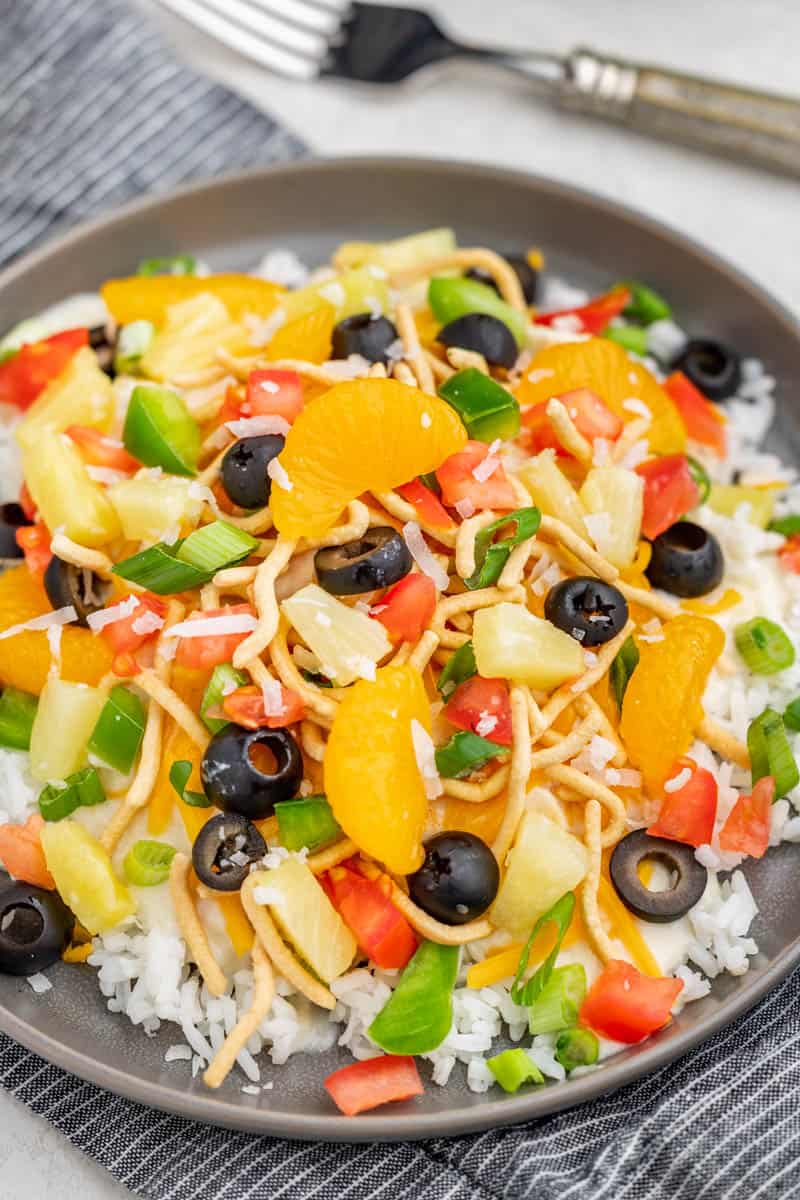 Hawaiian Haystacks is a versatile and delicious meal that brings together the best of sweet, savory, and crunchy textures. Perfect for a weeknight dinner or a gathering with friends, this dish allows everyone to customize their plate to their liking. The creamy chicken gravy pairs beautifully with the fresh pineapple and mandarin oranges, while the chow mein noodles and coconut flakes add a satisfying crunch. Whether you're looking to introduce new flavors to your family or impress your guests, Hawaiian Haystacks is a surefire hit!
The Origins of Hawaiian Haystacks

While the name might suggest otherwise, Hawaiian Haystacks actually originated in the United States during the mid-20th century. This dish quickly gained popularity as a crowd-pleasing, easy-to-make meal that could be adapted to accommodate various tastes and dietary needs. Despite its mainland roots, Hawaiian Haystacks captures the essence of the islands through its vibrant combination of ingredients and tropical flair.
Frequently Asked Questions

Can I use brown rice instead of white?
Yes, you can substitute brown rice for white rice, just keep in mind that the cooking time may be longer.
What if I don't have chow mein noodles?
You can use crushed tortilla chips, crispy fried onions, or even slivered almonds for an added crunch.
Can I make Hawaiian haystacks vegetarian?
Absolutely! For best results, replace the chicken with tempeh or your favorite plant-based chicken substitute, and use vegetable broth in the gravy.
Can I make this gluten-free?
For a gluten-free version, use gluten-free flour in the gravy and opt for gluten-free noodles or another gluten-free crunchy topping.
Serving Suggestions

Serve Hawaiian Haystacks alongside a fresh green salad, steamed vegetables, or a fruit salad to round out the meal. For a fun dining experience, consider setting up a buffet-style topping bar and let your guests build their own haystacks! Don't hesitate to get creative with additional toppings like diced avocado or sliced olives to suit your personal taste.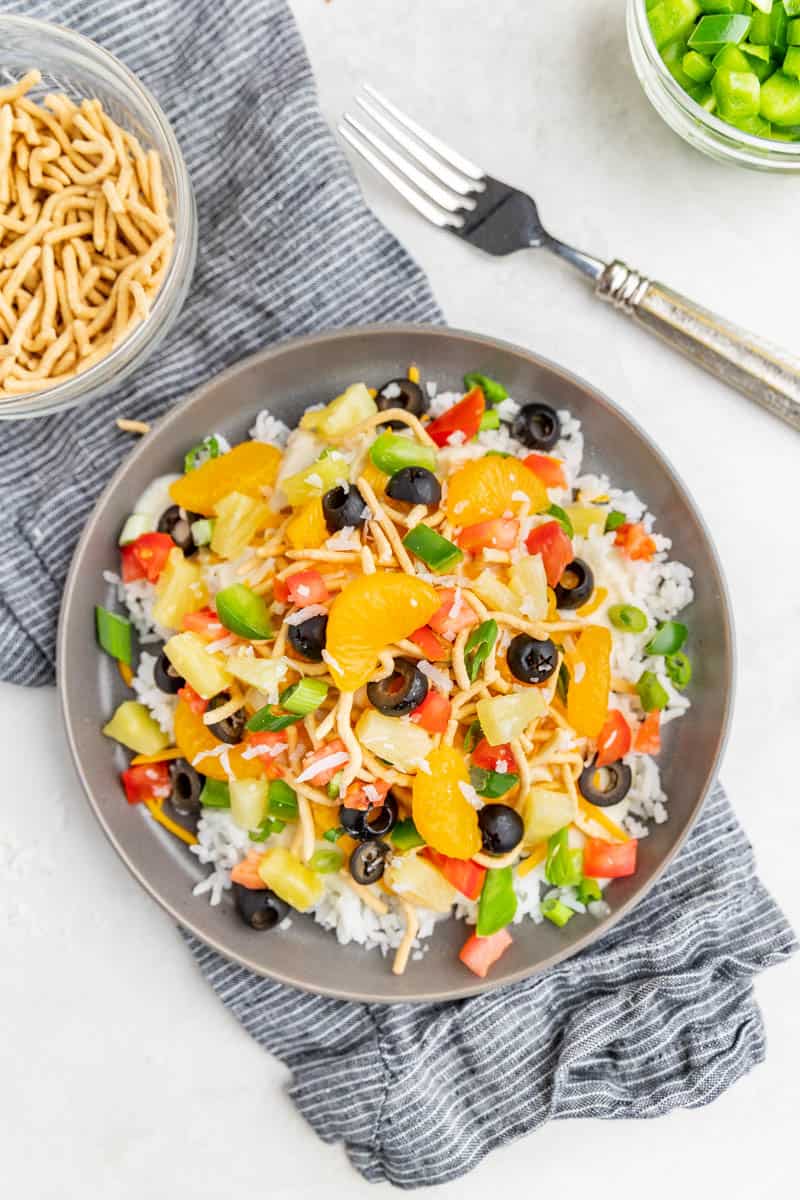 Storage & Reheating Instructions

Store leftovers separately in airtight containers in the refrigerator for up to 4 days. To keep them fresh, store the toppings and creamy chicken gravy separately from the rice. To reheat, microwave the rice and chicken gravy separately, then reassemble with the desired toppings.
Related Recipes

If you like this recipe, you may be interested in these other delicious buffet-style recipes:
Watch the video below where Caytlin will walk you through every step of this recipe. Sometimes it helps to have a visual, and we've always got you covered with our cooking show. You can find the complete collection of recipes on YouTube, Facebook Watch, or our Facebook Page, or right here on our website with their corresponding recipes.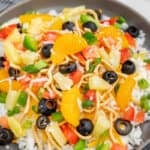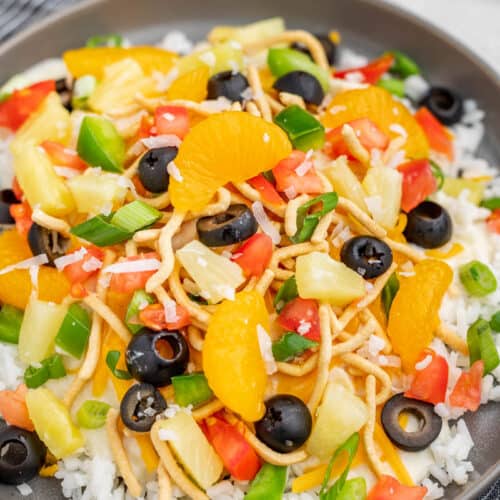 Transport your taste buds to a tropical paradise with Hawaiian Haystacks! This scrumptious dish combines juicy chicken, vibrant fruits, and crunchy toppings for a meal that's as delicious as it is colorful.
Ingredients
4

cups

white rice

cooked

2

cups

pineapple

diced

2

cups

cheddar cheese

shredded

2

cups

chow mein noodles

2

cups

tomatoes

diced

1

cup

mandarin oranges

1

cup

bell peppers

diced

1/2

cup

green onions

diced

1/2

cup

coconut flakes
Creamy Chicken Gravy
1/2

cup

butter

1/2

cup

all-purpose flour

2

cups

milk

2

cups

chicken broth

2

cups

chicken

cooked, shredded or cubed

1

teaspoon

garlic powder

1

teaspoon

onion powder

1/2

teaspoon

salt

1/2

teaspoon

black pepper
Instructions
Start by cooking the white rice according to the package instructions, then set aside and keep warm.

To make the creamy chicken gravy, In a large skillet or saucepan, melt the butter over medium heat.

Once the butter is melted, whisk in the flour and cook for 1-2 minutes to create a roux.

Gradually whisk in the milk and chicken broth, stirring constantly to avoid lumps.

Add in the garlic powder, onion powder, salt, and black pepper, and stir to combine.

Add in the cooked and shredded or cubed chicken, and let the sauce simmer for a few minutes until thickened.

While the gravy is simmering, prepare the toppings. Drain the mandarin oranges and set them aside. Dice the pineapple, tomatoes, and bell peppers, and chop the green onions.

To assemble the Hawaiian Haystacks, start with a bed of rice on each plate. Top with the creamy chicken gravy, then add the diced pineapple, shredded cheddar cheese, crispy chow mein noodles, diced tomatoes, diced bell peppers, chopped green onions, and mandarin oranges.

Sprinkle coconut flakes on top of each plate. Serve hot and enjoy!