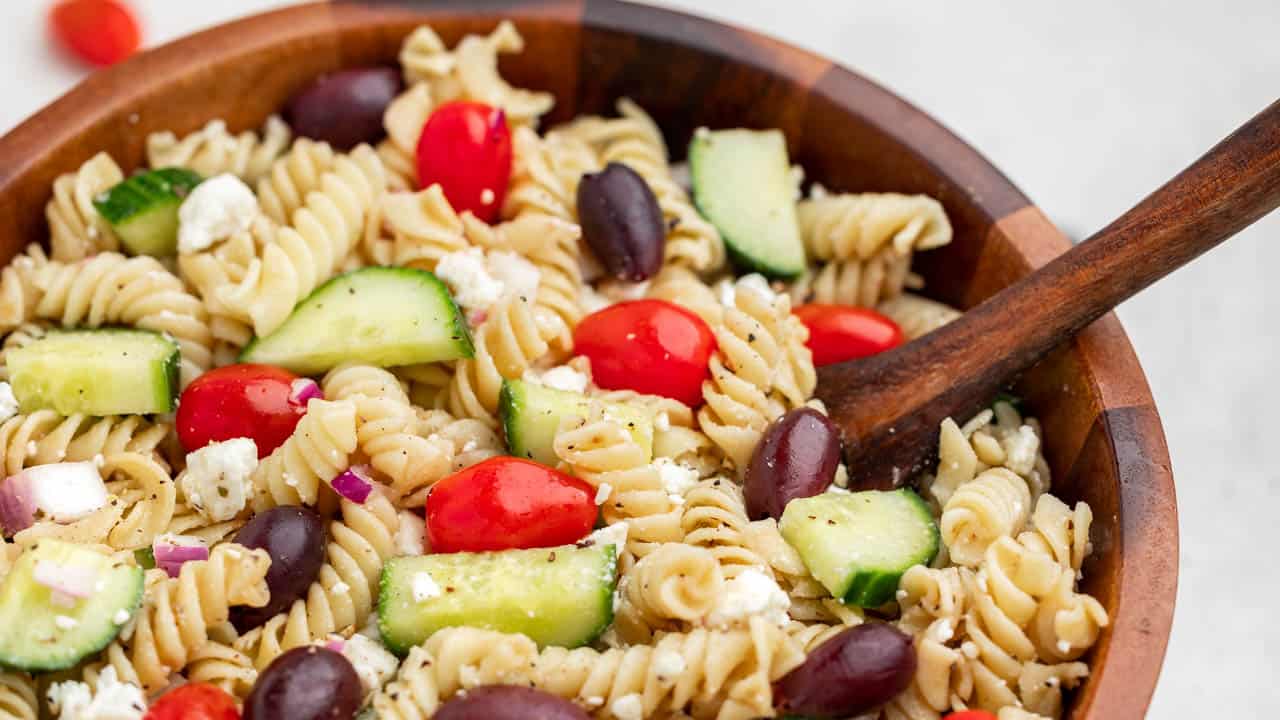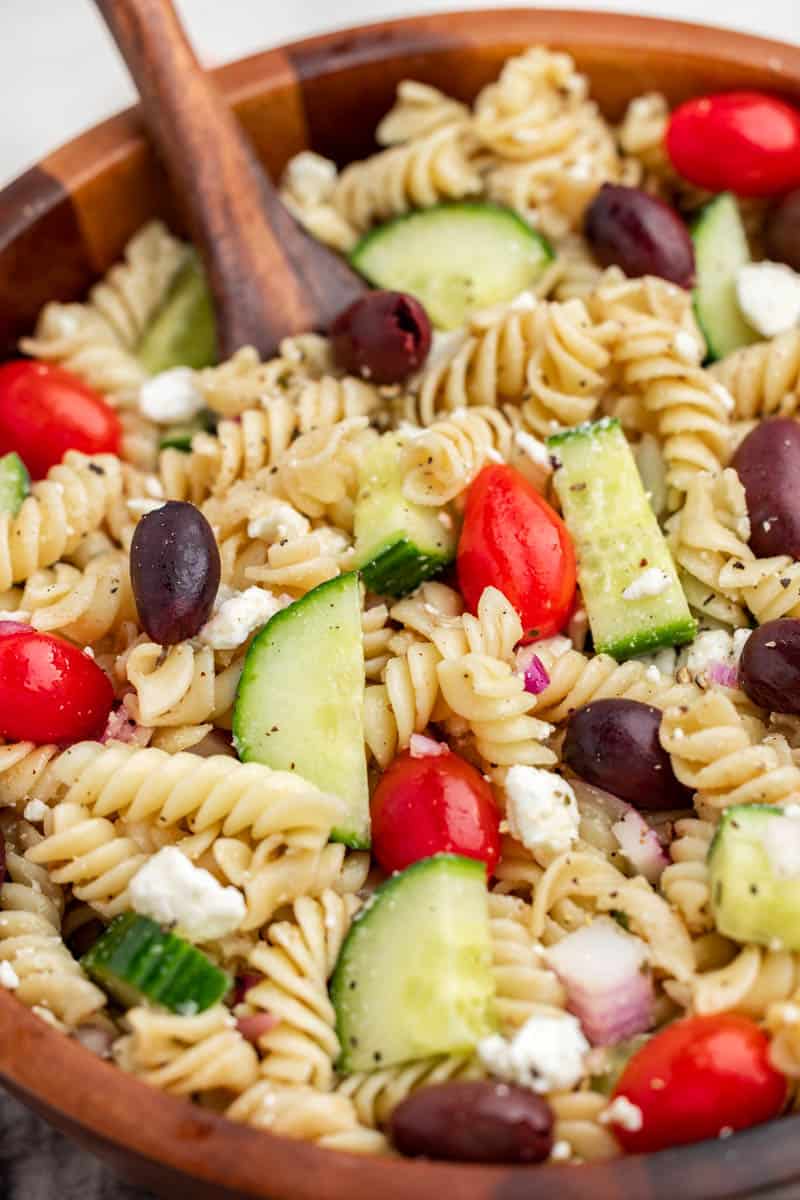 Embrace the vibrant flavors of the Mediterranean with this delicious greek pasta salad, featuring a variety of crisp vegetables, briny kalamata olives, and tangy feta cheese, all tossed with hearty rotini pasta and a homemade dressing.
Bring the Mediterranean to your dining table with this delightful greek pasta salad. Bursting with fresh vegetables like English cucumbers and juicy cherry tomatoes, this dish is a refreshing answer to a warm day. The briny kalamata olives and rich feta cheese contrast beautifully with the crisp veggies and chewy rotini pasta. But it's the homemade dressing—a harmonious blend of extra virgin olive oil, lemon juice, and red wine vinegar—that ties it all together. This salad is more than a side dish; it's a culinary journey to the heart of Greece.
Frequently Asked Questions
Can I use another type of pasta?
Absolutely! Feel free to substitute rotini with other pasta shapes like penne, fusilli, or farfalle.
What can I substitute for feta cheese?
You can use diced fresh mozzarella or crumbled goat cheese as a substitute.
Can I add proteins to this salad?
Yes, you can. Grilled chicken, shrimps, or chickpeas would make excellent additions.
Substitutions
If you have dietary restrictions, don't fret!
For a dairy-free or vegan version, omit the feta cheese or replace it with a dairy-free cheese.
Those following a low-sodium diet can reduce the added salt, but consider incorporating herbs like dill or parsley to keep the flavors lively.
Serving Suggestions
This versatile greek pasta salad is great for any occasion, from weeknight dinners to backyard cookouts. It pairs well with grilled meats or fish, and you can round off the meal with a simple dessert like fresh fruit or Greek yogurt with honey.
Tip From the Chef
Remember that recipes are a guideline, not a rulebook. Feel free to modify this recipe according to your taste and dietary needs. Enjoy the process and make this dish your own!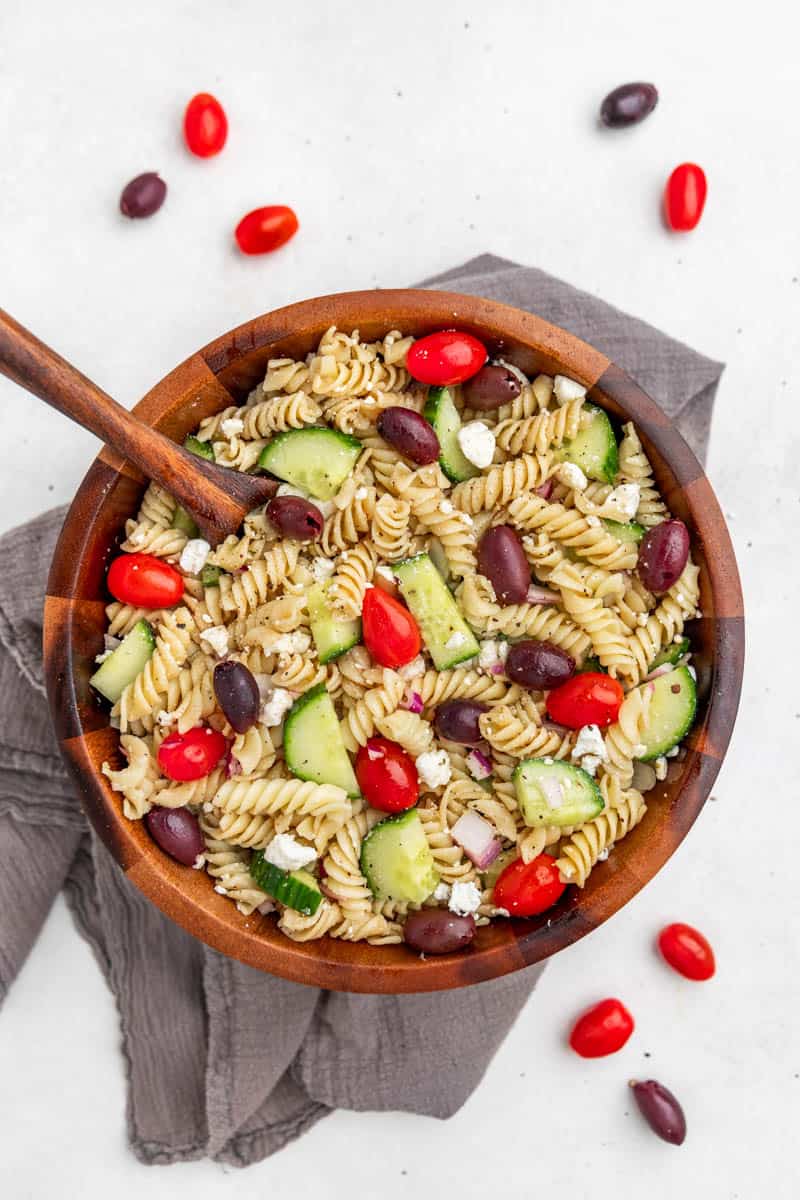 Freezer & Storage Instructions
This recipe is best enjoyed fresh and does not freeze well due to the fresh vegetables and feta cheese. Store any leftovers in an airtight container in the refrigerator for up to 3 days.