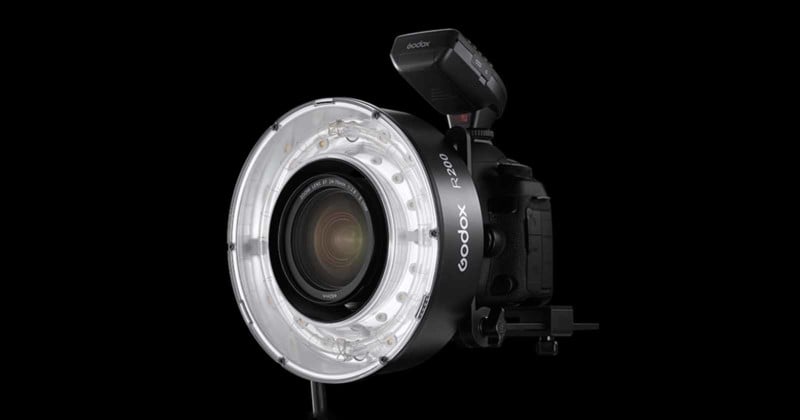 Godox has announced the R200 Ring Flash attachment for the AD200P power device. The ring-shaped flash is a 200Ws strobe that is a lighter, lower-power alternative to the AR400.
The AD200, also known as the eVOLV 200, is a speedlight and a bare bulb head and battery system. The new R200 ring flash plugs into that kit to provide a different type of light than the AD200 can provide on its own.
"You asked for it, and here it is — the R200 ring flash head for AD200Pro/AD200, another light head system to bring you endless creative possibilities," Godox says.
"The R200 renders incredible even illumination while eliminating unpleasant highlights and creating a glamorous glow on your subject that will make the portrait look expensive and impressive, making it an irreplaceable light source for photography."
While similar in design to the AR400, the R200 offers a lighter-weight alternative to the heavier, all-in-one design of the original ring flash. With a remote connection to the AD200 series flash, the R200 is admittedly less powerful, but makes that trade to become lighter and easier to carry.
With a flash power output of 200Ws, the R200 has a flash lamp CCT rating of 5800K (±200K) and a modelling lamp rating of 4500 (±300K). The light output promises 1,380 lux at 1.6 feet. It also puts out 10W of power with three levels, low, medium, and high.
The flash ring is 7.4-inches in diameter and the company claims that when used with a circular diffuser, can impart a soft, halo-like quality of light without harsh hotspots.
Weighing at just under a pound and a half, the R200 can fit around the camera lens or attach remotely to a light stand or pole, and then the AD200Pro can be slung over the shoulder through the included minibag that can hang and be carried much easier.
The R200 comes with a foldable camera bracket to mount to the camera around the lens, an umbrella bracket, and an extension cable. There are also accessories including a shoulder bag, a large reflector dish, honeycomb grids, and gels.
Last week, Godox released a new wireless flash trigger that acts as a cordless go-between for Leica cameras and off-mounted Godox flashes.
The Godox R200 is available to pre-order staring today for $279 (at Adorama, Godox is branded FlashPoint), but the company has not provide information on when it expects to start shipping the flash.