Last Updated:

As Sony continues to expand its games business into the home computer market, it seems like a PC port of Ghost of Tsushima to Windows 10 and Windows 11 is all but an eventuality.
PlayStation Studios' next two big releases on the PC platform are the excellent games, and previous PlayStation exclusives Uncharted 4 and God of War 2018 (both of which were previously exclusive to the PlayStation 4) which fits in with Sony Interactive Entertainment's previous release strategy of porting games after a delay, to encourage users to their hardware platform. We don't expect that to change any time soon, based on quotes from current and former management.
As the game ages, and Ghost of Tsushima 2 approaches —likely with a better name like Ghost of Ikishima— we reckon that a multi-platform release for Ghost of Tsushima will probably be on the (graphics) cards. It's a little bit of speculation but we think it is certainly within the realms of possibility – just don't expect to see it on Xbox Game Pass as that is not where Sony's PC releases tend to end up.
What is Ghost of Tsushima?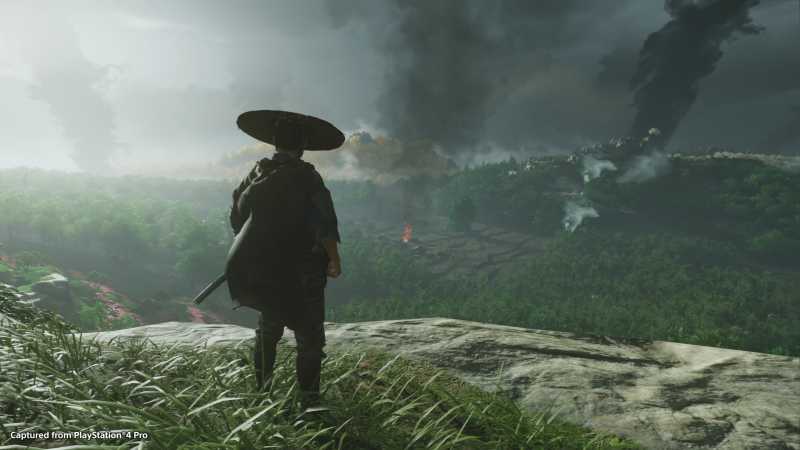 Ghost of Tsushima is an open-world action-adventure game set in 1274. Players take on the role of Jin, the "Ghost of Tsushima" who wants nothing more than to get revenge on the Mongol invaders attacking his homeland after they kill his family and burn down his village. 
The game has satisfying samurai movie-style combat, an intense story, cool parkour, and a grappling hook. It's fantastic, and when it does hit PC then gamers are in for a real treat.
Was Ghost of Tsushima in the GeForce NOW leak?
Tsushima was not a part of the GeForce NOW leak like God of War was, but then again neither was Uncharted 4. We don't consider it not being a part of the leak list to be a surefire way to determine that the game won't ever come out on PC, as release schedules and platforms can and do change all the time – even though God of War did in fact arrive in January just gone. The Nvidia list told us many things, but shouldn't wholly be relied on as has been proved already.
We think that a release of the game before the end of 2022 is still very likely, especially as the franchise continues to grow and plans for the Ghost of Tsushima motion picture start to bear fruit. It wouldn't be too strange, as Days Gone was released in April 2019 and was on PC by May 2021. Ghost of Tsushima came out in July 2020, so really it could be here any day now.
Ghost of Tsushima's box was also updated in June 2021 to remove the 'only on PlayStation' logo and this was first spotted on Amazon by eagle-eyed followers of such things. This also happened to Days Gone and Horizon Zero Dawn when ports were on the way, which has only increased the belief that the samurai open-world game will be the next one of Sony's games to come to PC next even more among the gaming crowd. 
Is Ghost of Tsushima the game you'd most like to see on PC next — or would you prefer something else, like InFAMOUS, Sly Cooper, The Last of Us Part 2? Maybe Parappa the Rapper and Patapon HD? Let us know what you think in the comments below. 
Ghost of Tsushima PC release
There were murmurs of a release expected around February this year, but obviously, we are passed that already so that proved to be nothing more than idle gossip. We still think we might see the port in the first half of 2022, but for that to happen we are going to need to be hearing news in the very near future. As ever, watch this space.
Why is Ghost of Tsushima so popular?
Games based around Asian culture have been phenomenally popular for years, not only in the more obvious Eastern markets but also here in the West. We just can't get enough of samurai and eastern mythology and their individual style of artwork and the like in our games and that is why main protagonist Jin Sakai has proven so well-loved. From games like Nioh all the way to Sekiro – Shadow Dies Twice – it seems these types of games, where death is around every corner, don't seem to frustrate us – we expect them to be difficult because of the subject matter. Of course, fighting is going to be tough with a katana rather than a rocket launcher!
Will Ghost of Tsushima be on Steam or Epic Games Store?
With the likes of God of War recently arriving on Steam, we see no reason that any port of Ghost of Tsushima will be any different. We know Epic likes to get its hands on an exclusive but the size of the Steam userbase will likely be too much for Sony to turn down when porting a game that is a couple of years old already.
How many copies of Ghost of Tsushima were sold on the PlayStation?
Initial estimates from last year suggest that 8 million copies were sold, making the game a big success – and with the Director's Cut on the horizon, things are set to get even better for Sucker Punch Productions. With an initial sales volume of 2.4 million in the first three days, it shows Sony managed to get its marketing spot on.
Ghost of Tsushima Stats
The excellent videogamestats website also collated some interesting stuff from the first 10 days after the game's release:
156.4 million standoffs
57.5 million duels
139.4 million enemies collapsed in fear
810.3 years on horseback
16.2 million onsen visited
14.2 million haikus written
28.1 million flute songs played
8.8 million foxes petted
17.1 million bamboo strikes completed
37.5 million Inari shrines honored
15.5 million photos taken
Ghost Of Tsushima PC System Requirements
There aren't any official system requirements yet, but we reckon these will be in the ballpark at this early stage.
CPU: AMD FX-8320, Intel Core i5-2500K 3.3GHz processor, or above
GPU: Nvidia GeForce GTX 1060, 6GB VRAM / AMD Radeon RX 580 8GB VRAM
DirectX 11 compatible graphic card
RAM / Memory: 8GB
Windows: 64 Bit Windows 8 or 10
Space: 60 GB
Share this article…