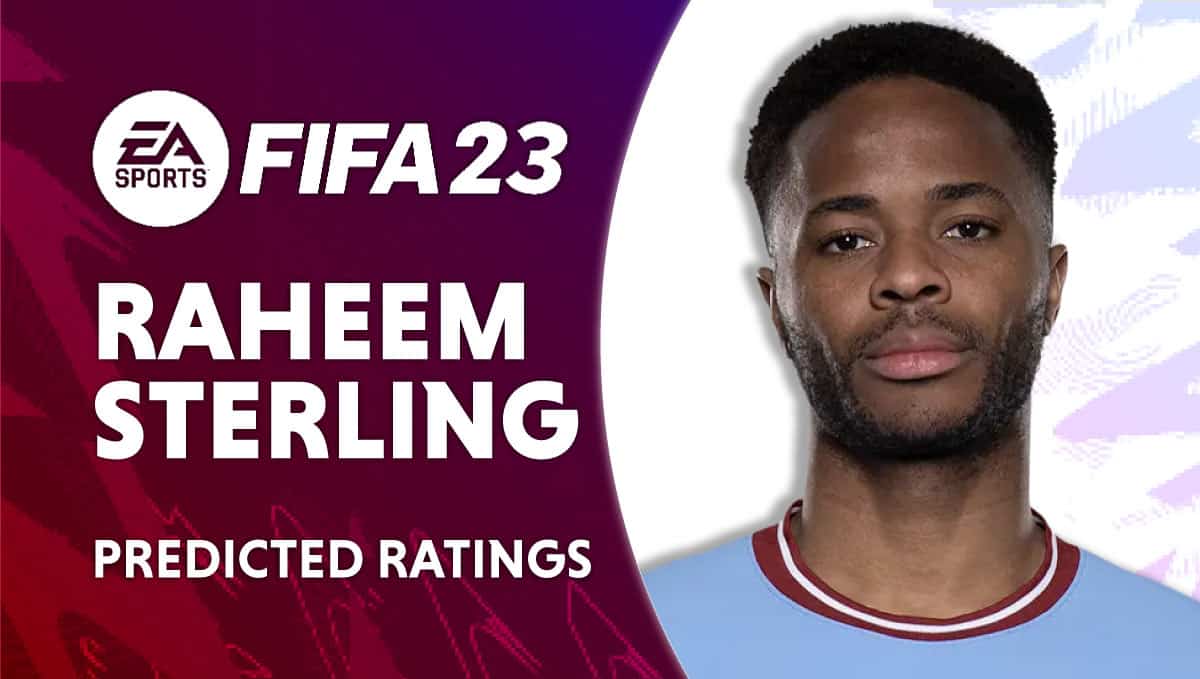 Last Updated:
In FIFA 23 Sterling will be playing his football elsewhere. He has had the here we go treatment, and has now been officially unveiled as a Chelsea player. It will be a brand new chapter for the player but what does that mean for his rating in FIFA 23?
It's long been thought that Sterling can be slightly wasteful in front of goal, but until the last two seasons he has always exceeded his xG. However, over the last two seasons his form has begun to dip slightly in comparison to when he had his best seasons under Pep Guardiola.
Sterling's contract situation is also a major factor in him leaving, with City cashing in before he leaves for a free next season. Below we will look to see if we think FIFA will change his rating after a couple of slow seasons, as well as how his move could impact his rating and price. 
Raheem Sterling – FIFA 23 – Ratings Predicted
Overall Rating 87 (-1)
Sterling had a good season last season, his rating drop could even be considered a bit harsh but it seems a likely reality in FIFA 23. He still managed 17 goals and 9 assists in 47 appearances. 
Yet, that is a way off his best. During the 19/20 season he managed 31 goals and 10 assists in all competitions, he also played nearly 1,000 more minutes.
It's become clear since then that he has been relied on less and less, with his minutes on the pitch being significantly reduced. Sterling didn't start either leg of the Champions League semi-finals last season, with other options being preferred in his position. 
These reduced minutes and a dip in his output, will be enough to justify a stats reduction regardless of if he was moving to another club or not. 
Pace 91 (-)
Sterling is still incredibly quick and doesn't really show any signs of slowing down. A drop off in form won't cause his pace to decrease on FIFA 23, physical attributes don't work like that in the game.
It's a good thing too, because regardless of his rating, his pace will help ensure he is desirable during the early months of the game. 
Shooting 81 (-1) 
Sterling's shooting overall has never been too high on FIFA because of the types of goals Sterling scores. It's very often you find Sterling running late into the box to connect with a tap-in or popping up at the back post. If one thing shouldn't take a hit, it is his best attribute and it shouldn't change going into FIFA 23. 
His penalty record is pretty poor missing four out of a possible seven throughout his career, however last year he did score two. The main reason why Sterling's shooting will be reduced is because after two years of underperforming his xG, his finishing will inevitably take a knock. 
Passing 79 (-) 
Sterling's passing is already quite low for a player of his quality. He is never going to play the types of balls that we have to expect from Harry Kane or his former teammate Kevin De Bruyne. Yet what he does do he does effectively. 
He can whip a ball in with genuine menace, and in order to play in a Pep Guardiola side you have to be comfortable keeping possession. This is done with plenty of small passes back and forth into the midfield, something Sterling has demonstrated time and again. 
Dribbling 86 (-1)
Dribbling is sterling's biggest strength, in-game it feels like the ball is glued to his foot.
Especially early-on, this really makes him stand out. After a quiet two seasons, by his own standards, it's inevitable they drop his best stats, with dribbling being the key one. 
However, after converting two penalties we could actually see his composure get a slight boost, Sterling's composure in FIFA is what really drags this stat down. We will have to wait and see for FIFA 23 what they do, but a few stats being reduced slightly seems likely. 
Defending 45 (-)
It's incredibly unlikely Sterling's defending changes for FIFA 23. He isn't terrible in the air if he gets the chance, but he isn't the biggest forward so chances in the air are rare. 
Physicality 66 (-)
Much like his defending, Sterling's physicals are a major part of his game so it seems unlikely they will change too much. 
There is a chance they could be reduced on the card just because of the last two seasons he has had, but they're already incredibly low. 
Raheem Sterling FIFA 23 Price
If the market on FIFA 23 is anything like the last game's, his price should remain largely unchanged. Sterling reached a high of 75,000 coins when the game first came out, and this FIFA will be similar. 
His rating decreasing slightly could have an influence, but he is still one of the better wingers in the division. Sterling moving to Chelsea, also won't change anything because the links will primarily be the same as he is staying in the same division. 
It could be a really exciting season for Sterling and Chelsea fans, a new move could be a refreshing start and just what the player needs. Hopefully he can find his best form under Thomas Tuchel, just in time for the World Cup later this year. 
There is every chance we could even see him improve now he has less restrictions on him and is being utilised in a different system. Chelsea have been struggling for goals for a little while now, hopefully for both parties Sterling could be the solution. In turn giving him some very good specials in next year's Ultimate Team. 
Will Sterling get more specials now he moved?
In terms of form based cards Sterling always picks up a few across the course of a season. He is so good that is's inevitable, especially if he feels at home at Chelsea.
Sterling hasn't featured in the FIFA's Premier League Team of the Season since FIFA 19 though, and it will take some season to get him in. There is so many good wingers in the league that it may be a big ask just yet.
One thing is certain however, and that is Sterling getting a few specials as part of events throughout the year. He is always popular on FIFA and where he has moved a Ones to Watch will also be very likely for Chelsea's new signing.