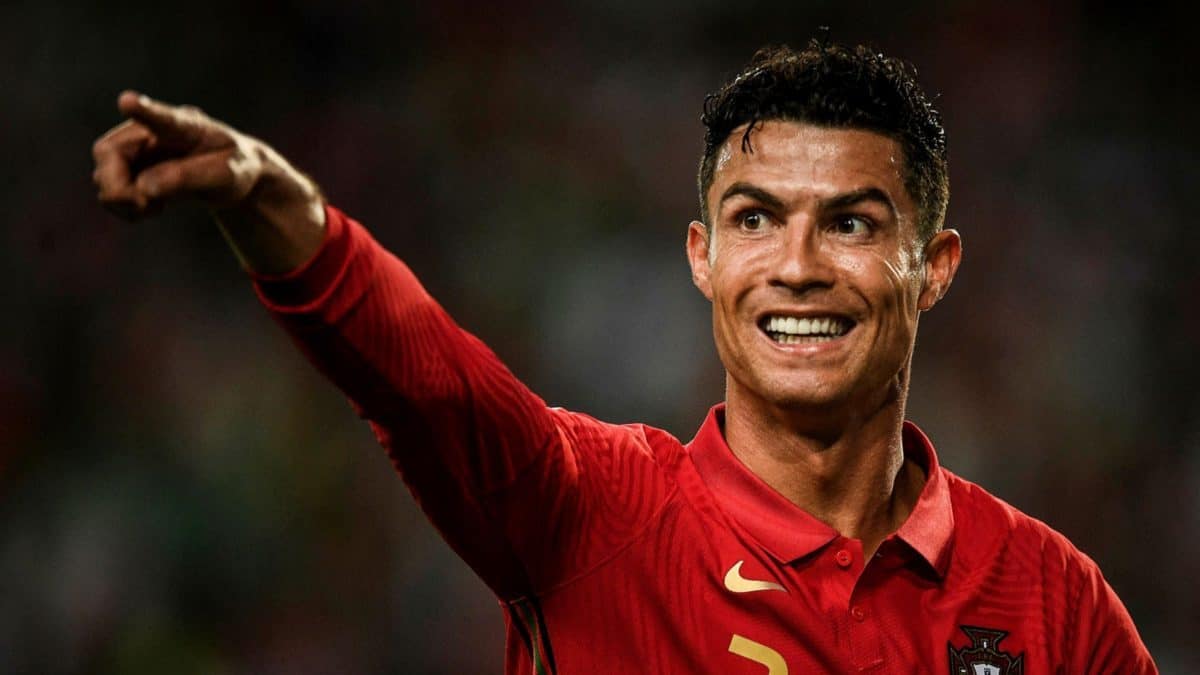 Last Updated:

The serial goal scorer may be on his way out of United after yet another lackluster season – finishing outside of the top 4 yet again. Whether this will negatively impact the striker's FIFA 23 rating is yet to be known. Regardless, we'll be looking back over the last 12 months to predict whether FIFA will move him up or down the ratings.
Cristiano Ronaldo was, without doubt, the club's best player last year – if you take David De Gea out of the equation. He scored most of the club's major goals, including crucial winners in the Champions League and Premier League.
The side was eventually dropped out of the Champions League by Spanish side Atletico Madrid and didn't land a blow on the Premier League's top 4 places.
NOW READ: Lionel Messi ratings prediction
That being said, Ronaldo was a beacon of light in the club's performances, doing what he does best and accumulating 24 goals respectively.
So, what exactly will Cristiano Ronaldo's player rating be for the upcoming FIFA 23 game? Will the striker go up, down, or remain the same after what is considered a poor season for the player? Let's take a look back and make our predictions.
Cristiano Ronaldo FIFA 23 FUT player rating predictions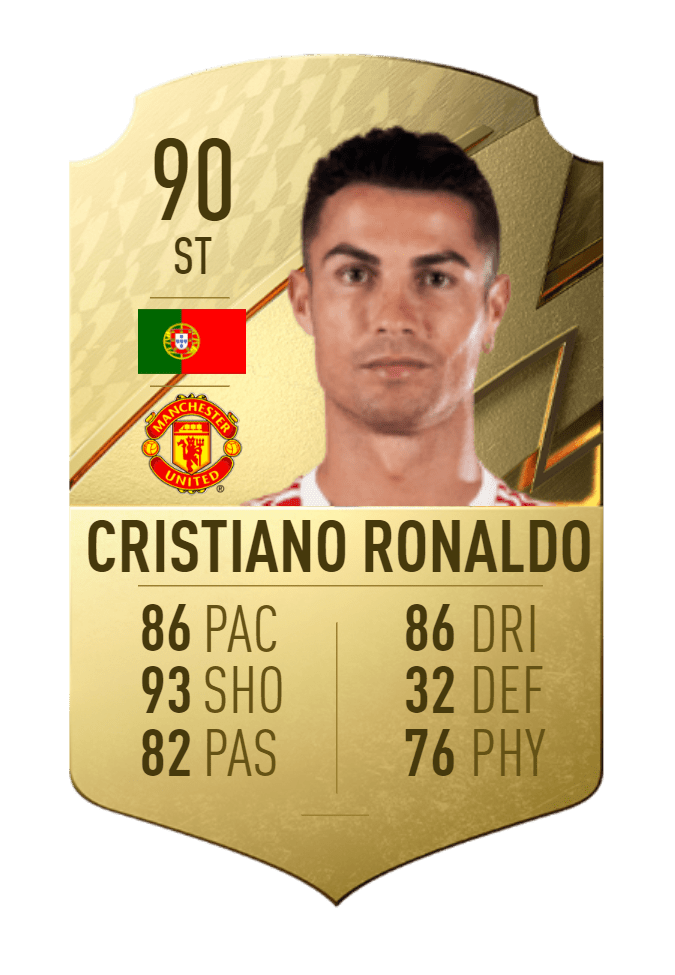 OVR rating 90 (-1)
As you'd imagine, Cristiano Ronaldo played almost every game for Manchester United last season, racking up an impressive 24 goals and several assists in all competitions.
He scored many of the club's biggest goals in the 2021/22 campaign, including crucial goals in the Champions League to take them to the round of 16.
Unfortunately (for United fans), Ronaldo alone wasn't quite good enough to turn the club's season around, with United finishing 6th in the table – almost 40 points behind local rivals City.
Pace 86 (-1)
Even at the ripe age of 37, Ronaldo still managed to bag himself an impressive 87 Pace rating. However, after seeing an increasing number of 1-on-1 duals going the way of his opponent, we predict his pace rating to drop ever so slightly.
I mean, the guy is almost 40 after all – he's got to start slowing down someday.
NOW READ: Kylian Mbappe rating predictions
Shooting 93 (-)
Cristiano Ronaldo is arguably the most prolific goalscorer in, dare I say, football history. He has superseded everyone in goals – even Messi struggles to match his output in all competitions.
For this reason, we've left his FIFA shooting rating at 93 – which, to be honest, is still probably a little harsh.
Passing 82 (-)
Despite not being the best passer of the ball, the 2021/22 campaign did see the Portuguese striker return a decent amount of assists in all competitions.
Thanks to his usual flare during these situations, we've decided to leave the striker's passing as it was (82).
Dribbling 86 (-2)
Ronaldo was one of the most ambitious and talented dribblers of the ball when he first broke onto the scene, using his quick feet to beat almost anyone he came up against.
Nowadays, the 37-year-old doesn't take on everyone he comes into contact with, meaning his dribbling rating will likely suffer.
We predict a -2 drop for the striker in the upcoming FIFA 23 game.
Defense 32 (-2)
Like any prolific striker, defending wasn't one of Ronaldo's strong points over his career. Having said that, he would occasionally track back – leading to a famous Messi vs Ronaldo picture.
Regardless, Ronaldo doesn't do as much tracking back anymore, leaving us no choice but to reduce his defensive rating to 32.
Physics 76 (+1)
Ronaldo is still to this day, an absolute specimen of a man. His fitness levels are arguably as good as they've ever been, even at 37 years of age.
So, we recon EA might just improve his Physical ability for the new game by a single point.
Comparing Cristiano Ronaldo's FIFA ratings
Below we have listed Ronaldo's ratings over the last couple of seasons, concluding with our predictions for the FIFA 23 game.
| | | | | |
| --- | --- | --- | --- | --- |
| Year | Player name | Team | Upgrade / Downgrade | Rating |
| 2020 | Cristiano Ronaldo | Piemonte Calcio (Juventus) | – | 93 |
| 2021 | Cristiano Ronaldo | Piemonte Calcio (Juventus) | -1 | 92 |
| 2022 | Cristiano Ronaldo | Manchester United | -1 | 91 |
| 2023 | Cristiano Ronaldo | ? | 2 | 90 |
More FIFA 23 guides
Final thoughts
Even though the Portuguese striker has had a decent season, we don't think it's enough to maintain his 91 Manchester United rating. We dropped the striker by a single point this year, seeing Ronaldo fall to an overall rating of 90. It looks like he's set to leave the Manchester club this year, putting his transfer request in and not showing up to training sessions. Either way, it's still impressive to see the 37 year old striker continue to bang goals in week after week.