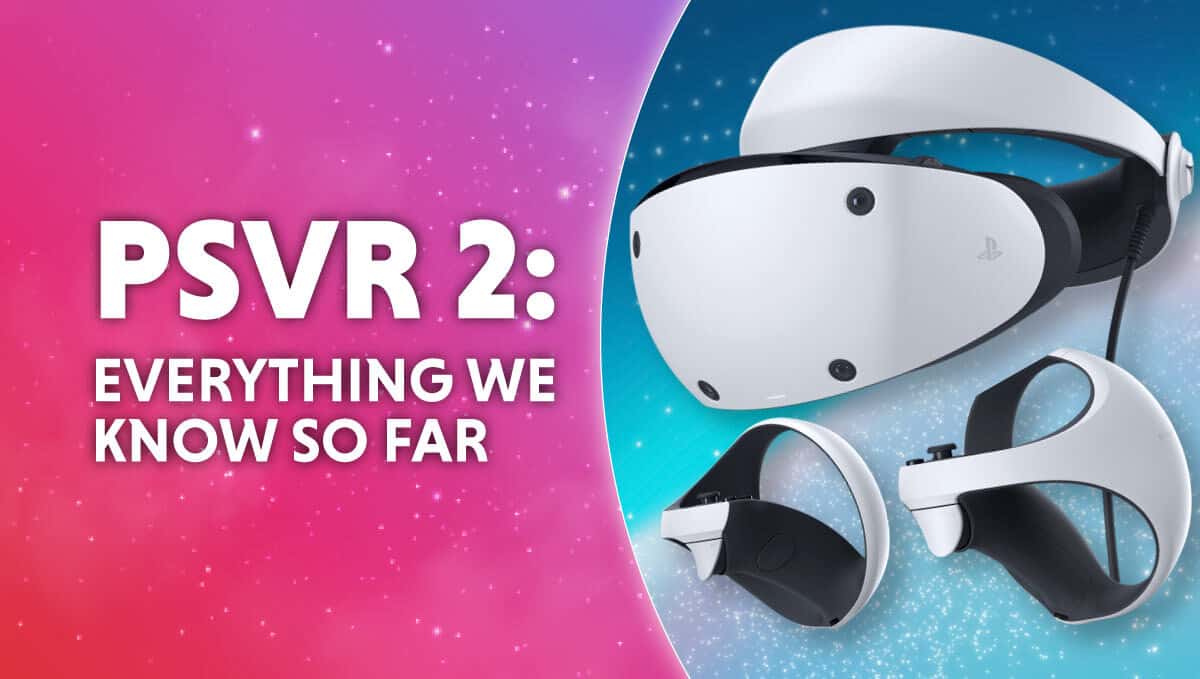 Last Updated:
Are you looking for a PSVR 2 pre-order? We're dropping you everything that you need to know Avout the Playstation VR 2, including where you want to pre order and more and more right here on this page.
This year at CES 2022, Sony went up on stage amidst the deluge of information on all of their other, frankly more boring hardware to bring us information about the Playstation VR2, which looks to take the mantle from the original Playstation VR and become its own advanced gaming VR headset for the masses.
However, competition is a little bit stronger since the last time that Sony threw their hats in the ring, meaning that they now face competition from the likes of HP, Meta and more.
The Quest 2 continues to be the market leader, but will a Playstation VR 2 be the headset that manages to break barriers and enter the mainstream? Boasting advanced features such as enhanced tracking, we've got all the specs you need to know.
PSVR 2 specs
Display
OLED
Resolution
2000 x 2040 per eye
Refresh rate
90 Hz, 120 Hz
Lens separation
Adjustable
Field of View
Approximately 110 degrees
Sensors
Motion Sensor: Six-axis motion sensing system (three-axis gyroscope, three-axis accelerometer
Cameras
Four cameras for headset and controller tracking, IR camera for eye tracking per-eye
Feedback
Vibration on headset
Communication with PS5
USB Type-C (Wired)
Audio
Input: Built-in microphone
Output: Stereo headphone jack
These specifications make up for an extremely competitive Playstation VR headset, meaning that Sony could easily build a high-end headset that looks and feels great to use.
However, some people would suggest that the wired connectivity is a bit of a shame, which it is, considering that standalone headsets like the Meta Quest 2 are so popular. Will this be a hindrance to the PSVR 2 in the long run? We'll just have to wait and see for more details.
Additionally, with inside-out tracking, you won't need a camera, unlike the original PSVR which utilized a different technology. This was a much-discussed criticism of the original PlayStation VR and one that we're happy to see go with the PSVR 2.
Behind some of the specifications, you will be able to have eye-tracking, also known as foveated rendering, which will only render in detail the part of the screen that you'll be actively looking at.
This feature alone will help the PSVR 2's rendering by leaps and bounds, hopefully resulting in an excellent performance on the PS5. Additionally, it will have a lens separation adjustment dial which will help you tune into the image for clarity, and customize the headset uniquely to you.
Alongside the PSVR2 is a brand-new controller named a 'VR2 Sense Controller' to go alongside it. Rather than the Move controllers of old, Sony is now building a bespoke unit that players will be able to use while using the Playstation VR, and they have also provided a handy spec sheet which we've added below and summarised some of the features that we're most excited about.
PSVR 2 haptic feedback
The keen-eyed amongst you might have noticed that the PSVR 2 will have a vibration in the headset itself, in addition to the current vibration in the controllers.
This makes a great deal of sense, as the recent haptic headset craze has been received very well. We found the haptics on the Razer Kaira Pros to be a literal game-changer due to the increased immersion so it makes sense that Sony would be looking into this.
We were actually pretty surprised when Sony announced the Inzone line of gaming headsets, and none of them featured haptic feedback, even the ~$300 H9.
However, given the long production process of gaming peripherals, it's pretty likely that the design was already completely confirmed when the haptic praise started rolling in.
But, perhaps it makes more sense to spend the haptic cash on the PSVR 2. Given that VR is supped to be the current zenith of immersion, adding another level of feedback to the upcoming VR headset probably makes more sense than slapping it into a set of headphones.
It makes sense further too when you consider the well-received DualSense controllers. The variable resistance triggers of the DualSense were a big success and proved that Sony were paying attention to haptics.
PSVR 2 vs PSVR
But how does the PSVR 2 stack up against the original PSVR? Here's a handy comparison, so you can see if it's going to be worth the upgrade.
| | | |
| --- | --- | --- |
| | Original PSVR | PSVR 2 |
| Display tech | OLED | HDR OLED |
| FOV (Field of view) | 100-Degrees | 110-degrees |
| Resolution | 1920 x 1080 per eye | 2000 x 2040 per eye |
| Tracking capabilities | IR cameras for per-eye tracking | IR cameras for per-eye tracking |
| Connectivity | 3.5mm audio jack, USB Type C | 3.5mm audio jack, USB Type C |
| Refresh rate | 90Hz / 120Hz | 90Hz / 120Hz |
| Cameras | 4 cameras for headset & controller tracking | 4 cameras for headset & controller tracking |
| Haptic feedback | Vibration (Controllers only) | Vibration. (Headset and controllers) |
PSVR 2 potential controller spec
Buttons
Right Controller: PS button, Options button, Action buttons (Circle / Cross), R1 button, R2 button, Right Stick / R3 button

Left Controller: PS button, Create button, Action buttons (Triangle / Square), L1 button, L2 button, Left Stick / L3 button
Sensing & Tracking
Motion Sensor: Six-axis motion sensing system (three-axis gyroscope + three-axis accelerometer)

Capacitive Sensor: Finger Touch DetectionIR LED: Position Tracking

Feedback 
Trigger Effect (on R2/L2 button), Haptic Feedback (by single actuator per unit)
Port
USB Type-C
Communication
Bluetooth 5.1
Battery
Lithium-ion rechargeable (capacity not specified)
These controllers have excellent functionality, which now stands up to their contemporaries in the VR Space, such as the Meta Quest 2. Now, they will also have haptic feedback, similar to the PS5's Dualsense controllers, which is a feature that no other VR controller has, and we've seen that it can be very effectively deployed, as seen in shooters released last year such as Call of Duty.
If developers make wise use of these features, then you can expect the PSVR2 will have its own unique selling points that simply no other VR headset possesses.
In February 2022, Sony announced the design of the Sony Playstation VR 2 sense controllers, which look fiendishly similar to the Oculus Quest 2 controllers, with a full control ring around them, in addition to those fantastic Dualsense triggers that we love.
We'll wait for the iFixit verdict on repairs, otherwise, the controllers look extremely promising and feature-packed.
PSVR 2 rumored features
The Sony Playstation VR 2 features some of the most advanced VR technology available right now, and it's feature list can be broken down like so:
Enhanced Controller tracking
New sensory features
Haptic feedback on controllers
4K HDR
High-resolution panels per-eye
Eye tracking
Foveated rendering
Inside-out tracking using embedded cameras
High refresh rates for a smooth VR experience
These features all come from the big list of specifications that we've received from Sony directly onstage at CES in addition to their story on their website, and while we can't say much more about the headset, it has been confirmed that there are already two games being developed for it. One from Guerilla in the form of Horizon Call of the Mountain and a game titled Firesprite. We're bound to hear more about these at E3.
Regardless, with not much else to go on with regards to the features that the PSVR will be bringing users, we will be sure to update this page as more details come out.
PSVR 2 design
Finally revealed in February 2022, we've got our first look of the design of the PSVR 2 headset, which shows us a whole load of exactly how this VR headset looks, which is slightly reminiscent of the Meta Quest, with it's two-toned black and white.
However, we've found that the black and white that is shown fits in well with the design of other official Playstation products, meaning that you can easily ensure that you're going to get a pretty consistent look.
In addition to this Sony themselves has commented on the nature of the design.
It appears that with regards to both the design and controllers, Sony has kept aesthetics in mind, citing the following: [Sony wanted to] 'create a headset that will not only become an attractive part of your living room decor but will also keep you immersed in your game world, to the point where you almost forget you are using a headset or controller.'
The post further goes on to extrapolate that balancing a VR headset on your head to the point that it is comfortable is fairly difficult, as most of the weight is going to be focused on the front of your head.
Sony, then, had a tough mountain to climb when it came to designing the strap, which will help to distribute the weight. The Meta Quest had this issue, and the company even put out an optional accessory to help alleviate this issue.
Now, if the Sony Playstation VR 2 comes with a solution for any weight balancing issues immediately, then we should be able to expect a balanced experience from what is sure to be a pretty expensive headset, considering the number of features that Sony is reportedly packing into the device, which we can't wait to try out for ourselves.
PSVR 2 pre-order
Looking for a PSVR 2 pre-order? They're not up quite yet but check back soon for all the links that you'll need to get going. To get yourself the best chance at pre-ordering a PSVR 2, you'll need to head to a page that Sony has set up, where you can sign up for updates on the latest time and place to get the PSVR 2.
We expect that retailers will begin to list PSVR 2 pre-orders whenh the device gets an official price, and after we see a handful of onstage demos. It's likely that Sony will be targeting the holiday season for this latest generation of Playstation VR, so you can be sure that by the time christmas tolls around, there'll be an all-new VR headset to look forward to.
We can't wait for E3, which is when we're likely to see pre-orders go up and begin to become available after a release date and pricing have been announced.
Sign up to PSVR 2 pre-order information here
We will be adding links to pre-orders for the PSVR 2 when links begin to go live, so be sure to bookmark this page and return, as we'll have all of the details that you will be wanting to know about the Playstation VR 2.
PSVR 2 price
There is no official price revealed for the PSVR2, but we expect that it will be priced at upwards of $500, which may be a bitter pill to swallow for users looking to get the best console VR experience.
While the specs and pricing for the Sony Playstation VR 2 all look fantastic, we did not get an official price. Though, headsets in this range will look to cost at least around $500 if we're being conservative.
Sony is packing heaps of technology into these headsets, and the cost does eventually have to be passed on to the customer. With PS5 still in such short supply, will the PSVR 2 price also suffer the same fate when it comes to scalpers?
Only time can answer this particular question. Until then, we're going to await any further details about how much this headset will cost. Which will probably be announced around summer.
PSVR 2 release date
The PSVR 2 is expected to be released towards the end of 2022 or in early 2023. Sony has been especially tight-lipped about a release window for their new headset. The PSVR2 release date looks to be around the end of 2022 if we're lucky.
Sony has not announced anything official, however, meaning that this estimation could easily slip. But if you look at Winter, Sony has time for a full marketing cycle throughout 2022, and the opportunity to show off more games at E3 and Gamescom before launching the headset in full.
Additionally, CEO Jim Ryan shut down Sony's dedicated VR studio in the UK, which doesn't bode especially well for original content that Sony may be working on for the next generation headset.