Tired of store-bought pizza crusts? Transform your homemade pizzas with our easy, versatile pizza dough recipe that's perfect for both beginners and experienced cooks.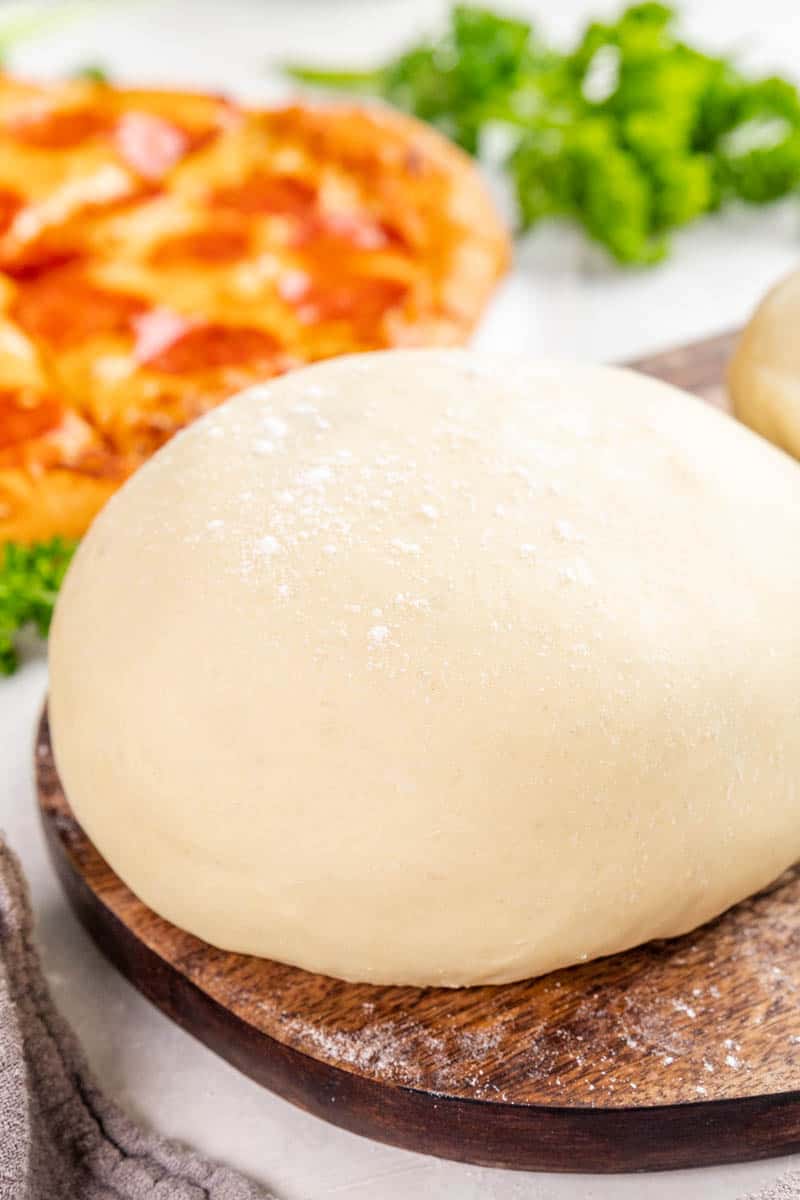 Nothing beats the taste of freshly baked homemade pizza, and the foundation of a great pizza is a perfect crust. Our homemade pizza dough recipe is easy to follow, versatile, and yields consistently great results, whether you're a novice in the kitchen or a seasoned home cook. With this recipe in your culinary arsenal, you'll be able to create an array of delicious pizzas tailored to your preferences and dietary needs. With the aroma of freshly baked pizza dough filling your home, gather your friends and family, and indulge in the scrumptious world of homemade pizza!
Why This Recipe Works

This pizza dough recipe is all about simplicity and flexibility. It yields a tender, flavorful crust that's easily customizable to your desired thickness and size. Plus, you can easily adjust the recipe to make more or less dough depending on your needs, making it perfect for pizza nights with friends and family.
Frequently Asked Questions

Can I use a different type of flour?
Yes, you can use bread flour, all-purpose flour, or even whole wheat flour for a healthier option. Just keep in mind that using whole wheat flour may result in a denser, slightly less elastic dough.
Can I make the dough ahead of time?
Absolutely! You can prepare the dough up to 24 hours in advance and let it rise slowly in the refrigerator. Just remember to bring it to room temperature before rolling it out.
What if I don't have a stand mixer?
No problem! You can mix the ingredients by hand in a large mixing bowl and knead the dough on a lightly floured surface until it becomes smooth and elastic.
What size and how many pizzas can I make with this recipe?
This versatile recipe allows you to make various pizza sizes according to your preference. It yields:
Four 12-inch crusts
Three 16-inch crusts
Two 20-inch crusts (with a little leftover dough)
Remember, you can easily halve or double the recipe to suit your needs, making it perfect for any pizza party or cozy dinner at home.
Extra Tips for Success:

Be sure to use warm water (not hot) when mixing your ingredients. Too-hot water can kill the yeast, while cold water may not activate it properly.
If you don't have a pizza stone, you can use a preheated baking sheet or an upside-down cast-iron skillet as an alternative.
To achieve a perfectly round pizza crust, use a rolling pin and a gentle touch. If you prefer a more rustic look, simply stretch the dough by hand.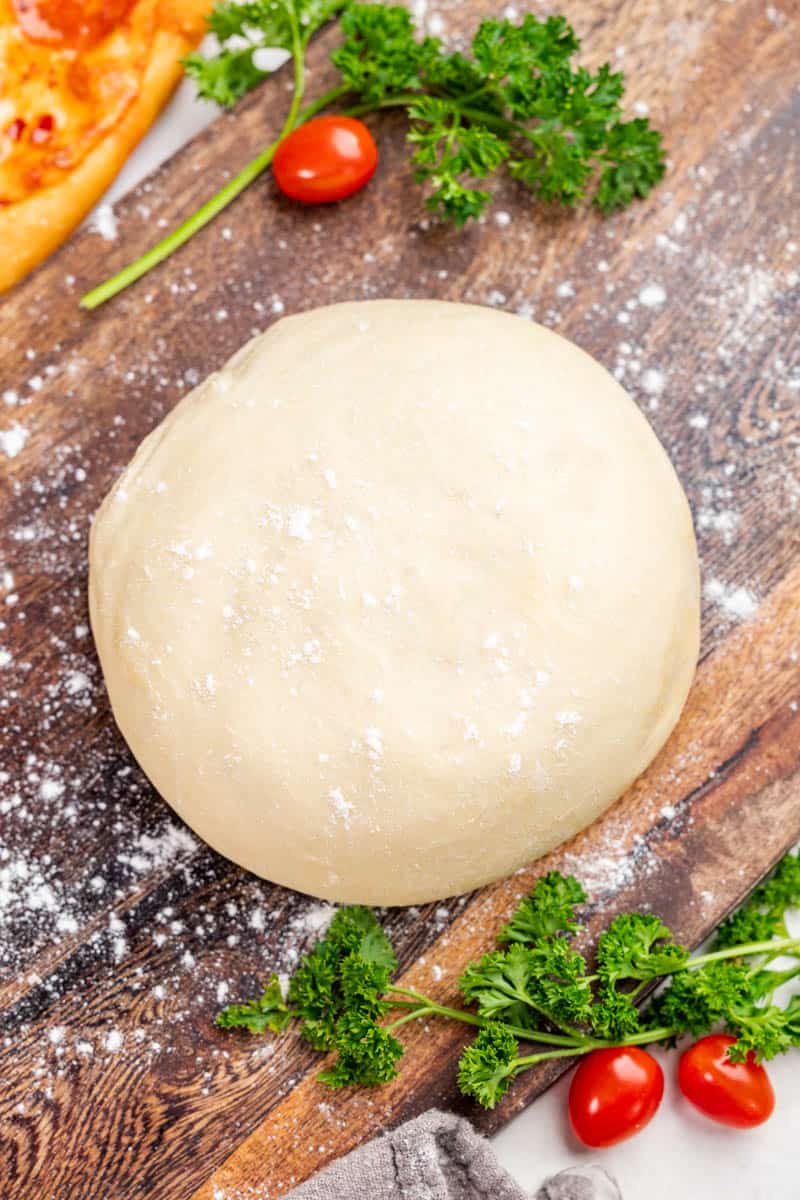 Storage & Reheating Instructions

Store leftover pizza dough, tightly wrapped in plastic wrap, in the refrigerator for up to 3 days. You can also freeze it for up to 3 months in an airtight container or a freezer-safe plastic bag. To reheat a fully baked pizza, preheat your oven to 375°F (190°C) and warm the pizza on a baking sheet for 5-7 minutes, or until the cheese is bubbly and the crust is crisp.
Related Recipes

If you like this recipe, you may be interested in these other delicious pizza recipes:
Watch the video below where Caytlin will walk you through every step of this recipe. Sometimes it helps to have a visual, and we've always got you covered with our cooking show. You can find the complete collection of recipes on YouTube, Facebook Watch, or our Facebook Page, or right here on our website with their corresponding recipes.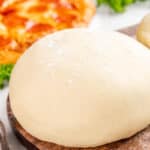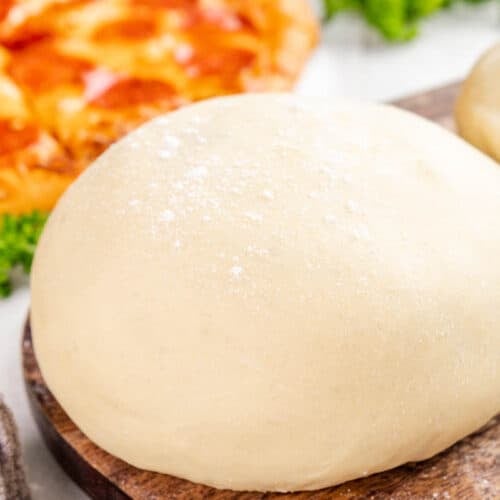 Tired of store-bought pizza crusts? Transform your homemade pizzas with our easy, versatile pizza dough recipe that's perfect for both beginners and experienced cooks.
Ingredients
1 1/2

tablespoons

instant dry yeast

1 1/2

tablespoons

brown sugar

1 1/2

teaspoons

salt

2

cups

warm water

3

tablespoons

olive oil

5

cups

flour
Instructions
In the bowl of a stand mixer, combine yeast, brown sugar, salt, water, and flour.

Knead on low until dough starts to come together. Continue kneading until the dough forms a nice, soft dough ball and the sides of the bowl are clean.

Let rise in a lightly greased bowl, covered, for 1 to 2 hours, until doubled.

Divide the dough into three equal pieces and roll out into pizza crusts.

Place crust on a tray.

Top with desired sauce, cheese, and other toppings.

To bake, preheat a pizza stone in the oven at 500 degrees. Bake until cheese is browning and bubbly, about 10 to 15 minutes.
Notes
Recipe Yields:
Four 12-inch crusts
Three 16-inch crusts
Two 20-inch crusts (with a little leftover dough)
Calories: 911kcal | Carbohydrates: 166g | Protein: 22g | Fat: 16g | Saturated Fat: 2g | Polyunsaturated Fat: 2g | Monounsaturated Fat: 10g | Sodium: 1178mg | Potassium: 250mg | Fiber: 6g | Sugar: 6g | Vitamin C: 0.01mg | Calcium: 42mg | Iron: 10mg