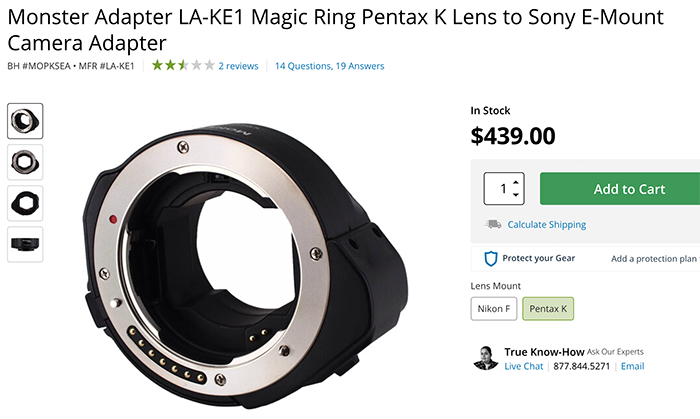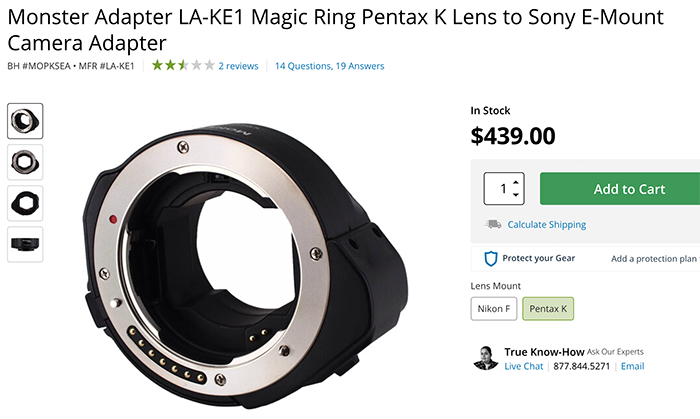 The new Pentax K Lens to Sony E-Mount Monster autofocus Adapter is now in Stock at BHphoto (Click here).
The new adapter has been tested by Dpreview. The conclusion:
While its performance will vary depending upon your chosen lenses and camera bodies, we found the LA-KE1 adapter to yield rather lesser AF performance than is natively available from Pentax bodies, even when they're using their slower contrast-detection AF in live view mode.

But we also found that getting focus in the ballpark first helps significantly with performance, especially for screw-drive lenses or those with long focus throws. And while it wasn't as peppy as the native AF, we found the LA-KE1's AF speed pretty acceptable for all but very active subjects like sports.

And that tradeoff in performance brings more potential than the obvious advantage of being able to use your Pentax glass with a mirrorless body. For one thing, it means access to resolutions beyond the K-1 II's 36 megapixels, and multi-shot high-res imagery that (unlike Ricoh's) increases the pixel count still further.

For another thing, it gains you access to Sony's eye-detection autofocus algorithms, which can be hugely helpful for portraits of people and pets alike. And you'll have dense AF coverage across the frame, unlike Pentax's phase-detection AF which has relatively few points and is centrally-focused.

The focus drive delivers sufficient accuracy not just for Sony's cameras to nail focus in a precise area of the image, but also to allow for things like fine adjustments to focus when tethering. In fact, I even successfully used it for focus bracketing with Sony's Imaging Edge Remote and the open-source B8Stack application.
It's a great pity that support for video capture isn't possible, as that's long been a weakness of the Pentax K-mount which, if solvable, could've been a huge deal for Pentaxians. But MonsterAdapter has to work within the boundaries of what Sony's lens adapter support allows, and so for now decent K-mount video must remain a pipe dream.

Really, the only sticking point is the pricetag. There's no getting around the fact that this is quite an expensive adapter even when compared to similar products from much better-known names. For example, Sony's own LA-EA5 adapter comes in at around $250, as do both Sigma's MC-11 adapters for EF and SA-mount lenses.

But Sony and Sigma can subsidize its costs with body or lens sales, whereas the MonsterAdapter's fortunes must stand on its own sales alone. The high pricetag isn't completely unprecedented, either, as Metabones' EF-mount adapters also come in at around $400.