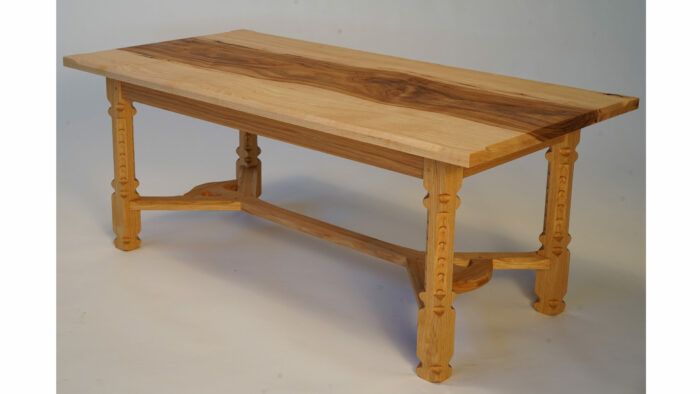 "Hi," began a recent private message on social media from Eric Diven.
"I have a question for you. I have finally taken good pictures of the table and am ready to post them. I was wondering how you'd like me to handle first attribution, and second offering to build the table on similar commission. I realize it isn't your design, but your book introduced me to it, and you're a working furniture maker. I figure it's respectful and decent to ask."
It's a familiar situation that never seems to get enough attention: When and how should we give credit for a design to those who introduced us to it? The question becomes more pressing in a case where that same person also provided step-by-step guidance to building the piece.
I received the inquiry above from Eric Diven, who had built a coffee-table version of the hayrake table in my book English Arts & Crafts Furniture.
This is not a table of my design. The original drawing was done by English designer C.F.A. Voysey; as with other Voysey drawings, there are notes scattered around the page suggesting variations on the theme, such as a different pattern for the decorative vertical pattern on the legs, and estimates of how each variation could affect the price of a piece based on the drawing and made to order.
Because I was going to build "my" table for a book that I was writing, I wanted to familiarize myself with the details, even more than I would have, had I planned to build a version of the table just for my family. I received a copy of the original drawing from a friend who would prefer to remain anonymous here. (Please don't ask.) I had altered it a little, particularly with the decorative butterfly keys inlaid in the top.
In the book, I credited others with guidance for how to build it, especially Mike Pekovich, even though my table was the Voysey version, not the Barnsley hayrake in Mike's article, which employs different joinery for the base.
Chris Schwarz has written plenty on this subject and has given away much of his design work, as well as lessons learned over the years, at no charge, via his blog at Lost Art Press and elsewhere. One excellent point he makes: There's no end to the lengths any one of us could go to in attributing design and other types of guidance to all who have played a part in the development of the "design" we happen to be looking at, should we be thorough about this. At some point the enormity of the task becomes ridiculous. But in cases such as Eric's, where you see a piece in a book and build it pretty much according to the information in the book, albeit in this case adapting it to a smaller piece, giving credit by name is a no-brainer.
Others take designs they've seen published in books or articles and build them, then publish them, sell them, or enter them in contests without mention of where they ran across them. Occasionally I get an email from someone informing me that this guy or that guy has clearly taken one of my published designs and used it in one of these ways. Even when the maker has modified the design significantly, it's clearly the piece I wrote about, and in one case, while I credited the original maker with the vague stylistic inspiration for my piece, I had created a truly new piece unlike any made by the original maker.
I refer to this sometimes-adoption of another designer's "vague stylistic impression" as speaking (or working) in that person's language; you may have written a poem so close to the style of Mary Oliver as to fool anyone but a Mary Oliver scholar. The poem is your creation, but you were clearly—even intentionally!—speaking Mary Oliver's language, which in my opinion calls for acknowledgement.
It makes no financial or other substantive difference to me whether I am credited by name, but it does say quite a bit about the person who neglects to give credit. At the benign end of the spectrum, they don't consider it important to credit their sources. At the malign end, they would like others to think the design is genuinely theirs.
Others try to handle this matter by reducing the "design influence" to a number. Did you alter the original design by more than, say, 10%? Of all the efforts to simplify a quandary that deserves disciplined, informed ethical perspective, this business of calculating a percentage of the amount you actually used for inspiration strikes me as blatantly stupid. Design is not amenable to this kind of mathematical calculation, which is itself open to all sorts of philosophical and aesthetic challenges (that I am not going to address in more than this superficial way in this post). More importantly, it just misses the point. What does it cost to mention someone by name when you've made a piece based on their design, even if you've modified it significantly? It costs you nothing. And it has the potential to bring you a lot: You will be seen as someone honorable instead of a casual rip-off artist.
It really just comes down to the kind of person you are and wish to be. And Eric, that's a beautiful hayrake table.
–Nancy Hiller, NR Hiller Design