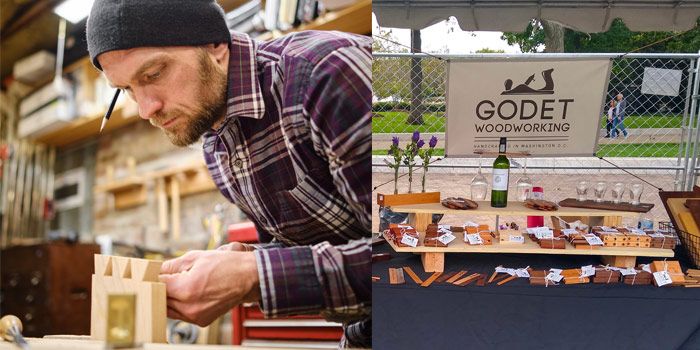 I've made things my whole life. I got serious about making furniture in 2009 after taking an adult ed class that reintroduced me to the shop after a few years in academia and the office. Since that time I've gone from hand cutting joints in my living room to a small basement shop. I then converted a garage into a 350-sq.-ft. shop. These days I primarily work out of a 5,000-sq.-ft. commercial shop I share with about 10 other craftspeople. Like many, it began for me as a hobby and then grew into a side business. Now it is my full-time, exclusive source of income.
My woodworking has always been focused on furniture. However, as I grew a business, I found that making high-quality home goods was a great way to diversify income streams, use small cutoffs profitably, and get my name out into the community. For a short period of time, with the help of a few friends and a local business, I focused on developing and refining the line of small goods I offer. In addition to making a little money, I have found that developing processes and engineering ways to efficiently produce these goods is a very fulfilling part of my work.
For a long time, I worked alone or with occasional help from a friend or my wife. Now I have two part-time employees who are very capable and support my home goods line as well as some of my furniture work. I produce anywhere from 20 to 40 custom furniture pieces each year (some are simple, unfinished plywood units for retail spaces, others include hand-cut joinery and rubbed oil finishes). I also sell thousands of coaster sets, hundreds of cutting boards, and various other small goods.
I do about one craft show each quarter, but then focus time and energy with shows and retail goods during the holiday season. I have my goods in about five or six stores at any one time and I participate in a holiday market in downtown D.C. that hosts over 100 vendors every day for about five weeks around the holidays. I'll share more about these markets and my strategy in later posts.
In this series of posts, I want to share my experience, and the experiences of others, in how to enter into the market scene and grow as a maker. I plan to cover everything from the very basics to some of the more advanced considerations.
Lend a hand
First, I will set aside the woodworking and focus on the very basics. These considerations will apply to anyone looking to get into the market scene, regardless of their craft.
Before I offer any of my experience, I want to first encourage you to volunteer to help someone more established in your local area. This could be another woodworker (DM me!) or someone in a different craft–or even a farmer. No matter how much I write here, nothing will substitute for the value your own experience. Before I ever did a show on my own, I had volunteered for years helping my friend at a farmers' market in my neighborhood. It was there, where I was in a helper role, that I learned how to quickly set up a tent and tables and get items displayed in an attractive way. I learned how to interact with customers and how to quickly troubleshoot things like point-of-sale systems, a lack of proper change, and so on. I did all this without forethought of someday doing my own shows.
About two hours into my first show, however, I realized I was drawing on all of that farmers' market experience and was happy to have had it. There are so many intangibles you will learn that I just can't emphasize enough how valuable this will be to have under your belt. Plus, you might make some new friends and connections along the way. The fact that I was selling vegetables as a volunteer did not matter; I had a solid foundation for selling my own products.
OK, so while you're thinking about when you'll come and help me at a market for free, let's unpack some of the things I casually referred to above.
Tents
Many markets are outside and are held rain or shine. If you commit to those markets, they're going to expect to see you and you're going to want a tent … rain or shine (rain will almost certainly ruin some of my products; standing in the sun all day will almost certainly ruin my attitude). You're going to need, in almost every case, a 10×10 pop-up canopy tent. These vary in price, but it's going to cost around $300-$400. If you took the note about volunteering with someone else, maybe they'll let you borrow a tent. Additionally, many of the better organized shows will have an option to rent a tent for the day. The advice I got early on was that if you plan to do more than one show in your life, and you have room to store it, you're better off owning your own tent. In the D.C.-area maker community, things like tents are widely shared among different makers, so ask around within your community too.
Tables
You're also going to need tables. Again, some shows will have these available for rent, but for the standard 10X10 spaces most shows offer, the best bet here is 6 ft. long by 30 in. wide folding tables. I use two or three depending on the specifics of the show. These are widely available and run about $60-$100 new. You probably played beer pong on one in college (or, ahem, high school?). This is another item that is widely shared in our maker community.
Tablecloths
These folding tables need some kind of cover if you're going to look professional. You should try to find something that fits with your brand and overall look (we'll talk more about that too) or simply disappears into the background (mine are black, which helps the wood tones really pop). When I was first getting started, I used bed sheets. Most people won't notice and it helps to keep startup overhead low … but the tablecloths are not expensive and look so much better.
Insurance
Larger markets will sometimes require you to have liability insurance. If you're making things for public consumption, this is a good idea anyway. Rates will vary depending on your revenue. When you're just starting out, you should expect to pay somewhere around $1,000 or less per year. Most smaller markets will not require this, especially if they're outside. But this is something to be aware of going in.
Finally, you need a point-of-sale system
The industry standard is Square in the U.S. but I have used PayPal's in the past and they are all relatively similar in practice. It's a pretty easy setup once you have the hardware. However, I definitely recommend getting that hardware and the app at least a few weeks in advance so you can hook it all up, try it out with a few test purchases, and get comfortable with the interface. There are several other systems out there. Each one is going to take a percentage of each sale you make by credit card. However, I have found that the majority of customers want to pay by card and these transactions are much faster than cash sales, so this convenience fee tends to be worth it. Cash has become a bit of a challenge in many ways and many people do not even accept it at shows.
Don't forget about sales tax
Depending on where you are selling, you will be responsible for collecting sales tax. You should research this before you even consider doing a market as it can take a little time to get your paperwork in order.
With these fundamentals in place, you need to display your goods. This can be pretty challenging depending on what you're trying to sell (many of the same product, lots of one-offs, etc.). Here, I think it helps to look around and find display systems that work for you. An exemplar here is Chopd woodshop but I encourage you to search around the socials and even real life shows to get ideas on what works for you. We'll talk more about this in a later post.
Now that you have access to a tent, tables, tablecloths, merchandising displays, a point-of-sale system, and an understanding of your sales tax and insurance responsibilities, you're ready to show up at the market and make some sales!