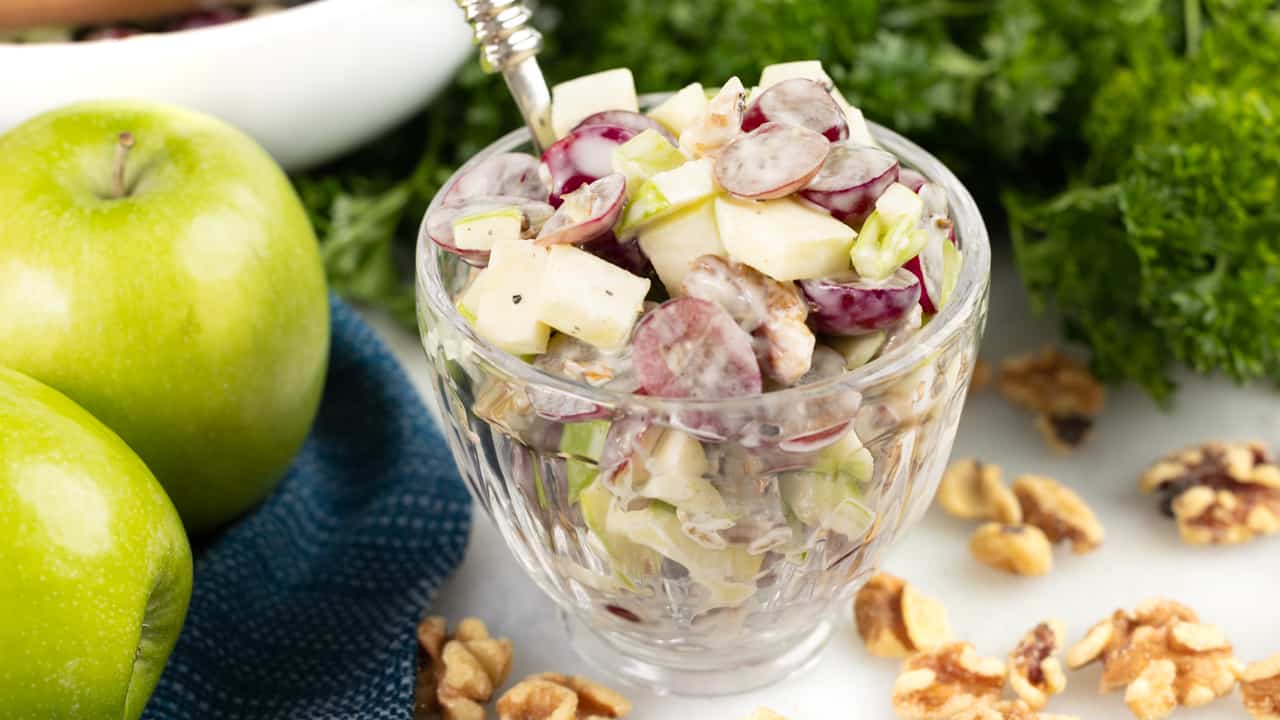 Who knew such an old recipe could be so delicious after so many years? You've likely come across Waldorf salad at least once or twice in your life. It's simple, fresh, and filled with tons of fruits and nuts. Now, don't let its simplicity fool you — this dish is so refined and absolutely elegant. You can serve this dish at a gathering, or simply make it for yourself – sharing not required. Not only are the final results delicious and impressive, it's also filled with some of our favorite fresh fruits and veggies. Nutritious, easy on the eyes, and uncomplicated to put together — what more could you ask for from a salad?!
The History Of Classic Waldorf Salad:
The classic Waldorf salad recipe was first seen way back in 1896. Named after – and created by – the luxurious Waldorf-Astoria hotel in New York City, the salad was served at a charity ball for St. Mary's Hospital for Children. Chef Oscar Tschirky – widely known as 'Oscar of the Waldorf' –  included it in his cookbook, The Cook Book, published in 1896. This recipe has changed over time, seeing as the original salad only included apples, celery, and mayonnaise; seasoned with salt and pepper. 
Apple Options:
For fresh salads like this one, pick an apple that can resist oxidation (a reaction between a food product and oxygen that can cause discoloration) for as long as possible. Meaning, you want to choose an apple that won't brown quickly. When choosing your preferred apple, you will also want to pay attention to its texture and taste. We love Granny Smith apples for their crunch and tart flavor. Other options include:
Honey Crisp
Pink Lady
Fuji
Gala
Are Walnuts Optional?
Walnuts add a really nice texture to this dish, and we love the rich and nutty flavor they bring. We even like to toast our walnuts before adding to the salad to elevate this recipe even more! That said, if you have an allergy or don't like nuts, you can definitely skip them. Good 'ole Oscar of the Waldorf didn't add walnuts either!
The Grapes:
Our classic Waldorf salad recipe includes a healthy helping of fresh grapes! We typically use red grapes as they add a pop of color and are just sweet enough — green grapes tend to be a bit too tart. To cut your grapes, place them –  single layer – on a plate and place another same-sized plate on top. Then, take a serrated knife and cut horizontally between the two plates. You'll save a lot of time and effort compared to halving them individually.
The Dressing:
Classic Waldorf salad dressing is very easy to put together and is made using minimal ingredients. We love the plain Greek yogurt (you could instead use sour cream), mayonnaise (a necessary addition of fat to help carry the flavor and brings a smoothness to the salad), and salt. Simple and delicious.
Serving Suggestions:
Feel free to serve this by itself or on a bed of lettuce as a light lunch. Otherwise, it makes for a yummy side dish, especially at holiday parties! We love the idea of pairing it with: