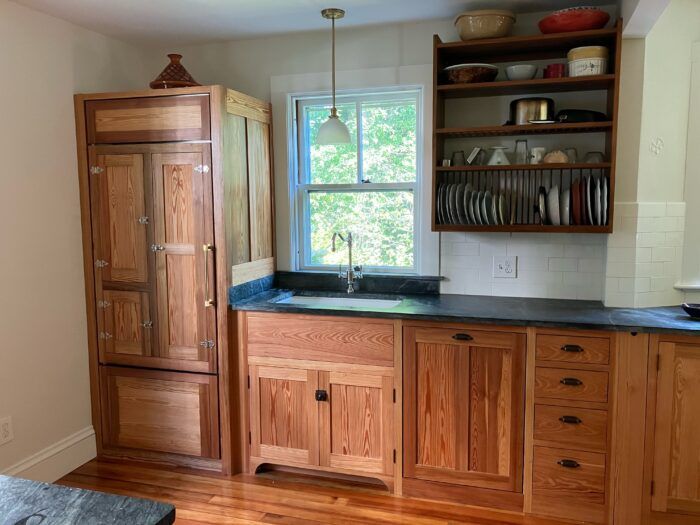 This will be my last post here, as I will be moving into a new adventure as of tomorrow: home hospice. The opioid pain killers I have been taking at increasing doses over the past few months have begun to take a significant toll on my cognitive function, and I've reached the point where I'm ready to invoke that classic of 1980s North American bath-related advertising, "Calgon, take me away!".
This momentous occasion coincides with the completion of a kitchen job with which I have been involved for the past year and a half. Shortly after I was diagnosed with Stage IV pancreatic cancer, and several months after the publication of my book Kitchen Think, I received an inquiry from a prospective client regarding the design and cabinetry for the kitchen of her 1910s house on the East Coast. The job appealed to me on so many fronts: The client genuinely valued the original layout of her home and did not want to blast out major walls per the reigning HGTV  "open concept" dogma; the house had tons of intact architectural fabric (or fabric that had been well restored); the client understood the difference between tacky and high quality when it came to old-house hardware and other products; and most important, she sounded like the kind of person for whom I love to work.
I wished that I could have sent her a proposal to design her kitchen, then build and install the cabinets myself. But given my health situation, anything beyond the design work was not in the cards.
So, to build and install the cabinets, I referred her to someone who had a formal training as a furniture maker, prided themselves on doing work to exceptionally high standards, and, based on their portfolio, loved to work on old houses.
I was determined to do right by my client, so I stayed with her through the rest of the job and didn't charge her another penny.
Many months later, her kitchen is *this close* to done.
Before
The layout my client inherited was cramped, poorly organized, and gave no consideration to optimizing the sense of spaciousness or light.
We worked on the design over several weeks, with lots of back and forth and a variety of layouts.
Saving the day
My client's general contractor, Heritage Restoration, suggested that she contact George Christie, a seasoned cabinetmaker with whom they work on a frequent basis. When George took the job over, it consisted of plywood carcases—no face frames, let alone doors, drawers, or anything else. Just plywood cases with raw front edges. Most cabinetmakers might not have been willing to take over a job at that point, but George came in and figured out how to deal with casework that was installed in some cases out of square, with adjustable shelf pin holes in one case drilled 1/4 in. offset (so the shelves would have sat out of level). I had spec'd salvaged heart pine with inset doors and drawer faces and traditional butt hinges, which called for far-tighter tolerances.
| | |
| --- | --- |
| The nook where the fridge was in the "before" shot above. The last couple of shelves await redrilling of their support holes. The cabinets on the left wing of this L are only about 14 in. deep so that they fit neatly behind the front edge of the part-wall. Those to the right have more depth. | View from the dining room. Note how spacious the area now appears, not least thanks to the direction of the original floorboards, which were in good enough shape to be salvageable. |
Why call it a capstone project?
I like to think of this as a career capstone for a number of reasons that go beyond "oh, yeah, it's my last project…literally." Here are a few.
This job was challenging in terms of layout. Many are, but in this case, it took several iterations (on paper, not in wood) to reach the point where my client could describe it as "a gorgeous, highly functional kitchen."
The job took all the patience I could muster, and the same goes for my client. She and her partner were living without a functioning kitchen for nearly a year and a half. Frankly, considering what they went through made whatever patience I had to invest far less significant. And she met every delay during the first cabinetmaker's watch with yet more patience. She really liked that cabinetmaker and wanted things to work out. (These and more are detailed in the forthcoming audiobook of Shop Tails.)
Key to mustering that patience was keeping the end, the final vision, in view. That's not always so easy (to put it mildly), but it can make the difference between getting the kitchen you want (or, as designer, the kitchen you drew) and one that's a compromise you may never get over. Part of my role in such situations is to help clients maintain the necessary patience.
It's impossible to overstate the importance of clear, honest, and prompt communication—especially when the last thing you feel like doing is talking to your client, rather than staying in bed and hiding beneath the covers.
For me, what ultimately makes this a capstone project is that I stood by my client through the job's many challenges, while going through chemo, working on other design jobs, enduring medical tests, and so much more that comes with the ups and downs of Stage IV cancer of any kind. And for that I really shouldn't credit myself at all, but my client, whose graciousness and appreciation in the face of utterly exasperating trials has seemed unending.
–Nancy Hiller, NR Hiller Design