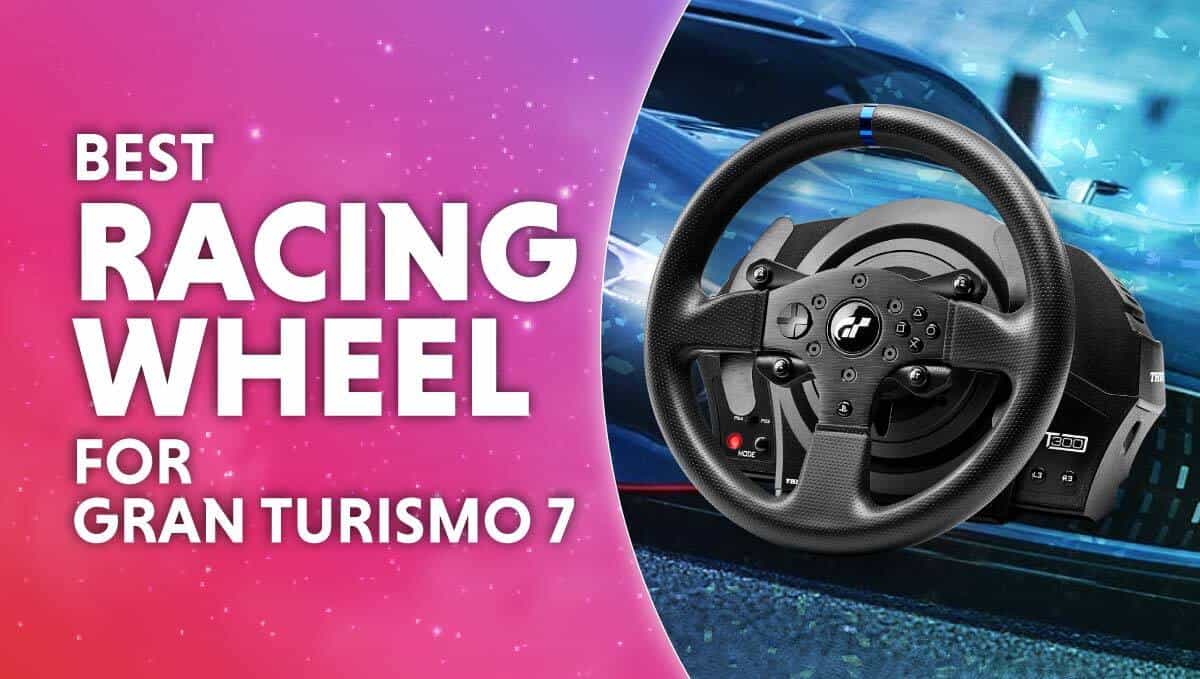 Last Updated:
The newest installment of the titular racing sim series was released back in June of 2022 and was received very well.
So, let's make it even better by finding the best racing wheel for Gran Turismo 7 to help break those lap time those records.
When it comes to racing sims, the Gran Turismo franchise is one of the most beloved out there.
With a history of well-received games stretching all the way back to the original PlayStation.
READ MORE: The best racing wheel for PS5
Since then the series has only grown in scope, with better graphics, a bigger choice of cars, and more tracks being added every installment. Let's have a look at the best racing wheels for Gran Turismo 7 that you can buy right now.
Thrustmaster T300RS Gran Turismo Edition
Wheel rotation
1080 degrees lock-to-lock
Wheel size (HxWxD)
280mm x 280mm x 280mm
Pedals
1x clutch, 1x brake, 1x accelerator
Materials
steel, aluminum, plastic
Of course, we had to pick an officially licensed wheel to take the top spot. Aside from the pleasing design integration, you also get addressable buttons that are guaranteed to work out of the box.
We are naming the best racing wheel for Gran Turismo 7 as the Thrustmaster T300 RS. We picked this one for its robust mounting system, adjustable pedals, and premium fit and finish.
Additionally, we love the full steel construction of the pedals as they give the entire system a more premium flair, and if you're uninterested in using a clutch like some kind of 20th-century fool, you've got flappy paddles instead.
When it comes to the internals, we find an industrial brushless DC motor that will torque the wheel to better emulate the experience of crashing into a tree, which is as joyous as it sounds.
It also has a quick-release system for the wheel. While this might not have any gameplay benefits, it certainly adds a touch of realism to the wheel and it makes it more portable for those of you who compete at LAN tournaments.
Logitech G923 Racing wheel & pedals (PlayStation)
Wheel rotation
900 degrees lock-to-lock
Wheel size (HxWxD)
270mm x 260mm x 278 mm
Pedals
1x clutch, 1x brake, 1x accelerator
Materials
steel, leather, aluminum, plastic
Next up in our quest to find the best racing wheel for Gran Turismo, we find a familiar friend, Logitech.
The Logitech G923 racing wheel is pricy as hell, but the features, design, and legendary Logitech reliability make it totally worth it.
As with our first choice, you get full metal pedals and a whole suite of programmable inputs.
READ MORE: The best racing wheel for Xbox
However, what sets the Logitech G923 apart from the competition is the full 900-degree lock-to-lock range of motion and the overall attention to detail too.
The wheel is bound and in real leather, which is an unthinkable luxury for a videogame steering wheel. Yes, it doesn't make any difference gameplay-wise, but the additional build quality is appreciated nonetheless.
Hori Racing Wheel Apex
Wheel rotation
270 degrees lock-to-lock
Wheel size
280mm x 280mm x 300mm
Pedals
1x accelerator, 1x brake (Paddle shift behind the wheel)
Materials
steel, aluminum, plastic
For those of you on a budget, we have no choice but to recommend the Hori Racing Wheel Apex. You lose a few fancy features that you'd get with the most expensive guys, but the money saved might make it worth it.
Happily, our budget option is also licensed for PlayStation and Gran Turismo, so you don't lose any of that good brand loyalty.
You lose the clutch pedal and full lock-to-lock rotation, and there is no genuine leather here, but as a pure value-for-money proposition, it's a fantastic choice.
Additionally, as it's officially licensed, you get a guaranteed plug-and-play experience too. This convenience can be worth far more to some people than fancy leather-bound steering wheels or heads-up displays.
If you're short on cash, or just want to try a more realistic racing setup, we fully recommend the Hori racing wheel Apex. It might not be the absolute best racing wheel for Gran Turismo 7, but the price makes it a good investment anyway.
Are racing wheels realistic?
It all depends – and you get what you pay for. Even so, the budget options have improved massively, just take the Hori Racing Wheel Apex, for example.
If you want the full experience, you may want to add a sim rig to your set up and – if you really want to push the boat out – go for one with hydraulics, like the one we have at BGFG HQ.
One thing to note is that wile racing wheels provide plenty of feedback, it's not quite like the real thing. Still, you'll get bags of feedback that makes you feel far more connected than if you were using just a controller.
Are racing wheels worth it?
For the majority of people, a controller is fine for the most part. However, if you're looking for more exciting gameplay and perhaps more of a competitive edge, a racing wheel is the way to go.
Luckily, the cost issue can be mitigated as there are enough budget-focused products out there to choose from.
Going for a cheaper option is a great way of testing the waters of racing sims. If you don't like it, you've only dropped $50, if you love it, you've paid a relatively paltry entry fee for the privilege of getting into this great hobby.
The best racing wheel for Gran Turismo 7: Final word
Generally speaking, any racing wheel will work with Gran Turismo 7, even if you have to mess around with some settings. So the options we've picked here have covered the bases including the best of the best, officially licensed, and budget-friendly.
Regardless of your final choice, a racing wheel will not only add a fresh new experience to your racing game repertoire, but you'll be more familiar with the control when you finally get to try a full-on simulator.
Trust us, you won't regret adding a racing wheel to your gaming setup.