Last Updated:

Streaming has come a long way in the last decade or so. What began as a simple hobby is now a viable career path, route to fame, and can have particularly lucrative results. Luckily, getting into streaming is more accessible than ever, with capture cards, mics, and cameras continuously dropping in price. However, without the best lighting for streaming, you'll never look your best on camera. So let's fix that.
In this article, we're going to go over the best lighting for streaming, including 3-point setups, the lights themselves, and how you can adjust these in software. let's see what is going on.
The best lighting for streaming: 3-point lighting setup
As advised by one of our in-house photographers, the ideal setup to look good on stream is a 3-point lighting setup. This is an age-old photography concept for comprehensively lighting a subject. This makes it perfect for streaming, but how exactly do you do it? Furthermore, what are the best lights for streaming? Let's take a closer look.
The three aspects of this lighting setup are the key light, fill light, and back light. This setup provides good lighting as it doesn't leave anything in shadow and creates even illumination of the subject, in this case, you. See below for a diagram courtesy of Wikipedia on how to do it.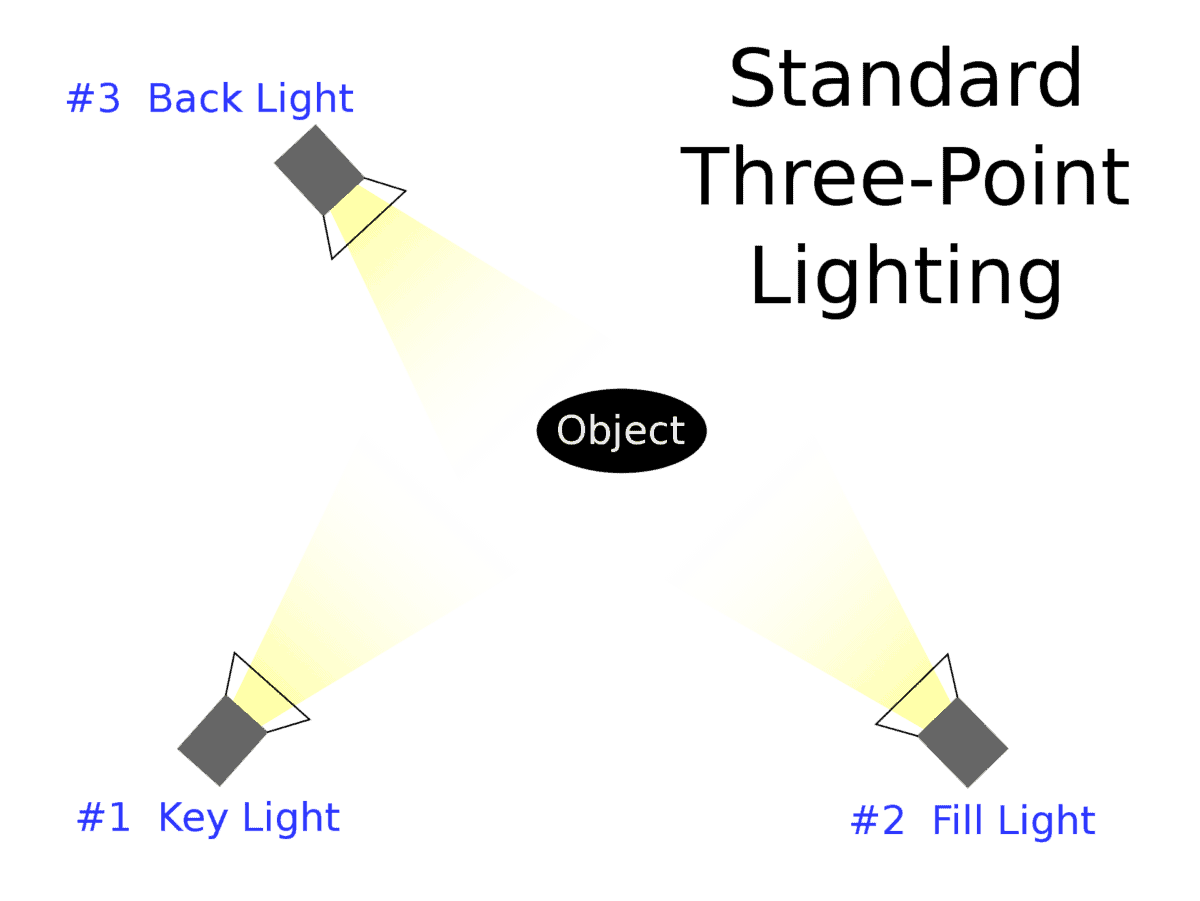 With the setup above, your streams will have a more premium, professional feel to them. Additionally, the setup is conveniently spaced as such that you can mount the key and fill lights on your desk behind the monitors. After the explosive growth in popularity that streaming experienced, companies like Razer and Elgato started to produce streaming equipment en masse. This means that there are a lot of choices when it comes to picking the best lighting for streaming in terms of cost, quality, and ease of use.
Best key light for streaming setup
There are a few things to consider when picking the best key light for streaming. First up is adjustability. As the ambient light level of everyone's setup is different, there is no one-size-fits-all solution. This means you'll need to increase or decrease the brightness to a level that compliments the surroundings and makes the stream look good. Additionally, the ideal key light will be slightly diffuse, which means the light has a softer quality. This will make the lighting look far more natural, further increasing the perceived production quality of your streams.
Elgato Key Light
Max brightness
2800 lumens
Color temperature range
2900 – 7000 K
Size
1.18 x 13.77 x 9.84 inches
We've decided to go with the Elgato Key Light for a few reasons. First of which is the sheer ease of setup, which is due to its streaming-centric design. Just clamp it to the rear edge of your desk and plug it in, It's that simple. Additionally, If you enter into the Elgato ecosystem of streaming, it also integrates smoothly with the stream deck for controls, and all the other Elgato stuff, like webcams, microphones, and pretty much everything else a streamer needs.
Best ring light for streaming
Ring lights are a great way to keep costs down, but retain good lighting. Though they won't comprehensively light your entire setup, they will provide ample lighting for the star of the show, which is you. In addition to their lower cost, they are popular for being a very convenient single-subject light. They can also save some space as your camera can be mounted within the ring. a side-benefit of this is that the lighting is perfectly even because of the central location.
Razer Ring Light
Max brightness
500 lumens
Color temperature range
3000 – 6500 k
Size
Outer Diameter – 30.0 cm / 11.8″ / Inner diameter – 24.1 cm / 9.5″
Amazon or eBay, but we recommend the ring light from Razer as it's a convenient, all-in-one solution with a few neat features that make it worth the ~$80 price tag. The biggest and best feature is the included tripod, which allows for stable and level positioning, in addition to adjustable height. It can be powered via a better pack or PC via USB too, so it works in the field or in the office.
Additionally, the ring light has a phone holder for simplistic streaming setups, or you can swap it out for a ball head with a standard threaded mount for those of you who prefer a DLSR with a dummy battery. If you need a simple, easy-to-use light without spending over $100, the Razer Ring light has you covered.
Elgato Ring Light
Max brightness
2500 lumens
Color temperature range
2900 – 7000 K
If you're more committed to the Elgato ecosystem we mentioned earlier, they also make a ring light. It's more expensive but has the benefit of being brighter and more modular. And of course, it will link to your stream deck, other lights, etc, etc. As much as ecosystem exclusivity irritates us, Elgato has done it right and actually deserves to outfit your streaming setup, if you have the money, that is.
Best lighting for streaming: Final word
It's worth remembering that you can stream on a very limited budget and still enjoy it, but if you've managed to garner a significant audience, it is well worth learning how to light your setup properly, and investing in some good lights. We recommend Elgato primarily for the seamless software integration, but the principle of lighting is more important overall.