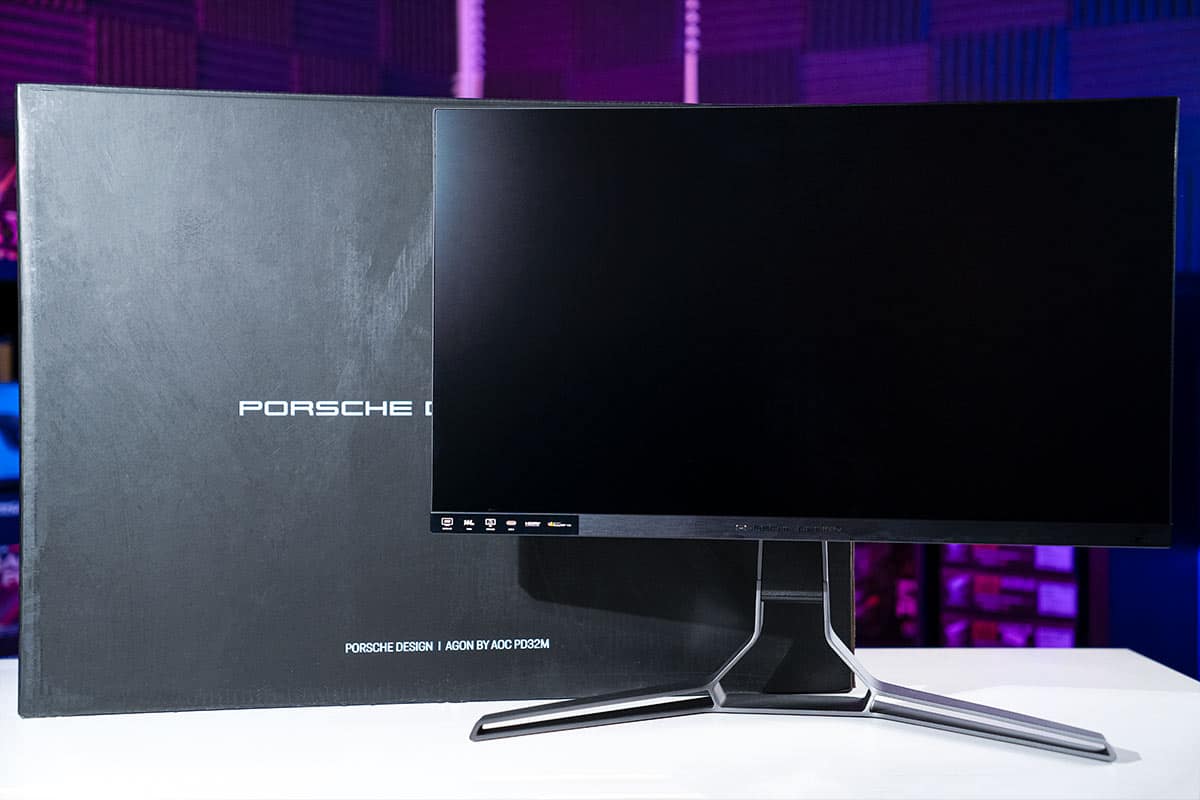 Last Updated:
It's been just over 12 months since we reviewed the first AOC/Porsche Design collaboration (PD27 gaming monitor) and already, the two brands are at it again – this time designing a much more powerful gaming monitor that offers up some of the market's most exciting technology.
The latest project has been labeled the AOC PD32M Porsche Design and will feature all the bells and whistles you could want for a truly immersive gaming experience. The new PD32M will feature an impressive 32-inch IPS panel that utilizes Mini-LED backlight technology – allowing this high-performance gaming monitor to reach the highest levels of HDR performance.
Alongside this, users can also expect a 4K screen resolution, HDMI 2.1 support, DisplayHDR 1400 certification, and a stunning new design that feels far more premium than the original model. It will fully support both next-gen consoles thanks to VRR technology and a speedy 144Hz refresh rate.
So, will the PD32M hit the road running, or will it fail to make the podium?
AOC PD32M Porsche Design monitor: specifications
AOC PD32M Porsche Design
156% sRGB, 90% DCI-P3, 99% Adobe RGB
Pros
Premium build materials

Next-gen console support

4K image quality

144Hz refresh rate

1ms response time
What's In The Box
Like its predecessor, the PD32M comes in a fairly minimalistic box that features an all-black design and some subtle marketing shots of the monitor itself. Alongside this, we'll also find some of the monitor's top line specifications and features.
Inside, the monitor comes unassembled in its core parts (the stand and the display). There are instructions on the inside of the box to guide you through the one-person, toolless construction. The one-piece stand simply clips into the back of the monitor via the standard clip-on design, allowing you to complete the unboxing of the panel.
Alongside the panel and the stand, users will find the following items:
AOC PD32M Porsche Design monitor
Power cable and powerpack (including various regional sockets)
HDMI 2.1 cable
Monitor controller
USB
User manual
Warranty card
Pre calibration report
Assembly guide
USB-C to USB-C cable (including a USB-C to USB gen 3.0)
AOC PD32M Porsche Design
Design And Features
With specifications out the way, let's take a closer look at the build quality, design, and mechanical features the AOC PD32M comes equipped with.
Design
While the original PD27 seemed a little lackluster in terms of design, the same is definitely not the case for the latest variation.
The PD32M features an incredibly stylish design that just screams premium. The face of the monitor utilizes an anti-glare matte coating which is bordered by three relatively thin bezels. The bottom bezel is the largest of the bunch, featuring the Porsche Design branding – finished in a raised chrome style that certainly looks the part.
The large V-shaped stand can be seen protruding from the bottom of the monitor, designed using solid metal and finished in a gun-metal grey powder coat. Unlike the original AOC/Porsche monitor, the new PD32M features a much more stylish stand that is far more robust. It retains its "roll cage-esq" styling, albeit in a much more premium manner this time around. A nicely executed projection light finishes off the base of the stand nicely, with options for both Agon or Porsche Design branding available.
The rear of the monitor is where things get a little dicey – mainly due to the RGB it uses. But before that, let's just talk about the size of this monitor. It is, without doubt, one of the thickest monitors we've tested in some time – but there is a reason for that. AOC has equipped the new PD32M with a high-performance set of dual 8W speakers. The speakers are certified by DTS Sound to "ensure impeccable audio quality" – but we'll test those later.
Thickness aside, the rear of the monitor features three main bands of RGB that can be found underneath the grills of either speaker and a strip running horizontally across the top. While you can change this in the OSD, it does feel a little on the pointless side. Some cable management can be found at the rear of the monitor, alongside branding for both AOC and Porsche Design.
Build Quality
As far as build quality goes, the PD32M certainly offers one of the most robust designs we've tested in some time. The stand features a Trapezoidal aluminum stand that feels absolutely rock solid. Alongside this, the panel also offers superb functionality when it comes to adjustability, with all mechanics feeling incredibly well finished. The height adjustment, in particular, makes a lovely sound when it goes up or down – only adding to its sense of premium.
While the rear of the monitor is predominantly plastic, it felt incredibly sturdy during our testing process. We experienced zero flexing or bending – even when put under fairly scrutinous pressure. Additionally, all fittings and fixtures are nicely finished – with almost no gaps to be found.
One area that does feel a little flimsy, however, are the headphone holders that pop out of the side of the monitor. While the idea of these is nice, they don't seem to offer the same premium feel as the rest of the panel.
Apart from that, however, it's difficult to criticize this monitor from a build quality standpoint. It really does feel exceptional.
Panel Coating
The PD32M comes with an anti-glare coating with a matte finish. Like other monitors that use this particular type of coating, the Porsche Design does a great job of mitigating most natural and man-made light sources – enabling you to game or browse during fairly harsh daytime conditions.
Unfortunately, this particular coating does tend to pick up fingerprints and oils fairly quickly – meaning regular cleaning is required.
Bezels
The PD32M features relatively thin bezels that measure in at 9mm (top and sides) by 25mm at the bottom. The base bezel, like most monitors, is the largest of the bunch – featuring the Porsche Design branding in a stylish chrome finish.
While not the thinnest bezels we've ever seen, they're still quite slender when compared to the 32-inch scale of the display.
Stand
Taking a closer look at the stand's functionality, the PD32M seems to offer a fully ergonomic stand that provides all the relevant adjustment options (height, tilt, and swivel).
On top of this, the PD32M also features some subtle cable management routes and a logo projector in its centre.
Below are the full adjustments available with this particular panel:
Forward Tilt – 5 degrees
Backward Tilt – 21 degrees
Left Swivel – 30 degrees
Right Swivel – 30 degrees
Pivot – 90 degrees either way
Height – 130mm
Like most modern gaming monitors, this panel also allows for simple VESA mounting – via a 100 x 100mm bracket.
AOC PD32M Porsche Design
Inputs
Like most modern monitors, all inputs can be found at the rear of the panel – requiring vertical insertion. That said, the inputs have been split into two sections – inputs and power on the left, USB hub and audio inputs on the right. The two sections are relatively easy to find and are split by a small grill, presumably for cooling.
Alongside HDMI 2.1 ports, users can also expect DisplayPort 1.4 (DSC), 1 x USB 3.2 (DP alt mode with 90W power deliver), USB 3.2 Gen 1 Hub, and a USB Type-C port (ideal for connecting laptops to this panel). The PD32M also features a fast charge port as well – great for mobile or peripheral usage.
OSD
The OSD, or on-screen display, hasn't changed a great deal from the original PD27 – however, it does seem to offer slightly more in terms of features. Users can find adjustable settings for almost every aspect of this monitor, including color, luminance, image, and gaming. Furthermore, with access to a plethora of pixel response, audio, and light settings, you really can create the perfect visual experience for your needs.
Let's not forget the KVM switch functionality either, allowing you to control two separate devices with one set of peripherals.
Color Accuracy & Picture Quality
We like to test each monitor we review for color reproduction to see how it would perform in color-sensitive situations. Despite this monitor being tailored towards gamers, it features the latest mini-LED backlight technology and an extremely wide color gamut – meaning both accuracy and HDR performance should be relatively high. Furthermore, with a pre-calibrated sRGB preset with an accuracy of 0.45, it'll be interesting to see what results we get.
Like always, we started off the color accuracy testing section of this review by loading up our colorimeter and running a test right out of the box.
Below are the results.
As you can see from the results above, the PD32M offers pretty average colors right out of the box. We recorded a 6844K white point, 0.28 cd/m2 black depth, and 2.13 gamma in the panel's factory mode. More concerning, however, was the below-average 778:1 contrast ratio and 4.46 average deltaE. While IPS panels are well-known for their underwhelming 1000:1 contrast, 778:1 seemed a little low to me – with no real improvements experienced when utilizing the panel's DCR (dynamic contrast ratio) settings.
We moved swiftly onto the pre-calibrated sRGB emulation preset expecting big results – especially after a quoted 0.45 average deltaE in the calibration report. We ran the test and overall accuracy wasn't quite up to our expectations. Again, we recorded a 6881K white point and 0.28 black depth in this mode. Unfortunately, contrast dropped further in this mode, now resulting in a 753:1 contrast ratio. One positive was the average deltaE results, which came in at 1.39. While this isn't the best we've ever seen, it's still good enough for some light editing within the sRGB color spectrum. Gamma measured in at 2.09 for this particular preset – just below the 2.2 ideal figure. Lastly, using the sRGB color preset will lock your ability to change RGB and luminance values as well. This preset produced a 217cd/m2 brightness, more than what you'd recommend for comfortable daytime viewing.
At this stage, we decided to throw the panel through a deep calibration to see what levels of accuracy we could produce. For best results, we altered the sRGB values to 50/30/31.
Looking at the results, improvements were certainly made after calibration. That said, white point returned to a more acceptable 6461K while black depth retained a 0.28 low. Unfortunately, contrast dropped to a disappointing 683:1 – with the DCR mode having no effect on the results. More impressive, however, was the 0.34 average deltaE. Despite the maximum deltaE being almost 2 (1.92), the PD32M was still able to produce a fairly accurate sRGB profile.
Panel Uniformity
Panel uniformity is a test we run to check how uniform the luminance and colors are across the entirety of the screen. During this test, the center square is used as the reference space. Every other square is then tested to see how far it differentiates from the reference.
In an ideal world, we want every square to be green, meaning it hasn't broken the differential threshold – something we can set at the start of the test.
Note: results will differ from panel to panel.
Unfortunately, the PD32M didn't offer the best panel uniformity. As you can see from the image above, large portions of the screen returned a 'red' score – exceeding the nominal tolerance set by the software.
This aligned accurately with the backlight bleed we experienced during testing, with the right-hand side of the panel offering the worst of the luminance and color uniformity. All being said, gaming, content consumption, and everyday usage weren't affected by this below-average uniformity.
Backlight bleed results:
Viewing Angles
Like most IPS panels, the AOC PD32M resulted in extremely good viewing angles that exceeded even the most obscure viewing positions. Even at incredibly wide viewing angles, the color and brightness didn't seem to waver too much.
Below is a full view of the viewing angles of this monitor.
AOC PD32M Porsche Design
Color Gamut
As part of the calibration process, the DisplayCal will give an accurate measurement of the color gamut the monitor can provide. Below are the results of the color gamut test:
On a more positive note, however, the color gamut we measured actually exceeded the website's marketed specifications. We recorded an impressive 181% sRGB gamut volume – one of the most impressive we've tested to date. That translated to a 124% Adobe RGB and 128% DCI-P3 volume – more than enough to produce a 'True' HDR experience.
Above we've included the physical graphs for each color space, showcasing the exact coverage of DCI-P3, Adobe RGB, and sRGB color spectrums. On each graph, you can clearly where the PD32M exceeds (or falls short) of the specific color space.
Maximum And Minimum Brightness
We ended the color accuracy and picture quality testing by checking the maximum brightness, minimum brightness, and 120 candelas level on this panel. The results are below:
| Brightness | Candelas |
| --- | --- |
| 100 Brightness | 483cd/m2 |
| 0 Brightness | 47.60cd/m2 |
| 33 Brightness | 120 cd/m² |
AOC PD32M Porsche Design monitor: Gaming Performance
With color accuracy and panel uniformity out of the way, it's time to put the AOC PD32M through a number of different gaming and response tests to see how it stacks up in gaming scenarios. Like always, we'll be testing the monitor across a variety of games to get a greater understanding of how this monitor performs in different settings and genres.
For this portion of the testing, we enabled VRR, set the refresh rate to its max 144Hz, and tested all of the available response time settings in the OSD.
Competitive gaming
Like always, we started off by throwing the PD32M into a competitive game to see how it handled fast-moving images. CS:GO is our go-to title when it comes to this type of gaming as it not only gives us a better understanding of the general response of the PD32M, but it also allows us to detect annoying screen artifacts such as blur, ghosting, and smearing.
We launched into the deathmatch game mode and played for around 45 minutes, paying close attention to player models, edges of buildings, and general picture quality.
Overall, the PD32M performed to a fairly good standard if truth be told, with limited ghosting and smearing experienced during gameplay. The fast 144Hz refresh rate meant that player models moved smoothly across the screen, even when using the monitor's maximum 4K UHD resolution. Additionally, we didn't experience any screen tear or jitter thanks to the panel's variable refresh rate support – which is fully compatible with both FreeSync and G-Sync systems.
That said, the general picture quality of player models was a little on the washy side – especially when you're scanning the map with your crosshair. The detail of the player was a little blurry and some light smearing could be seen when under closer examination. Of course, this isn't uncommon when it comes to 4K 144Hz monitors, with most of the premium models performing to a similar level.
At this stage, we cycled through the monitor's various Overdrive settings to see whether we could improve the sharpness of moving images – experiencing mixed results as we did. The monitor's 'Weak' overdrive mode didn't really seem to do much for general image sharpness, only offering a slight improvement on perceived blur. Luckily, 'Medium' mode did improve the quality quite a bit without introducing overshoot artifacts. Like most monitors, using the PD32M's 'Stong' overdrive setting did result in some pretty annoying overshoot issues – which resembled white highlights around player models and structures in CS:GO. The medium mode seems to work the best out of the available options, producing the best balance between image quality and sharpness.
All being said, however, the PD32M isn't the ideal monitor if you're looking to play competitive titles such as CS:GO, Call of Duty, or Fortnite. Sadly, it simply isn't fast enough to keep up with the intense speed at which these games are played. That's not to say you can't use this monitor as a hobbyist – it'll work fine. It just means you may want to look elsewhere if you're trying to get the edge over your competition.
General gaming
We decided to hang the mouse up on the competitive games and throw the PD32M through something a little more manageable. We loaded up a variety of less-intensive single-player games and, as you might expect, the results were excellent.
Shadow of the Tomb Raider was the first game we played and, visually, it looked fantastic. The wide color gamut allowed the PD32M to display a huge range of colors that added to the sense of realism and immersion. Additionally, image quality looked stunning thanks to the 4K UHD screen resolution and IPS panel, giving general image quality a sharpness that can't be replicated by lesser resolutions.
Let's not forget that the PD32M also comes with mini-LED backlight technology, increasing the number of available local dimming zones and enabling the monitor to display impressive HDR graphics. We enabled the PD32M's HDR shortly after launching SOTTR and we were not disappointed.
The PD32M offers up VESA DisplayHDR 14000 certification, meaning colors looked incredibly accurate and lifelike. We toggled various scenes with HDR on and off – and HDR on offered a far greater visual experience every time. Huge amounts of additional detail could be seen when viewing areas with extremely dark or bright colors – especially when the sun's rays broke through the jungle canap.
Blur Buster UFO test
To end the gaming performance tests, we ran the monitor through the BlurBuster UFO test. This test is a fantastic way of quickly seeing the motion clarity of moving objects and general perceived blur. We tested all the monitor's main response time features on the max refresh rate available – which for this panel is 144Hz.
Below are the results:
As you can see from the image above, the PD32M offered up average motion clarity during the Blurbuster UFO test. As we mentioned previously, there wasn't a huge amount of visual difference to be gained from using the monitor's 'Weak' setting. Using the 'Medium' setting, however, did result in less smear behind the alien itself. That said, detail didn't improve that much, still resulting in a relatively blurred image.
Using the 'Strong' overdrive setting did result in slightly more detail in the alien itself, however, as you can see, overshoot was introduced. This isn't the worst case of overdrive we've ever seen, however, it was enough to put me off using it altogether.
Final Thoughts
So, there you have it, our comprehensive review of the AOC PD32M – the latest Porsche Design high-end gaming monitor. This 4K 144Hz monitor ended up being a little hit and miss if truth be told – with some relatively annoying flaws that we couldn't manage to resolve.
Firstly, when using the PD32M within a dual monitor setup, there was numerous issues with detecting the panel – especially if your PC went into standby mode. When unlocking the PC, the PD32M simply wouldn't detected by the PC. I would physically have to remove all cables, turn the monitor off for several minutes then reconnect it. Of course, we did consider this being a PC issue, however, we have yet to expereince this problem before and we've reviewed over 60 monitors.
That being said, as far as 4K 144Hz monitors go, the PD32M Porsche Design did impress me. Colors looked absolutely superb and HDR was a standout feature – excelling in both gaming and general content consumption. Gaming was, again, a little hit and miss – with fast-paced shooters looking a little blurry and washed out. Less-intensive titles did feel excellent on this monitor, however, providing a very immersive, eye-catching experience.
The build quality of this monitor is also a huge improvement when compared to the original PD27 – offering up a much more premium, robust design. Additionally, the new 8W dual speaker system that PD32M comes equipped with offers pretty decent sound if truth be told. While they are lacking in the bass department, they're still one of the best monitor speakers I've tested.
Overall, it's hard to say whether this monitor offers good value for money or not, especially when you consider some of the annoying bugs that we did experience. At present, the PD32M comes to shelves with an eye-watering £1,750 price tag – making it one of the most expensive HDMI 2.1 monitors on the market. Having said that, when you compare this to the ASUS PG32UQX – a simiarly spec'd 4K 144Hz HDMI 2.1 monitor – you'd have to say that it probably does showcase good bang for your buck (despite the issues we experienced).