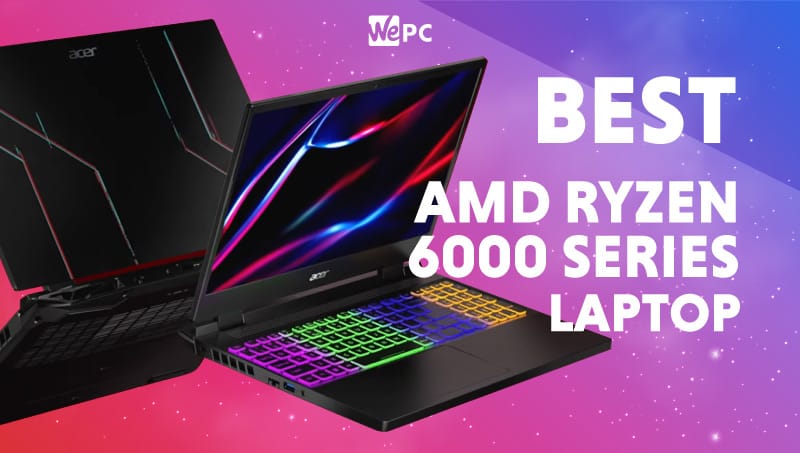 The 2022 Acer Nitro 5 comes with a brand new look. The updated chassis is an improvement on the old design, both looking better and feeling fairly sturdy for a plastic budget machine.
The new version comes with the latest CPU options from both Intel and AMD. Although Intel 12th gen laptop versions have better multicore performance this year as well as Thunderbolt support, the AMD version has substantially superior battery life. Unlike the Intel-equipped Nitro 5 which is limited to DDR4, AMD versions have DDR5 RAM support, up to 32GB of 4,800MHz memory, though this does make them slightly more expensive. Still, this is a substantial improvement over the slower RAM that 2021 Nitro 5 models suffered, due to global supply shortages of the good stuff, so no more performance bottlenecking.
In terms of graphics, you can get up to the new Nvidia RTX 3070 Ti (8GB VRAM), though as this is a budget machine we'd probably either opt for the RTX 3060 version or save up the money for a higher TGP RTX 3070 Ti laptop. You won't get a MUX Switch with this machine sadly, but for a budget gaming laptop that's to be expected.
The display of the Acer Nitro 5 was the feature most in need of an update, and fingers crossed the 2022 version looks to be a lot better. Acer are claiming a 3ms response time on this latest iteration, and though the actual 'real' response time will likely be a good few ms slower than this, we can at least assume it will be a lot better than the dire 17ms of the 2021 version. You get two resolution options 1080p/HD or 1440p/QHD, though we'd only recommend opting for the 1440p model if you're planning on getting a 17.3" machine. The maximum refresh rate of both resolution options with the 3ms screen is 165Hz, which is perfectly good for a budget gaming laptop. A slower 144Hz 1080p option will be available with a slower response time, but this is best avoided.
We don't know how the 2022 Acer Nitro 5 will measure up in terms of colors, contrast, and brightness, but if previous iterations are a guide, expect the color gamut to be pretty narrow (this is a budget gaming laptop after all) but to have respectable contrast and brightness.
Considering this is a budget machine you get a good number of ports and I/O features, including a USB-C slot and Kensington lock. The speakers are pretty dire, but that's fairly typical for a budget gaming laptop. You do, however, still get a full-sized keyboard with numpad, which may be an attractive feature to some.
Taken as a whole, this latest version of the Acer Nitro 5 is a great budget option for those who want an AMD Ryzen 6000 series laptop to game on.