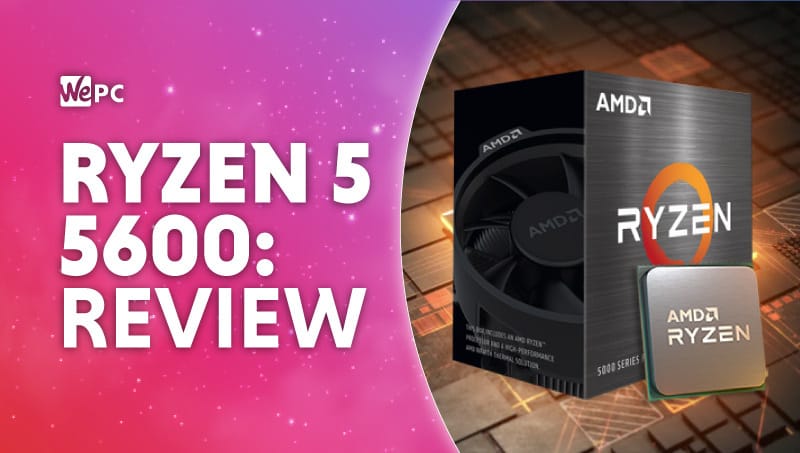 Last Updated:

Ryzen 5 5600 review. The Ryzen 5 5600 is a brand new Zen 3 CPU from AMD, being released on April 4 2022 almost a year and a half after the original release of AMD's Zen 3 CPUs. Ryzen 5000 series processors were received well at the time of release but were priced significantly higher than Zen 2, which would come to haunt them in the coming months. 
AMD lacked 'budget friendly' mid-range options in their 5000 series line-up, which have now been beaten out in terms of price to performance by Intel's 12th generation processors. In response, AMD has now released three budget CPUs: the 5500, 5600 and 5700X. We incidentally have 'where to buy' pages on all three.
If you would like to know more about Zen 4 or AM5, we have articles on those.
We've got our hands on the 5600 and will be testing just how good it is in comparison to its bigger brother in this 5600 review, the 5600x.
Ryzen 5 5600 specifications 
The Ryzen 5 5600 ships with a decent set of specifications at this price point, including six cores, 12 threads and a boost clock of 4.4GHz, meaning that it could be a great choice for budget-conscious builders.
The full specifications of the Ryzen 5 5600 are as follows: 
Ryzen 5 5600 specifications
Cores: 6
Threads: 12
Base clock speed: 3.5GHz
Max boost speed: 4.4GHz
L3 cache: 35MB
TDP: 65W
Socket: AM4
The six multithreaded cores provide a good amount of power under the 5600's IHS, packing a punch for those wanting performance that won't break the bank. This is paired alongside a whopping 4.4GHz boost clock and a relatively high base clock of 3.5GHz. Ryzen CPUs like to boost fairly frequently throughout operation, and it appears that the 5600 has lots of room to eke out more power when necessary.
Ryzen 5 5600 review: Performance
In this Ryzen 5 5600 review, we've pitted the 5600 against the newly-released 5500, 5700x and the now-aged Ryzen 5 5600X. We're specifically looking at non-gaming synthetics, for the time being, here in this line-up we have Cinebench R23, Geekbench 5 and Aida 64 cache benchmarks. 
Cinebench R23 Single-core performance 
We put all four of our CPUs through Cinebench's single-core benchmark and the results are as follows:
The Ryzen 5 5600 scores 1306 points in the single-core portion of Cinebench's benchmarks. This isn't a particularly high score, as Intel's 12900KS can manage a single-core score of over 2100 points. This is however regarded as the fastest intel CPU on the market to date, this doesn't serve as a comparison you should be making just as an example of what's possible on the top end of CPU performance.
The Ryzen 5 5600 almost stands up to the 5600X in single-core performance, with only 52 points between them. A result almost negligible on its own, and won't make too much of a difference during light single-core workloads. The issue however is presented when the 5600 climbs into the multi-core workloads. 
Cinebench R23 Multi-core performance
The multi-core score paints a slightly different picture for the 5600. It lags behind the 5600X a little more, with the 5600 scoring 9,437 points whereas the 5600X scores 9,574 points. With this gain of 140 points, the 5600x will be a little better in multi-core workloads and some heavier gaming scenarios.
Multi-core performance benchmarks measure the performance of both cores and threads simultaneously, to produce a score based on the efficiency of both aspects of your CPU working in tandem to solve a specific problem. 
Cores and threads are not created equally, as threads are not physical processors and have to share resources with the physical CPU cores, making them slower as a result. You can see this when we put the 5600 and 5600X together, the higher IPC of the 5600X comes into play to snatch the win, despite both CPUs have the same number of cores and threads. 
How does that translate into gaming in real-world scenarios?  
Days Gone real-world benchmark 
After a 20-minute play session of Days Gone at 4k, we have the scores in for both the Ryzen 5 5600 and the 5600X. 
This test was conducted using both the 5600 and 5600X connected to a system comprised of an RTX 3080, 32GB of 3600MHz DDR4 Corsair Vengeance RGB RAM, and on Nvidia driver version 512.15. Days Gone was running at 4k, on 'Ultra' settings. 
The Ryzen 5 5600X gains a lead of 7FPS on average, meaning the 5600X is putting all those extra scored points in Cinebench to some use. However, the power that the 5600 manages is extraordinary. Bear in mind that the 5600X on release would have cost you around $300. Is an extra 7FPS worth $100? 
The value of the 5600X has decreased significantly and is now retailing for around $230. The value AMD has placed upon the 5600 on release is extraordinary, it's performing well against the 5600X and in AMD's eyes is worth $100 less. The market moves in mysterious ways, but we're fairly certain that this CPU was meant to contend with Intel's 12th-gen midrange superstar, the i5 12400F, which retails for $180. 
Geekbench 5 Single-core benchmarks 
The benchmark software Geekbench has a few more tools in its CPU-testing arsenal than Cinebench. Geekbench sprinkles in some complexities such as floating-point, ray tracing, text and image compression and much more. 
It's these variables that make Geekbench a staple in our CPU benchmarking and cement it as a reliable tool for synthetically testing CPU performance, as though it was a real-world workload. 
As you can see, all of our CPUs produce respectable results, Geekbench is a tool that can penalise a CPU for performing badly in any one of its 21 tests. The fact that all of these CPUs came out with scores in the thousands proves they are all very well rounded CPUs. 
But of course, all eyes turn to the 5600 and the 5600X. With the Ryzen 5 5600 scoring 1386 points and the 5600X scoring 1438 points. The 5800X once again nips a lead thanks to its higher instructions per clock and core boost speeds.
Geekbench 5 Multi-core benchmarks 
Multi-core scores paint a similar picture for the 5600 vs 5600X rivalry, the 5600X coming out ahead with 9,574 points and the 5600 trailing behind a little with 9,434 points. Both scores are great, and the scores that the Ryzen 5 5600 manages to achieve are made more impressive when you remember this CPU costs only $199. 
Additionally, Ryzen 5 5500 is almost 25% less expensive than the 5600, but the 5600 does not perform 25% better, meaning that it could be a stunning value option for some builders. 
The multi-core tests on Geekbench are exactly the same as the single-core tests, just using larger packet sizes to accommodate for the larger number of active logical processors. Geekbench 5 is a synthetic benchmark that returns performance metrics closely mimicking real-world results. 
Aida 64 Cache benchmark 
Aida64 is a trusted tool among PC enthusiasts worldwide, probably most famous for stressing CPUs to within an inch of their life with its tools, so we put our CPUs to work to see which ones came out on top.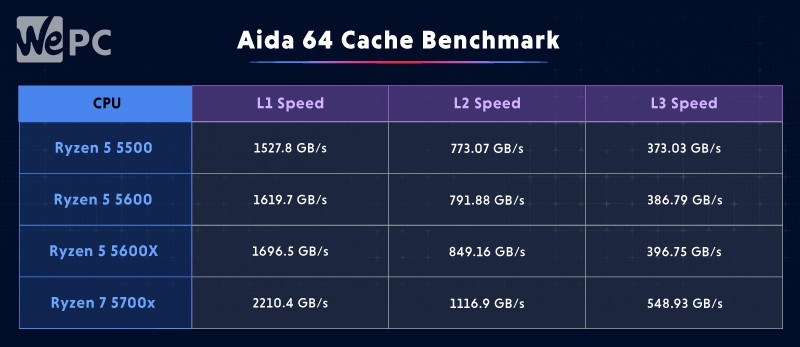 Aida64 also has a built-in cache and memory benchmark, that we figured would be a great testament to the importance of cache speed and its relation to performance. 
As you can see, we have measurements in the thousands of gigabits per second. The cache is imperative to CPUs performance, as it's basically an extension of a system's RAM constructed close to CPU cores to accommodate fast access speeds. After all, the faster instructions are delivered to the CPU, the faster they are executed as part of the instruction. 
A faster cache is indicative of a higher-performing CPU,  as the cache needs to be faster to feed instructions to a higher number of CPU cores all with faster Cycles per second. 
Once again, we're focusing on the Ryzen 5 5600 and the 5600X. The 5600 manages to pull in L1, L2 and L3 cache speeds of: 
L1: 1619.7 GB/s
L2: 791.88 GB/s
L3: 386.79 GB/s
Meanwhile, the Ryzen 5 5600X manages to pull in cache speeds of: 
L1: 1696.5 GB/s
L2: 849.16 GB/s
L3: 396.75 GB/s
Again, extremely impressive for the 5600 as its retail value is a full $100 lower than the original retail value of the 5600X. The 5600X definitely does not perform like it's worth $100 more than the 5600, nor would we say that it performs $50 better than the 5600. 
5600 review: Price
The Ryxen 5 5600 comes in at a very respectable $199 whilst the 5600X can be had for around $30 extra following a recent price drop from AMD.
The retail value of the 5600X was set at almost $300, and has since decreased to $230. At its original MSRP, the 5600X is certainly not competitive against the 5600, but with only around $30 now separating them, you really have to consider if the single percentage differences in performance are really worth the extra cash.
Why now? – is the 5600 worth it?
The Ryzen 5 5600 is shaping up to be a solid contender in the mid-range PC gaming space, only being beaten marginally by the 5600X. These results aren't exactly surprising as the X is supposed to be the superior CPU, but it's remarkable to see just how close the two are in terms of performance, against such a contrast in price difference on launch day for both CPUs. 
When AMD's 5000 series launched back in 2020, there was no competition for the 5600, 5500 and 5700X from Intel, so AMD just didn't bother to release them – apparently. AMD was riding high and chose to raise their base CPU prices, as the competition was nowhere to be found.
Now that some competition has arisen from Intel, in the way of the 12400F and other 12th-gen budget processors,  AMD has been forced to release some more budget-friendly CPUs to combat intel sweeping up some of that precious market share, due to sheer lack of a better option. The most recent Steam Hardware Survey suggests that AMD is losing momentum, and that could be due to the fact that they did not release these budget CPUs beforehand, and instead raised the MSRPs of Zen 3 significantly by comparison to their older Zen 2-based Ryzen 3000 processors.
But, is it too little too late for AMD?
AM4 is becoming obsolete 
The recent hype around Zen 4 and AMD's 7000 series of processors has brought with it news of a brand new socket AM5 (LGA 1718) hitting the shelves with 18 more pins than Intel's flagship socket. 
The issue is, that AMD is set to release this new socket sometime in the second half of 2022, meaning that very soon, AM4 will become a dead platform. However, we don't see AMD releasing their midrange options for Zen 4 straight off the bat.
While the 5600 can definitely breathe new life into older PCs, especially since AMD released a BIOS update last month that basically allows any CPU compatibility with any AM4 motherboard. But to build a whole new PC around the 5600 now would be a harder decision to make in terms of future-proofing, as we reach the end of the line for Zen 3 and AM4. 
You'll want to think about whether you're truly happy with the performance of all Zen 3 chips, unless you want to upgrade your entire motherboard and CPU later down the line to bring it in line with Zen 4. 
Ryzen 5 5600 review: Pros and cons 
With that all in mind, it's clear that while the 5600 is indeed an incredibly performant CPU for the MSRP it's now been released at. But, it also doesn't come without a handful of important caveats that you need to consider if you were to purchase this CPU to put in a new system today.
Pros
Budget-friendly
Great price to performance
Near identical to the 5600X
Cons
Supporting socket going obsolete in six months
Outperformed by cheaper Intel i5-12400F
Ryzen 5 5600 review: Final word 
The Ryzen 5 5600 is a phenomenal CPU with almost as much fire in its belly as the 5600X, this is a CPU excellent for mid-range PCs if you're stuck wanting an upgrade on an existing AM4 PC  and you don't have the budget for upgrading your motherboard at the same time. The 5600 has amazing price to performance as our benchmarks suggest, biting at the heels of the more expensive Ryzen 5 5600x at every turn, results we expected from this 5600 review.
We'd suggest holding off on creating a brand new build around this CPU, as there will be more options with the release of Zen 4 and AM5. There could be more of an argument to be made for the i5 12400F, as the upgrade paths are better and it does out-gun the 5600 in almost every aspect, and comes in $20 cheaper at $180.
The 5600 may have arrived a little late to the party, as finding existing Ryzen 5000 series CPUs around launch time was a little tricky and line-ups were a lot more expensive than frequent Ryzen buyers were used to. With that being said, the latest generation of mid-range processors is here – for six months. 
If this is a CPU that fits your use case, or you have a PC you're wanting to upgrade from maybe a first or second Ryzen CPU then the 5600 is an excellent option. But, if you're looking for a CPU to put in a new build, you might be better off with the i5 12400F. 
Ryzen has a certain charm. Ryzens' PBO is almost always better than Intel's standard boosting, but we think that the Ryzen 5600 has just come a little too late for us to recommend it fully to users looking to build a brand-new PC, as AM4 is on its last legs, and the 12400F undercuts it and manages to equal or exceed its performance. Hopefully when Zen 4 releases, AMD will be able to offer a good mid-range chip that manages to duke it out a bit more aggressively with Intel.
We hope this Ryzen 5 5600 review helped you, feel free to share your thoughts down in the comments below.