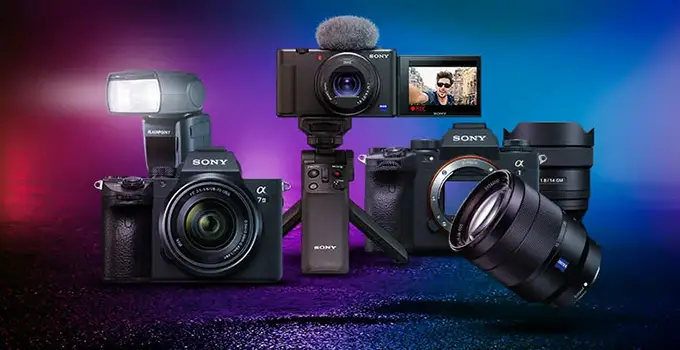 This week is Sony Imagine and Create Week at Adorama, and the online retailer is offering some great deals on select Sony cameras and lenses.
For the next week, shoppers can save up to $500 on an A7 series camera, expand their collection of Sony lenses, or pick up a pocket-sized B camera for $150 off.
Here are the deals that Adorama is offering:
Sony A7R IV Mirrorless Camera Body (V2) Bundle
The Sony A7RIV has a 60.2 MP Backside Illuminated (BSI) CMOS image sensor capable of capturing 4K video either from the full width of its sensor or from an APS-C/Super 35 crop.
It can also shoot 16-shot high-resolution images that can be used to stitch together to create a massive 240MP image of static scenes, 10 shot bursts at full autofocus.
This bundle includes the body for the Sony A7RIV full-frame mirrorless camera, with a 128GB SD card, extra Sony NPFZ100 battery, LCD screen protector, and lens accessory kit.
It all comes in a LowePro backpack. The cost is $2998 this week, body only, but users can also add a 16-35mm, 24-105mm, or 24-70 GM zoom for an additional fee.
Sony A7C Mirrorless Camera with FE28060 F4-5.6 Lens
The more compact version of the Alpha 7 offers a 24.2MP1 backside-illuminated CMOS sensor, capable of capturing 4K video with full in-body image stabilization (IBIS).
It also sports a side flip-out LCD and comes with a Sony FE 28-60mm F4-5.6 lens. The 28-60mm zoom is extremely compact, making it ideal for use in vlogging.
The kit comes with a rechargeable NP-FZ100 battery, AC Adapter, Shoulder Strap, Body Cap, and USB-A to USB-C Cable (USB 3.2). The retail price offers a $100 discount at $1998.
Sony FE 50mm f/1.2 G Master Lens
This "nifty fifty" G master prime lens offers the highest resolution and sharpness that the G master series is best known for, thanks to three extreme aspheric lens elements and an eleven-bladed circular aperture for what Sony states is "delicious bokeh."
The elements are coated with Sony's Nano AR II lens coating to eliminate unwanted reflections, ghosting, and chromatic aberration. There are also four dynamic lens motors for precision autofocus that is also nearly silent.
The price of the FE50mm f1.2 G Master Lens is $100 off at $1898.
ZV-1 Compact 4K HD Digital Camera, Black Bundle with Shoulder Bag, 32GB SD Card
Finally, vloggers can get into content creation with the entry-level Sony EV1 compact 3K HD Digital camera bundle.
The ZV-1 has a large 20.1MP CMOS sensor and wide-aperture lens to deliver professional background bokeh, as well as clear detail even in low-light conditions.
The ZV-1 also has a Vari-angle LCD screen, for selfie shooting at a variety of angles and a directional three-capsule mic, and a bundled windscreen to capture clear audio.
Sony is offering the ZV-1 this week at $50 off with the bundle that includes a 32GB SD card and Shoulder bag. The retail price is $698.
The Sony Imagine and Create Week at Adorama takes place between June 13th and June 19th, 2022.
[source: Adorama]
Order links: